Digital health
Patient portal
development
Step into the future of healthcare delivery with our patient portal solutions.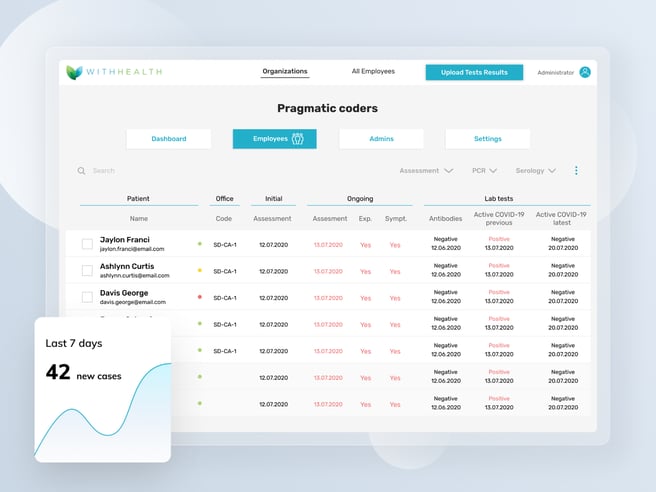 Launching a patient MedTech portal in 6 weeks:
Our efforts resulted in a platform that ensured the safety of WithHealth's clients' workforce during the COVID-19 pandemic.
Learn more
Our digital health software development process
This is how we work
01
Analyze
Budget Consulting
Strategy Consulting
Product Discovery Workshop
02
Discover & Define
UX Research
Product Roadmap
UX Design
UI Design
03
Deliver & Scale
Product Development
DevOps Architecture
Continuous User Feedback & Delivery
04
Expand
Recruit your own team with our help
Patient Portal Software FAQ
Everything you need to know about patient portal solutions before partnering with a patient portal software company.
What are patient portals?
Patient portals are secure online websites that give patients 24-hour access to their personal health information. This information may include:
Medical records
Appointment history
Lab results
Prescriptions
Billing statements
Patients can also use patient portals to:
Communicate with their doctors or other healthcare providers
Schedule appointments
Request prescription refills
How does a patient portal work?
To access a patient portal, patients typically need to create an account and provide their name, date of birth, and email address. They may also need to provide an identification number, such as a Social Security number or driver's license number.
Once patients have created an account, they can log in to the patient portal using their username and password. They can then view their personal health information and use the portal's features.
Could you provide me with examples of patient portals?
Certainly! One of the patient portals we've developed is called WithHealth. It offers precision care to enhance accessibility, affordability, proactivity, and personalization in healthcare.
You can learn more on their website or by reading our Case Study
What are the pros and cons of patient portals?
Pros:
Patients can access their personal health information from anywhere with an internet connection.

Patients can communicate with their doctors or other healthcare providers securely.

Patients can schedule appointments and request prescription refills online.

Patients can pay bills online.
Patients can update their personal information online.
Cons:
Some patients may not feel comfortable accessing their personal health information online.
Some patients may not have an internet connection or a computer.
Some patients may not be familiar with using computers or online services.
What are the common problems with patient portals?
Technical problems, such as website outages or slow loading times.

Difficulty accessing certain types of information, such as lab results or imaging studies.
Difficulty communicating with doctors or other healthcare providers through the portal.

Privacy concerns, such as the potential for unauthorized access to patient information.
What are the benefits of patient portals in healthcare?
Improved patient engagement and satisfaction

Reduced healthcare costs

Improved patient outcomes

Increased communication between patients and providers

Increased efficiency of healthcare delivery
What are the patient portal requirements?
The specific requirements for a patient portal can vary depending on the healthcare provider and the software they use. However, here are some common features and requirements:
Secure access to patient information

Ability to view and manage personal health information

Ability to communicate with healthcare providers

Ability to schedule appointments and request prescription refills

Ability to pay bills

Ability to update personal information
How to set up a patient portal?
This is a very complex topic, and our consultants would be happy to discuss it in detail with you. However, the very short answer is:
Choose a patient portal vendor (such as Pragmatic Coders).
Configure the patient portal to meet your organization's needs.
Train your staff on how to use the patient portal.
Promote the patient portal to your patients.
Can you build a HIPAA-compliant patient portal?
Yes, we can! We have experience developing HIPAA-compliant digital healthcare products. Our patient portals are designed to meet the strict security and privacy requirements of HIPAA.
What our MedTech clients say about working with us
It's truly been a partnership. Pragmatic Coders have an in-depth understanding of our client base and what services we provide, anticipating needs and addressing them by adding new features into our system. Their team makes sure that there is a shared understanding so that what they deliver meets my organization's and our clients' expectations.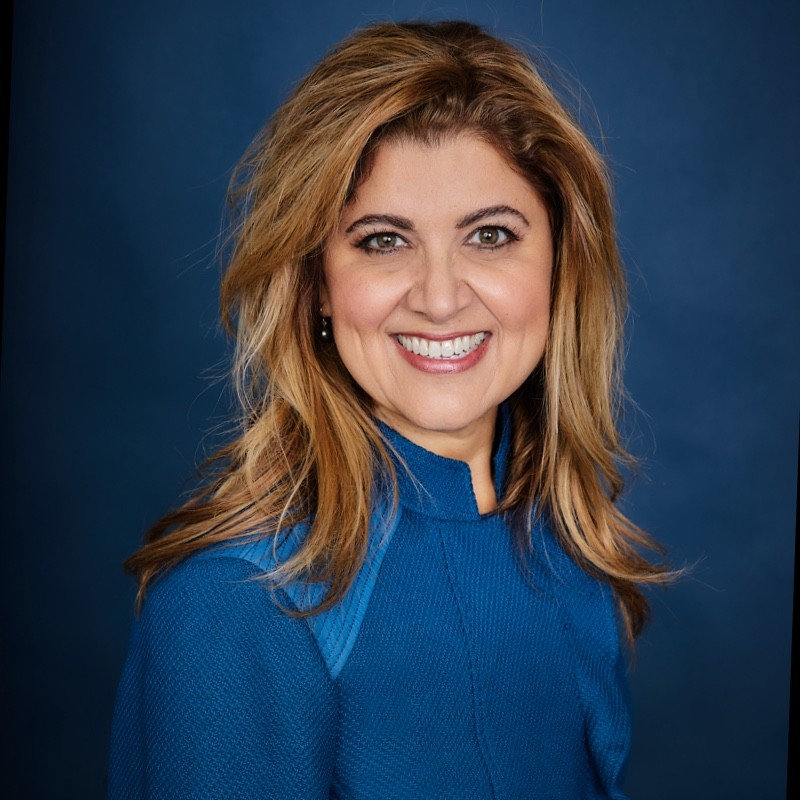 Cindy Salas
CEO, WithHealth
Let's

talk
We've got answers on anything connected with software development.
Ask a question
You can ask us a question using the form below. We will respond as soon as possible.
Newsletter
You are just one click away from receiving our 1-min business newsletter. Get insights on product management, product design, Agile, fintech, digital health, and AI.