Tech stack
Looking for

optimal technology

to build your software?
Pick the best tech stack for your digital product with help from industry experts.
Create elegant and intuitive UI using ReactJs
We can build fast and user-friendly web apps or hybrid mobile applications for you using this technology. If you're seeking an excellent user experience, a seamless update process, high consistency, and flexibility, consider choosing our ReactJs development services.

To give an example: We used ReactJs to develop UltiArena's UI, combining a modern design with superb functionality.
Code fast and scalable web apps using NodeJs
With this technology, we can develop efficient and flexible applications for you. If you value high app efficiency, great performance, up to 61% faster development time, and the absence of restrictions, our NodeJs development services are perfect for you.

For instance: We utilized NodeJs, in conjunction with React and AWS to successfully launch a MedTech portal for WithHealth within a 6-week timeframe.
Forge secure and reliable business apps using Java
We can code safe, high-performance desktop, web, and mobile apps for you using this tech. If you're on the lookout for a popular, stable solution with proven longevity and solid support, go with our Java development services.

For example: We established a remote team of 30 developers for Atom, the UK's first fully digital bank. Their competencies include Java, React, Golang, .NET, Python, Swift, Kotlin, and more.
Craft quick and efficient web apps using .NET
Using this versatile tech, we can create apps that run on Windows, Android, and iOS, in addition to developing Enterprise server applications compatible with Windows Server or Linux. Opt for our .NET development services if you require a swift delivery of your solution.

To Illustrate: We created an entirely new blockchain for EXCC, complete with infrastructure and a node wallet, using .NET, AWS, React, and blockchain technologies.
Build engaging and enticing mobile iOS apps
We can turn your iOS mobile application idea into a fully-fledged digital product in under three months. If you're seeking an advantage over your competitors and aiming to deliver a top-notch user experience, our iOS app development services are the ideal choice.

To exemplify: We helped Frost in building a disruptive FinTech app for iOS and other mobile platforms, using Swift, Kotlin, Java, Angular, and AWS.
Make gripping and practical Android apps
With our help, you can transform your Android app concept into a thriving product in just three months. If you're looking to tap into the massive global market of mobile app users by offering an engaging and flexible solution, opt for our Android app development services.

In one case, we helped KodyPay create a point-of-sale FinTech app for Android, using Kotlin for its backend.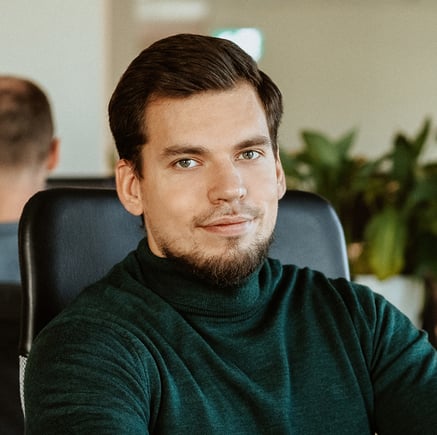 8 out of 10 founders who contacted us wanted to work with our team.
Want to learn why?
Talk with Wojtek - startup founder, business analyst, and our most experienced Startup Business Consultant.
Schedule a call
Newsletter
In Pragmatic Times, we share our business & and tech expertise. Inside:
Pragmatic Talks
Interviews with industry insiders and founders sharing their strategies to succeed in business.
Editor's picks & case studies
Curated blog posts, case studies, reports, and insights.
News & resources