How we work
Work with people who

take care

of your business
We'll create your product vision and strategy, assist with fundraising, and develop a product from start to finish.
Analysis
To start, we need to learn more - understand your idea and examine your needs. This is our way of becoming your true partner and advising you on your journey to growing into the next unicorn.
Strategy Consulting
We will revise the documentation and research reports you already have to ensure that we understand your project. This will help our team advise your business strategy.
Fundraising Consulting
Our Business Consultants will ask you the right questions about your potential customers and the market, help you craft a winning pitch deck, and prepare you for meeting with investors.
Product Discovery Workshop
We'll reassess your target audience and market, address risks, and provide guidance on structuring your business idea. We'll present potential paths and offer suggestions for your next steps.
Discovery & define
There is no doubt that customers and the market decide about product value. That's why understanding their needs and goals is crucial for your business's success.
Well-conducted UX research is the first step
Our UX specialists will help you uncover what motivates your potential customers and what goals, needs, or problems they have. This data is extremely valuable during the decision-making process and establishing priorities.
Product Roadmap
Building applications without wasting time and money requires setting up a well-defined product roadmap. You can count on our help with this fundamental part of setting priorities.
Clear structure
The well-planned and clear architecture of your product will help customers achieve their goals. Our UX team will prepare a high-fidelity representation of your solution, and demonstrate its behavior. Yes, you can present it to your investors and obtain additional funds without a single line of code.
Visual impact
We don't want to care only about beautiful colors. The visual side of your product should support usability and above all, support amazing experiences.
Delivery & scale
Our approach is to define and build the most valuable part of the product first. This helps you to validate your business goals quicker in the context of the market. It is much safer to invest in a product that has proved its market validity than to build everything and count on luck.
Building the most valuable part of the product first
Delivering valuable items provides you with the best indicators of potential success. The way we propose allows you to save money for later parts of the project.
Dedicated DevOps architecture services
DevOps experts design and create a highly reliable, scalable, and secure cloud-based system for you and provide you with the necessary support in the compliance processes.
Continuous user feedback and delivery
Feedback doesn't end after preparing a prototype. We will help you to establish the processes which play a major role in successful product development and business scaling.
Expand
We can help you hire the best software developers, DevOps engineers, or designers on the market with over 800,000 professionals in the IT talent pool.
CONTACT US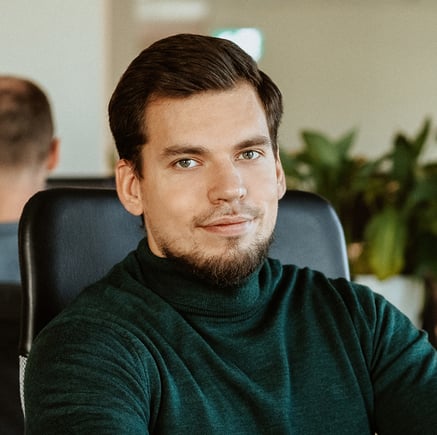 8 out of 10 founders who contacted us wanted to work with our team.
Want to learn why?
Talk with Wojtek - startup founder, business analyst, and our most experienced Startup Business Consultant.
Schedule a call
Featured articles about modern product development
Check the content created by our experts and curated by our management team.
Newsletter
In Pragmatic Times, we share our business & and tech expertise. Inside:
Pragmatic Talks
Interviews with industry insiders and founders sharing their strategies to succeed in business.
Editor's picks & case studies
Curated blog posts, case studies, reports, and insights.
News & resources