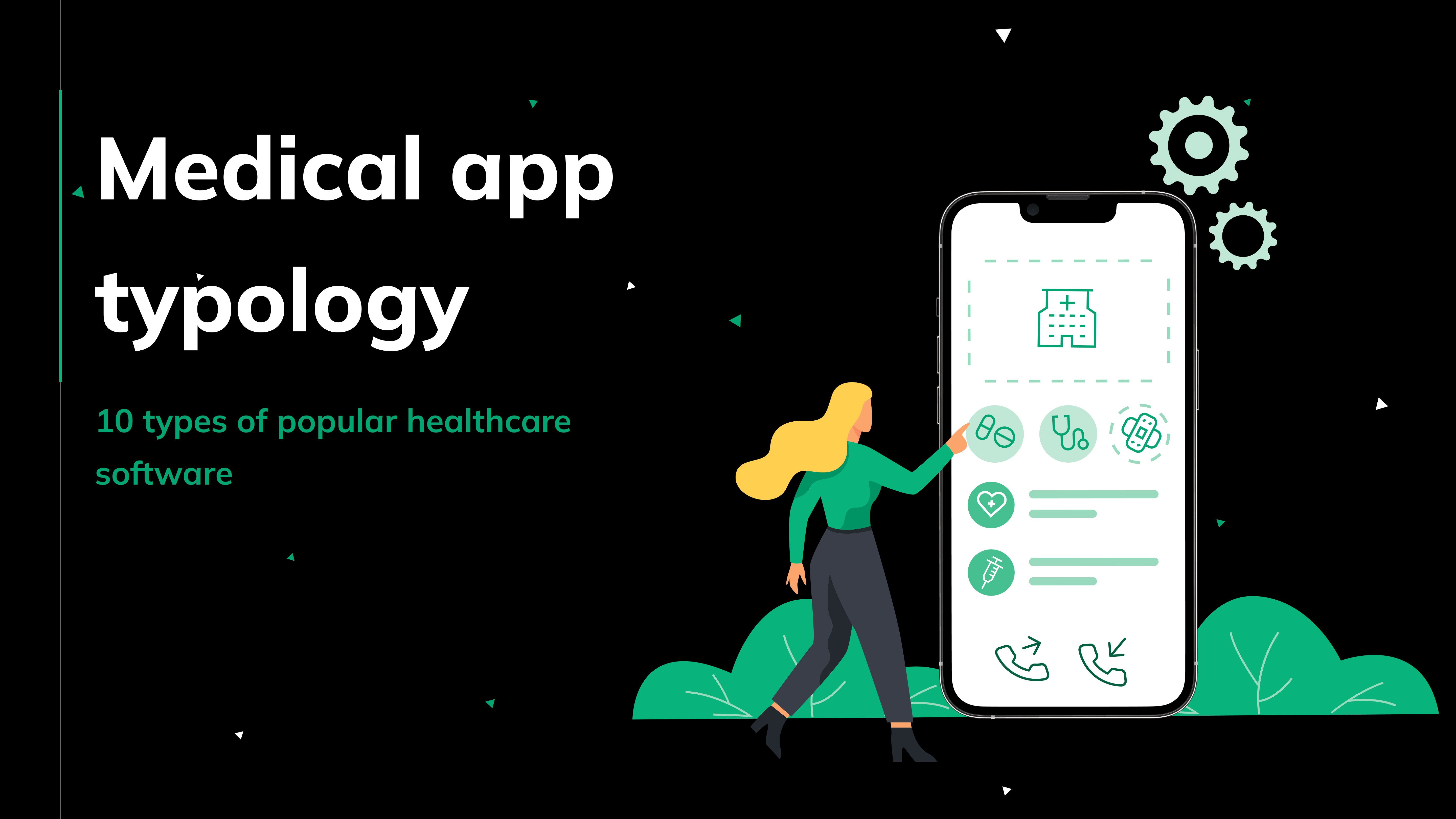 Healthcare software is a broad term that covers a wide range of tools and applications. They are designed to improve the quality and efficiency of care or, in simple words, make the lives of patients and medical professionals easier.
In this comprehensive guide, we will delve into various types of medical software, shedding light on their functionalities, applications, market statistics, and future predictions for the healthcare industry.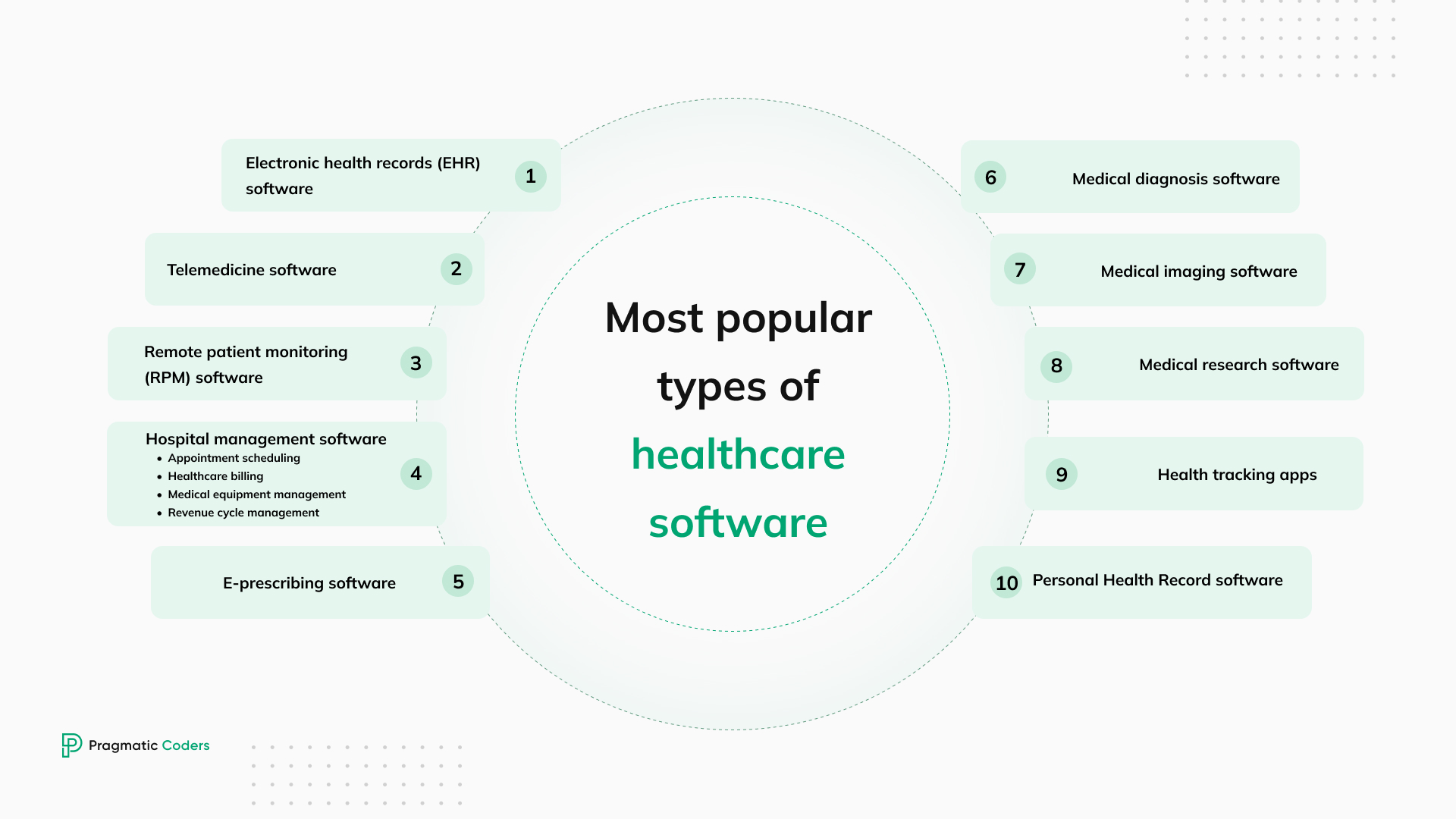 1. Electronic Health Record (EHR) Software
Electronic medical records, the king of healthcare software. While medical database software categorizes data based on diagnoses, EHR systems operate as collections of notes for individual patients. Electronic health records are used by hospitals, clinics, and medical practices to digitize and store patient records, medical history, past and planned procedures, and more.
With electronic health record software, medical professionals can easily access, update, and share patient information securely. It's a more efficient replacement for traditional paper-based records, as it reduces errors, enables better communication between various providers, and streamlines billing and insurance processes.
Statistics: According to a report by Grand View Research, the global EHR software market size is expected to reach USD 38.5 billion by 2030, with a CAGR of 4.1% from 2023 to 2030.
Future Predictions: The web-based EHR software category had the biggest portion of revenue in 2022 and is anticipated to experience strong growth in the coming years. The market is likely to benefit from widespread adoption by doctors.
What's more, the ambulatory use category, which comprises physician clinics, laboratories, and pharmacies, is predicted to grow the fastest during the forecast period due to the rising number of ambulatory care centers worldwide.
Examples: Kareo Clinical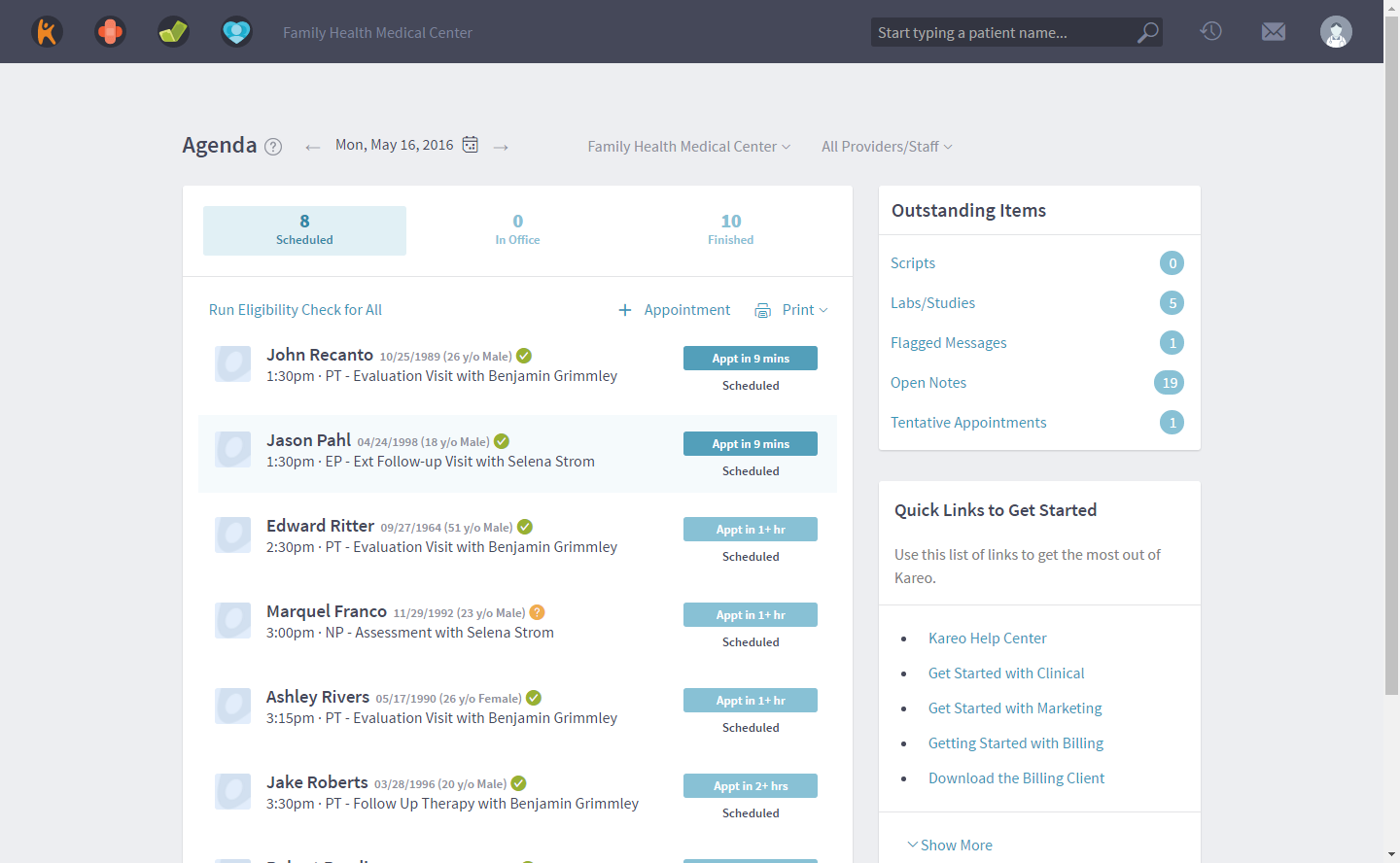 Image: https://www.softwareadvice.com
2. Medical imaging software
Medical imaging software enables medical personnel to visualize and analyze medical images such as X-rays, MRIs, and CT scans. Radiologists, oncologists, and other specialists use medical imaging software to interpret images, measure tumor sizes, and assess the progression of diseases. It enhances diagnostic accuracy and reduces the need for invasive procedures.
Statistics: The global medical imaging software market was valued at USD 3.0 billion in 2022 and is expected to grow at a compound annual growth rate (CAGR) of 7.7% from 2023 to 2030, as per a report by Grand View Research.
Future Predictions: Ongoing advancements in imaging technology, like Computer-Aided Diagnosis (CAD), are expected to increase the need for these systems. The incorporation of artificial intelligence (AI) into medical imaging has transformed the market landscape in recent times and is expected to have a favorable impact on growth in the near term.
Examples: Medis Suite MR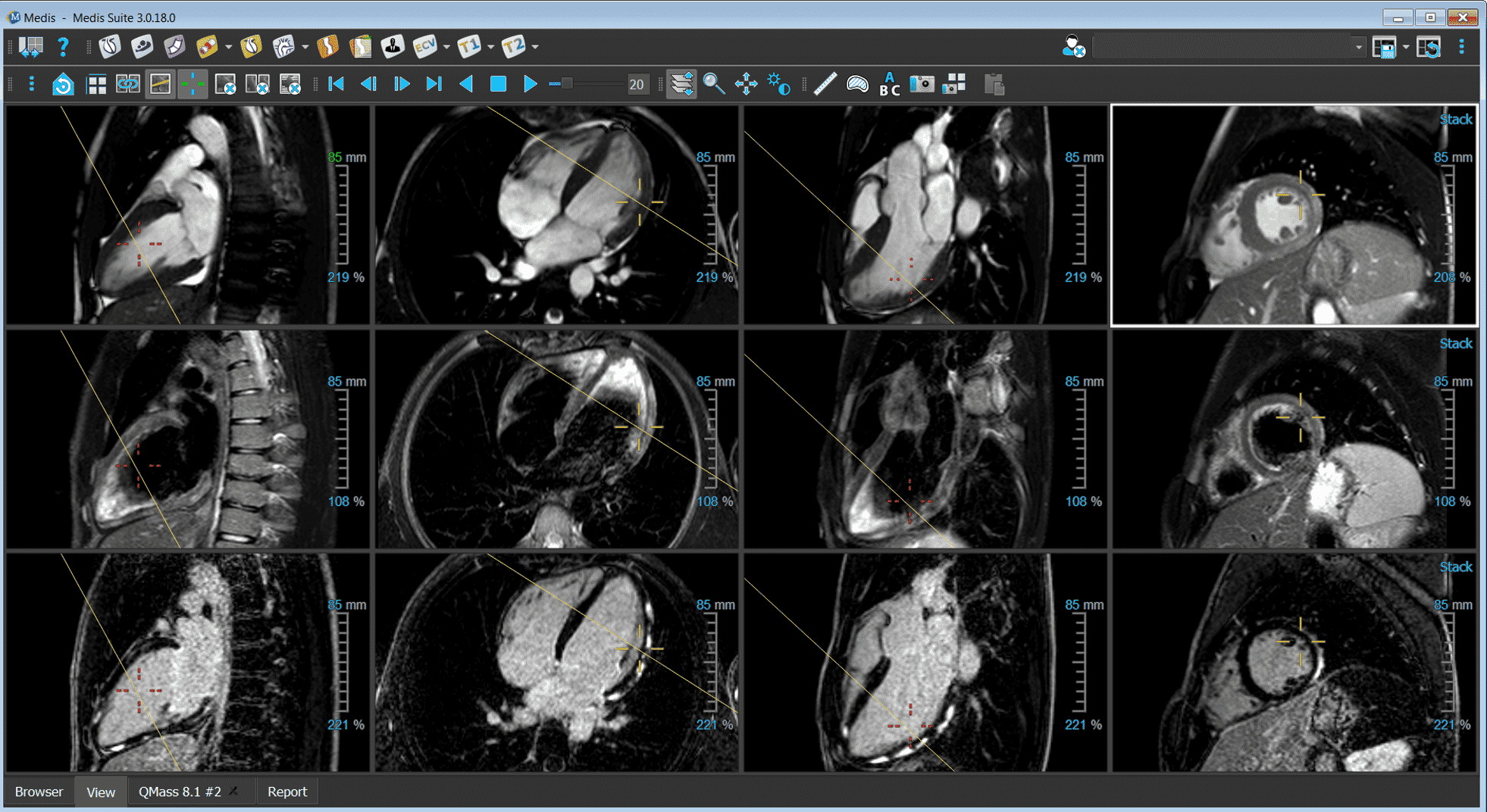 Image: https://medisimaging.com/software-solutions/medis-suite-mr/
3. Medical diagnosis software
Medical diagnosis software leverages data analysis and algorithms to assist healthcare professionals in accurately identifying and diagnosing medical conditions. It processes vast amounts of patient data, including medical history, symptoms, and test results, to provide clinicians with valuable insights, aiding in the identification of diseases and suggesting potential treatment options.
Apart from medical diagnosis software for professionals, there are also many symptom checker-like apps for individuals.
Future predictions: The future of medical diagnosis software holds immense promise with the integration of artificial intelligence (AI) and machine learning. According to Artificial Intelligence In Diagnostics Market Size, Share & Trends Analysis Report, in 2022, the worldwide market for artificial intelligence in diagnostics was about $0.8 billion, and it's predicted to grow at a compound annual growth rate of 24.6% to around $5.4 billion in 2030.
Example: Symptomate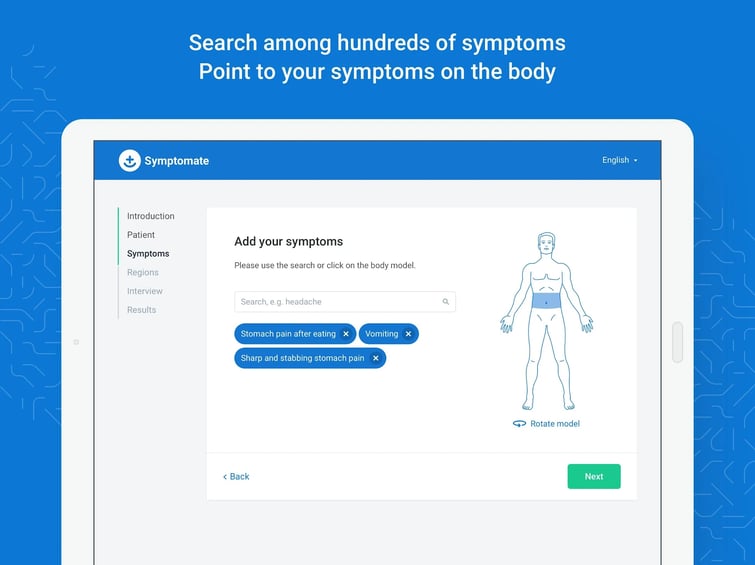 Image: Google Play
4. Medical research software
Medical research software accelerates and enhances the process of scientific investigation in the field of healthcare. This healthcare software is designed to facilitate the collection, analysis, and interpretation of complex medical data. It serves as an invaluable resource for researchers and scientists by providing advanced tools and capabilities to uncover medical insights, conduct experiments, and manage and analyze vast datasets, from genomics and clinical trials to epidemiological studies.
Statistics: In 2022, the worldwide market size for clinical trials matching software was approximately $148.5 million, and it is expected to experience a compound annual growth rate of 13.2% from 2023 to 2030.
Insights: The clinical trials matching software market is experiencing growth primarily due to the increasing occurrence of chronic diseases and the growing demand for clinical trials.
Example: ResearchManager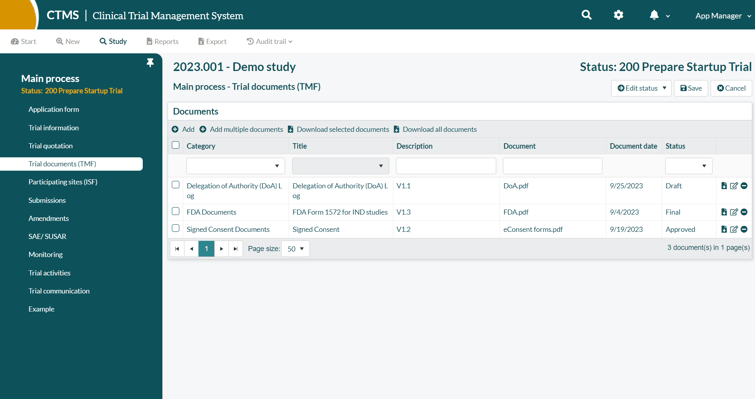 Image: https://www.softwareadvice.com
5. Remote patient monitoring software
RPM software facilitates a scenario where healthcare providers can remotely monitor patients' well-being without being bound by geographical limitations. This technology operates as a data collection and transmission system, efficiently relaying vital health information in real-time. It covers a range of health metrics, including heart rate, blood pressure, glucose levels, and more, all from the comfort of patients' homes.
The true value of RPM lies in its ability to facilitate timely interventions and personalized care. By remotely monitoring patients, healthcare providers can identify potential issues before they escalate into more significant health problems. They can make necessary adjustments to treatment plans, provide guidance, and offer assistance precisely when it's required. Additionally, RPM reduces the need for frequent in-person visits, offering convenience, especially to patients in remote areas.
Statistics: The global remote patient monitoring market has been growing rapidly and is expected to continue its expansion. A report by Grand View Research estimated the market to reach 16.9 billion by 2030, with a compound annual growth rate (CAGR) of 18.5% from 2020 to 2030.
Future predictions: The RPM system market is experiencing growth due to significant factors, such as the increasing elderly population's demand for an improved quality of life, enhanced care, and cost-efficient treatment options. A branch of RPM, called ambient monitoring, is also predicted to become a substantial trend in the upcoming years.
Example: Hale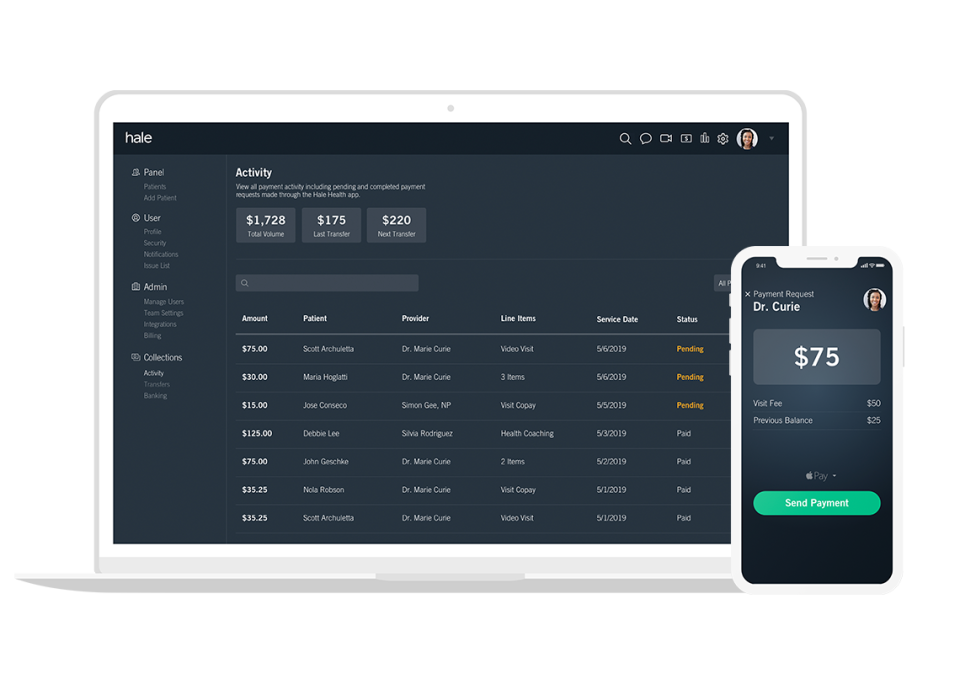 Image: https://www.softwareadvice.com
6. Hospital Management Software
Hospital management software is a comprehensive tool designed to streamline various administrative and operational tasks within healthcare facilities. It includes many subtypes, the main three being:
Appointment scheduling software
Appointment scheduling software helps medical practices book, manage, and reschedule appointments with patients in a way that is efficient and convenient for both parties. It reduces the risk of missed appointments, helping save the time of medical staff.
Healthcare billing software
Medical billing software is used to generate and submit claims to insurance companies, track payments, and ensure that they are reimbursed for their services. Healthcare billing software can assist healthcare providers in improving their financial performance and reducing their administrative burden.
Medical equipment management software
Medical equipment management software supports healthcare institutions in tracking equipment inventory, maintaining schedules, and complying with regulations to ensure that their medical equipment is safe and reliable for their patients.
Revenue cycle management software
RCM software offers an all-encompassing solution overseeing the complete revenue cycle, commencing with patient scheduling and concluding with claim reimbursement. With RCM software, various aspects of managing revenue cycles, including eligibility verification, claims submission, and addressing denied claims, can be automated.
Statistics: The global hospital management software market was USD 25 billion in 2021 and was projected to continue expanding at a CAGR of over 9% from 2022 to 2027, as reported by TechSci Research.
Examples: Petal Clinical Capacity Management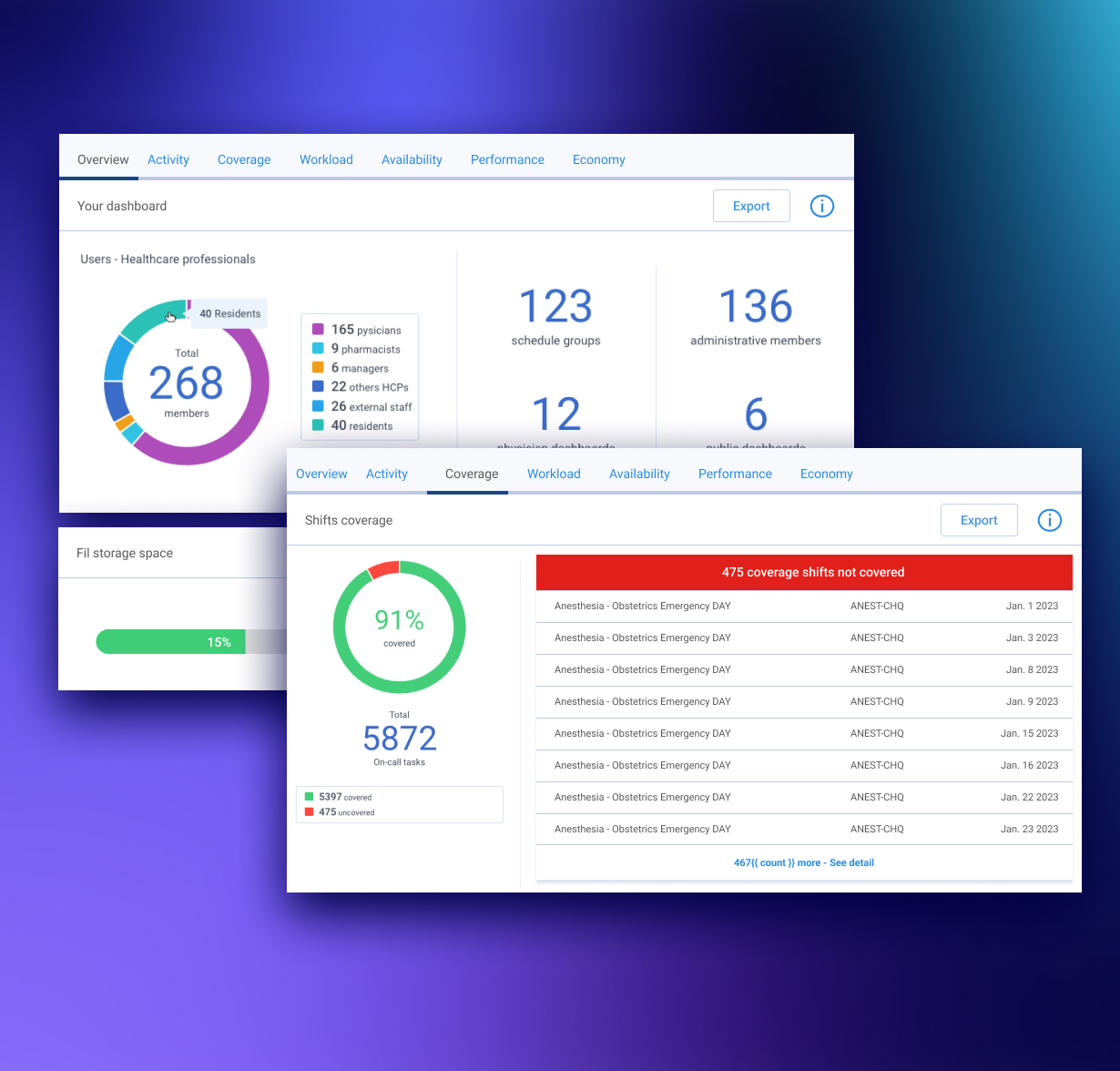 Image: https://www.softwareadvice.com
7. E-prescribing software
E-prescribing software aims to improve the way medications are prescribed and managed. It enables healthcare providers, typically medical practitioners and other prescribers, to generate and transmit electronic prescriptions directly to pharmacies.
Statistics: The adoption of this type of medical software has been steadily increasing worldwide. In the United States, for example, the use of e-prescribing technology has become standard practice. In the global context, the e-prescribing software market is expected to grow at a CAGR of 26.8%, from USD 3.66 billion in 2023 to USD 19.28 billion in 2030, according to Grand View Research.
Insights:
The key factors driving the e-prescribing market growth are:
the increasing pressure to minimize medical errors and Adverse Drug Events (ADEs),

the need to keep a check on opioid prescriptions,

growing adoption of integrated EHR suites.
The future of e-prescribing software promises even greater integration with electronic health record (EHR) systems, enhancing the seamless flow of patient information between prescribers and pharmacies.
Additionally, as healthcare becomes more patient-centric, e-prescribing solutions are likely to incorporate patient engagement features, allowing patients to access and manage their medication information more easily. Moreover, the continued development of mobile apps and telehealth services is expected to further expand the reach and convenience of e-prescribing.
Example: DoseSpot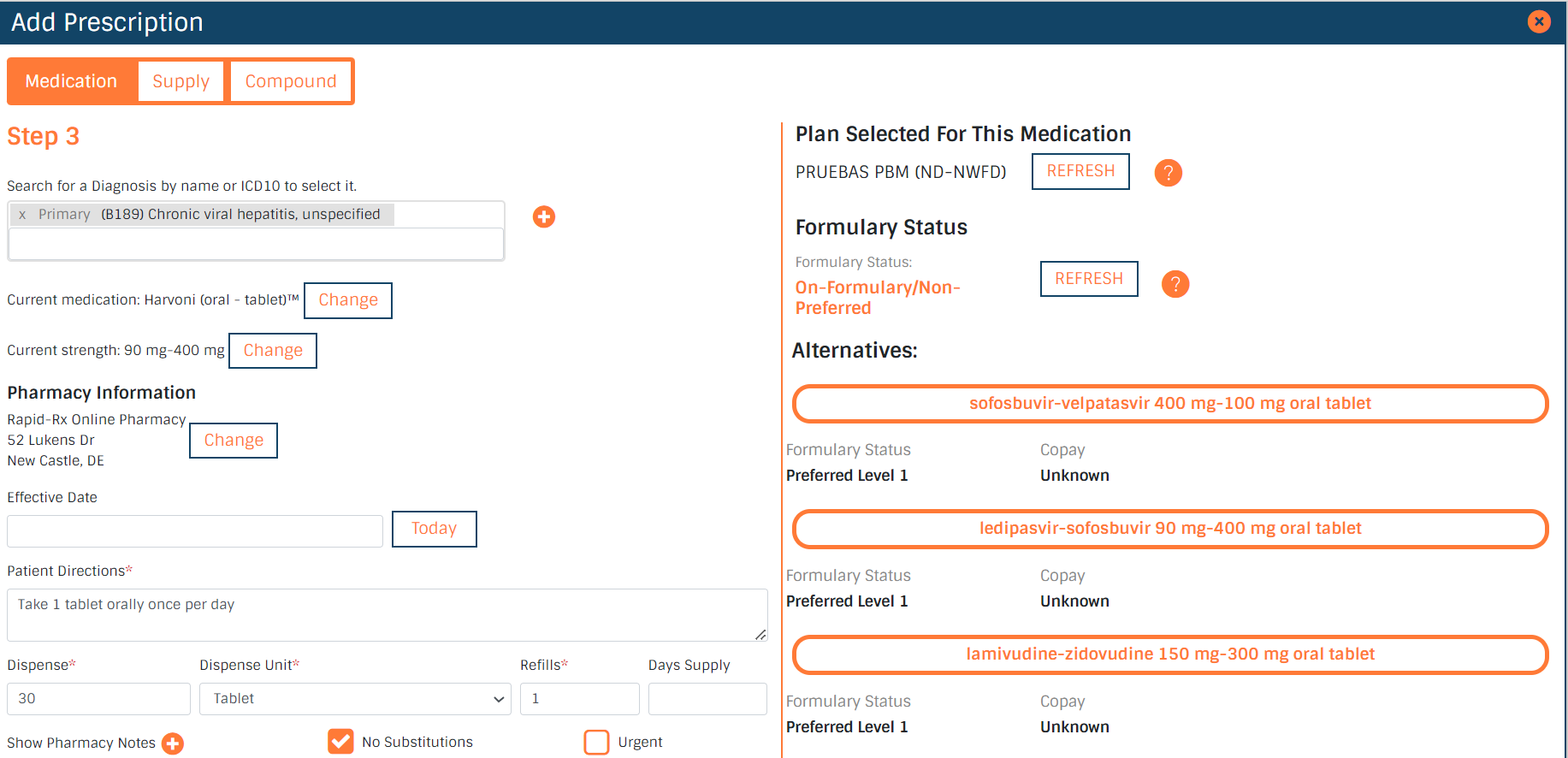 Image: https://www.softwareadvice.com
8. Telehealth and telemedicine software
Telehealth and telemedicine software exploded during the COVID-19 pandemic. Before its widespread adoption worldwide, telehealth software was used by patients in remote areas, and those with mobility issues.
With telemedicine services, patients can talk with healthcare professionals through video calls. It reduces the need for in-person visits, allows for virtual diagnosis and treatment, and improves access to healthcare.
Statistics: The global telemedicine market is anticipated to reach $380.3 billion by 2030, growing at a CAGR of 18.6% over the forecast period, according to a report by Grand View Research.
Future predictions: Telehealth services will continue to expand. The web/mobile-based delivery method is projected to show the highest compound annual growth rate in the forecast period, thanks to the widespread use of smartphones and internet access.
The tele-home facility category is set to experience the highest CAGR between 2023 and 2030 because of advancements in remote patient health monitoring technologies and increased awareness of the advantages of remote healthcare, according to the aforementioned report.
Examples: Doxy.me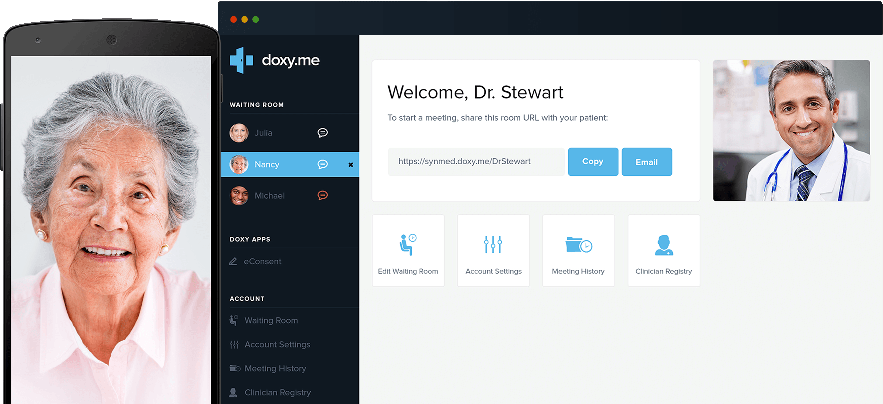 Image: https://www.softwareadvice.com
9. Health tracking apps
Health tracking apps are digital tools designed to help people monitor and manage various aspects of their health and well-being. These applications are available on smartphones and wearable devices. Users can track and record data related to physical activity, diet, sleep patterns, vital signs, steps, heart rate, calorie intake, and even specific health metrics like blood pressure or glucose levels. Some apps also offer personalized recommendations and reminders to encourage healthier behaviors, such as drinking more water, exercising regularly, or getting enough sleep.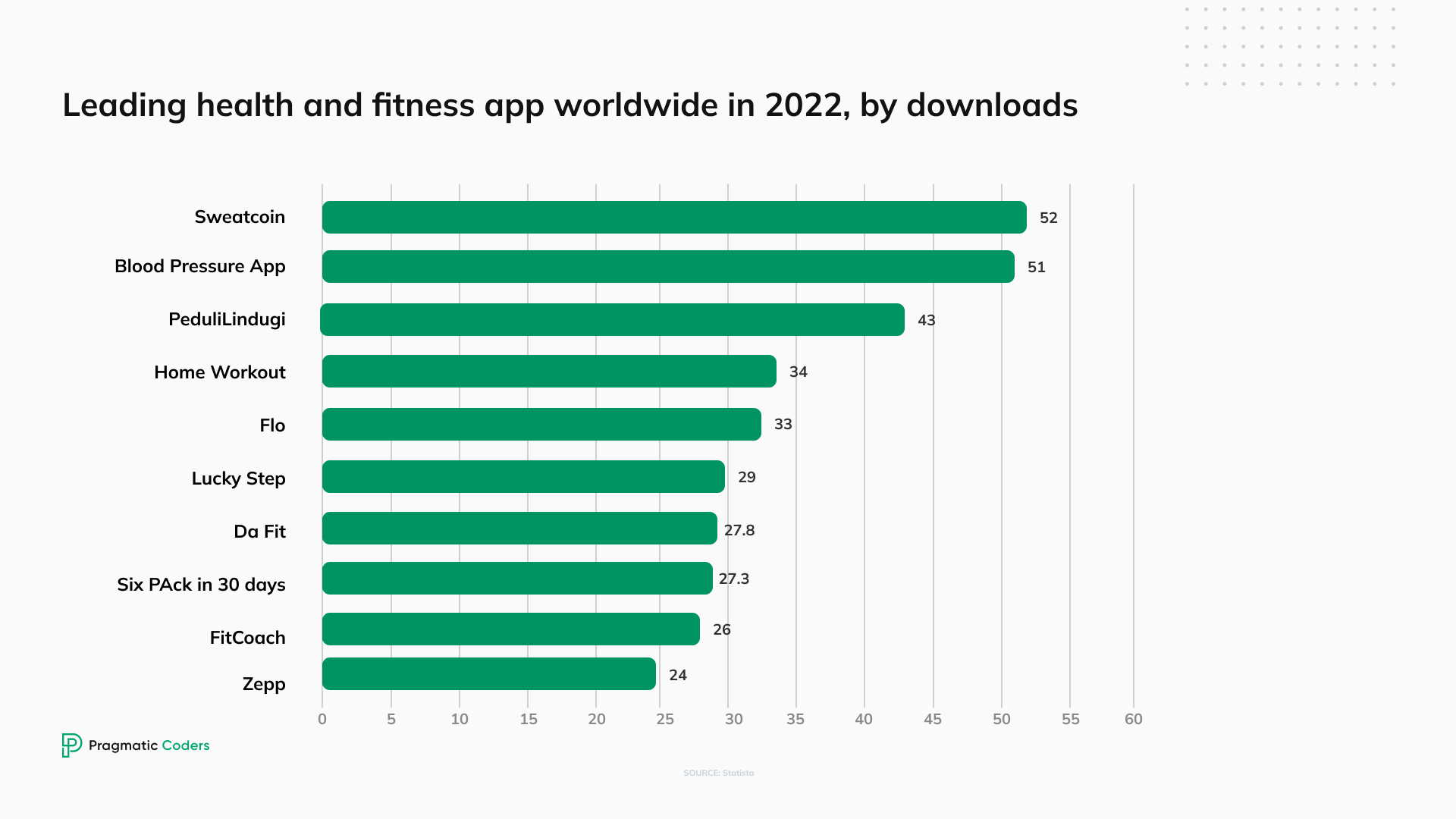 Source: Statista

Statistics: The global health tracking software market is expected to reach revenue of US$ 77.48 billion at a CAGR of 15.6% by the forecast period ending 2033.
Future predictions:
mHealth: Medical apps constituted 97.0% of the mHealth apps market in 2022, pr

imarily due to their wide range of services for managing and tracking various health conditions. With this, the growing penetration of mobile apps, and the global mHealth apps market expected to reach USD 105.9 billion by 2030, the dynamic growth of this type of medical software is inevitable.
Gamification of health: The best way to engage patients? Make them play a game. Gamification is the use of game-design elements and principles in non-game contexts. In the healthcare industry, gamification is used to help patients learn about their health, make better healthcare decisions, and stick to their treatment plans. The worldwide healthcare gamification market is expected to reach USD 15.95 billion by 2030.

VR & AR: According to insight by Statista, we're going to observe health and fitness apps becoming more immersive. For instance, in October 2021, Meta Platform acquired the VR fitness app Supernatural, and in March 2022, the Meta Quest store introduced the boxing app Liteboxer for the Oculus Quest 2. Anticipated advancements in this field are also expected to pique the interest of the medical sector, with the augmented reality market in digital healthcare projected to reach a substantial 4.23 billion U.S. dollars by 2026.
Example: Lucky Step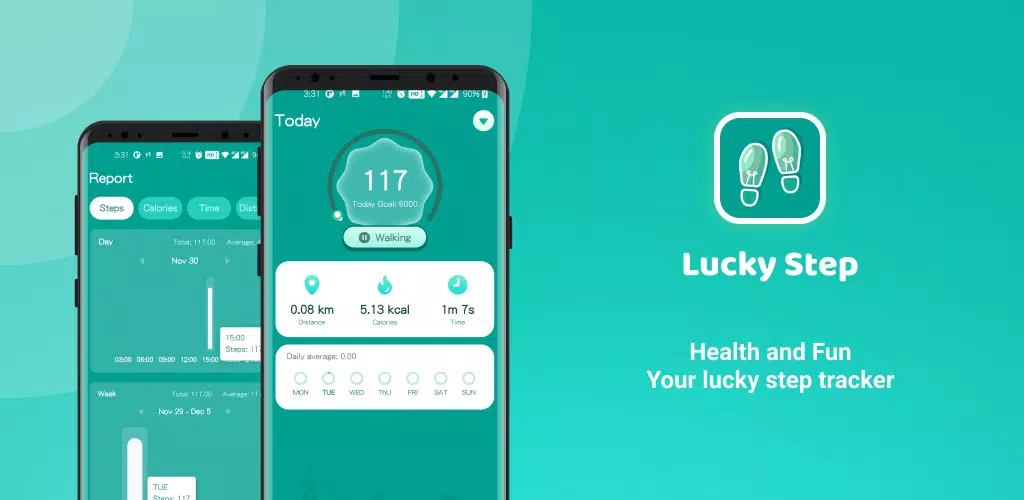 Image: apkpure.com
10. Personal Health Record software (medical diaries)
Personal Health Record (PHR) software, often referred to as medical diaries, serves as a digital repository for an individual's patient data. These applications help users keep track of their medical history, appointments, medications, test results, and other essential health data. This may include details about past and current illnesses, allergies, surgeries, vaccinations, and medications. PHR software often allows users to upload documents such as lab reports and imaging scans, creating a comprehensive and easily accessible health record.
Statistics: The global personal health record software market is expected to grow from $8.21 billion in 2022 to $15.55 billion in 2030 at a compound annual growth rate (CAGR) of 8.30%.
Insights: The growth of the personal health record market is propelled by several key factors. One significant driver is the increasing demand for centralizing and streamlining healthcare information.
Another influential factor contributing to market expansion is the increasing emphasis on patient-centric care.
Finally, the market is witnessing growth due to the rising demand for cloud-based medical software designed to handle individual health data.
Example: Health Folder [READ THE CASE STUDY]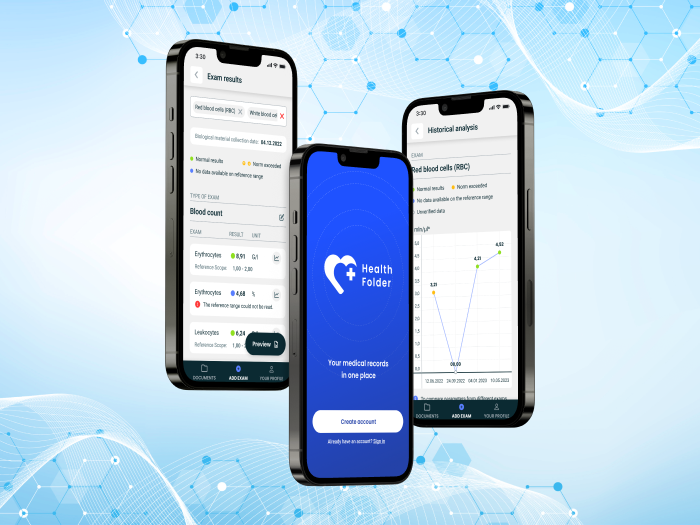 ---
Types of medical software. Conclusion
The world of medical software is diverse and ever-expanding, offering a wide array of solutions to meet the evolving needs of healthcare providers and patients.
From electronic health records to patient data portals, the healthcare software landscape continues to innovate and adapt, playing a crucial role in enhancing the efficiency, accuracy, and quality of healthcare delivery worldwide.