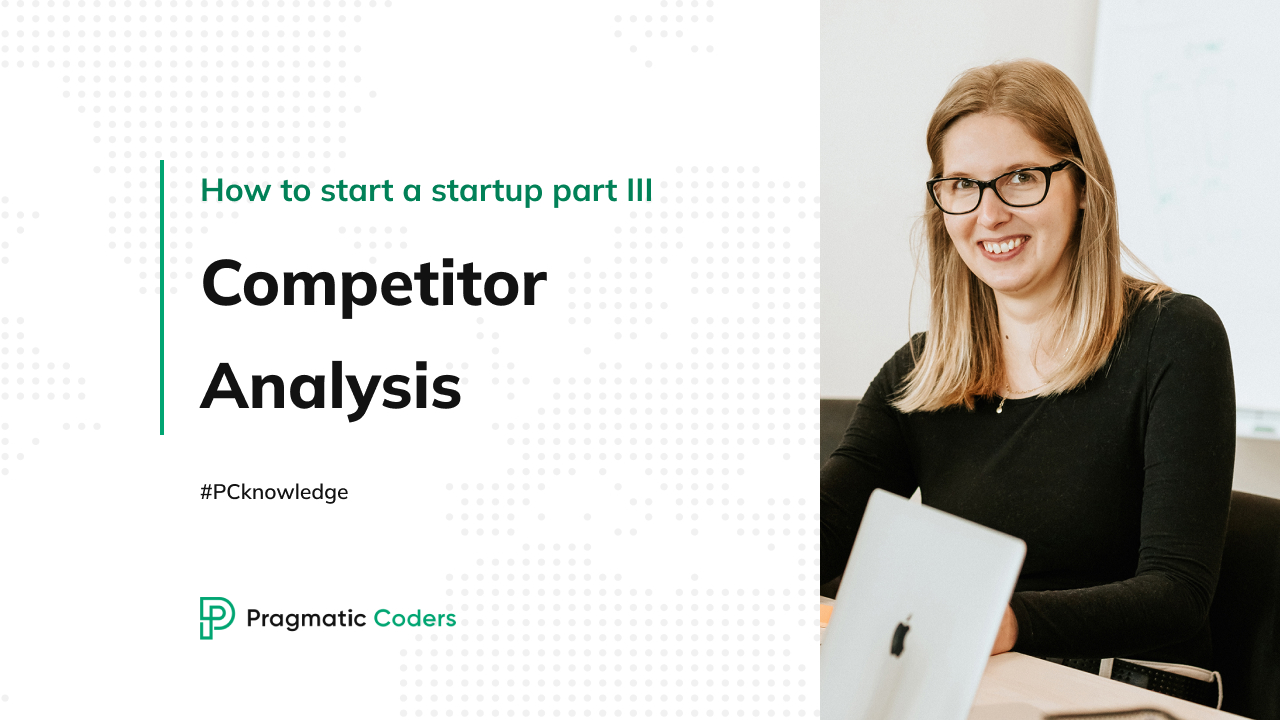 Want to know how your startup stacks up against the competition?
Knowing your competitors is essential to a successful marketing plan. This article will teach you everything you need to know about conducting a competition analysis, so you can identify and capitalize on your strengths, gain a competitive advantage over other players in your industry, and protect yourself from potential threats.
In this article, we'll go over the three steps of a successful competitor analysis:
Identifying your competitors

Gathering information about your competitors

Analyzing your position
After reading it, you'll be armed with all the information you need to create an edge over the competition. So what are you waiting for? Start reading now!
This is the third in a series of blog posts designed to help startup founders better understand and plan the products they build. If you wish to find out more about market research and desk research, be sure to read our previous post.
TABLE OF CONTENT
Definition of competitor analysis
Goals of conducting a competitor analysis
Advantages of competitor analysis
Where do I find my competitors?
Google
App marketplaces
Similar products lists
Review portals
Startup databases
2: Gather information about your competitors
Competitive Profile Matrix (CPM)
Competitive feature market analysis
What is a competitor analysis?
Definition of competitor analysis
Competition analysis is the process of evaluating the competitive environment in which a company operates. This evaluation can be done to understand the company's strengths and weaknesses relative to its competitors and to identify opportunities and threats in the market.
Competitor analysis can be a part of your UX research.
Goals of conducting a competitor analysis
Check what your competitors are up to
The first and most crucial goal of conducting a competitive analysis is to gain clarity of the competitive landscape. You want to have a general overview of the market, the latest trends, and predictions for the future.
You must determine if anyone has come up with a similar idea. This is important because it can help you determine whether your business is unique or not.
Analyze if anyone has ever done something similar
This one is about taking a deep dive into history to examine whether anyone has ever created a product similar to yours.
Once you have found such a product, you need to determine whether it met with success or failed. If it turns out it didn't work, and the business went belly up, try to understand why it happened. It can help you avoid similar mistakes.
If there are already businesses that offer the same product or service, you'll need to find a way to differentiate yourself from them.
Is there anything you can do better? What could you do to get a competitive advantage over your direct and indirect competitors?
This can be done by looking at the features of existing solutions and determining how your solution is or can be different. For example, you could niche down and address more specific needs of your audience.
Advantages of competitor analysis
One of the primary advantages of a competitor analysis is that it helps you better understand your industry. By studying your competitors, you can learn about the different products and services available in your industry, and the different marketing strategies that they are using to sell those products and services.
Another advantage of a competitive analysis is gaining clarity of your target market and learning about the different demographics that your competitors are targeting with their products and services. This information can be helpful in determining who your audience should be.
Identify your unique selling proposition
Your USP (unique selling proposition) is what makes your business unique and different from your competitors. By conducting competitive analysis and studying your direct and indirect competitors, you can more easily identify your USP.
Stay up-to-date on industry trends
Another advantage of the competitive analysis is that it can help you to track your progress over time. By periodically conducting a competitive analysis, you can see how your business is performing compared to your competitors. With this data, you can adapt your marketing strategy as needed.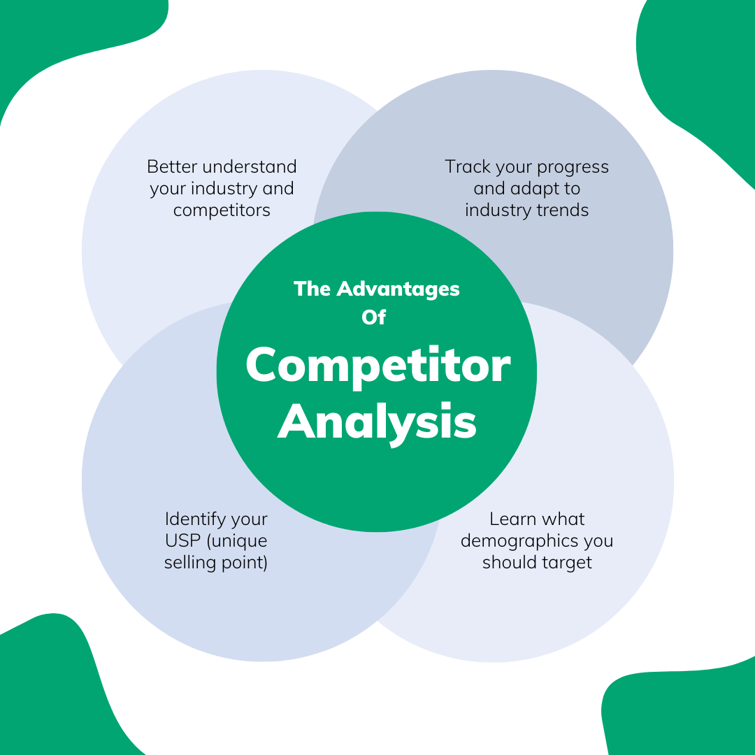 Identify your competitors
Types of competitors
For a startup, it's important to know who your competitors are to make your business stand out. Here are the different types of competitors you should be aware of:
Direct competitors
These businesses offer the same products or services as you and share the same target audience and market area. Direct competitors would be Coca-Cola and Pepsi, H&M and Zara, or Netflix and HBO Go.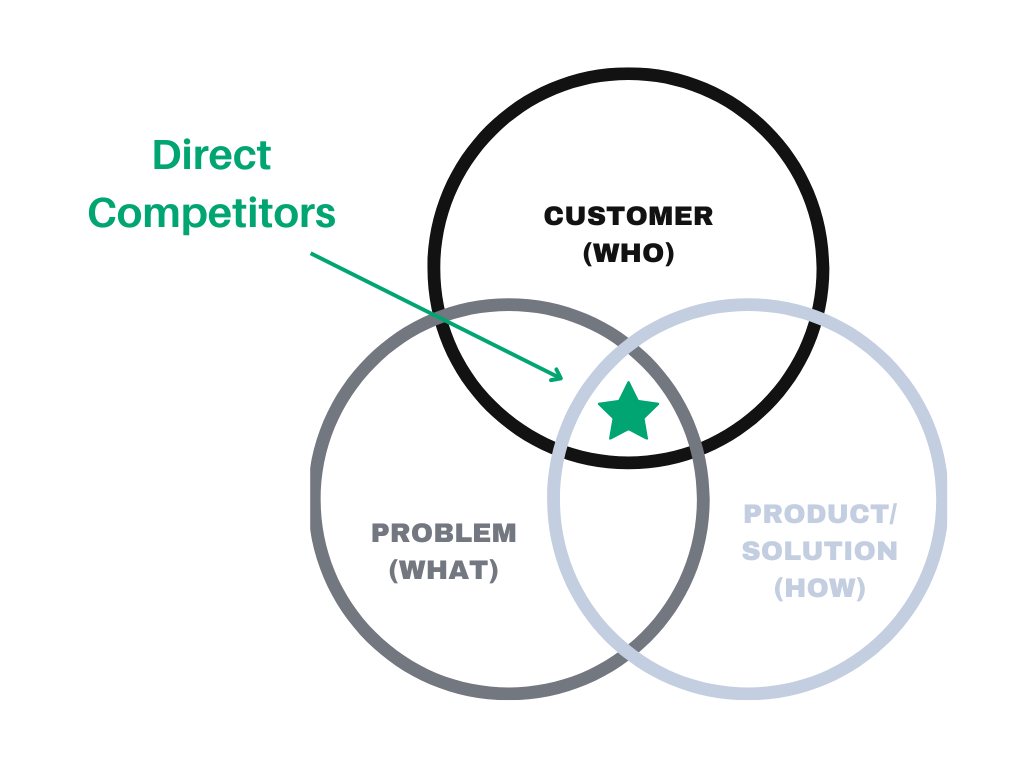 Indirect competitors
These are companies that respond to the same demand as you, but not in the same way. They fall into the same category, but their products or services may differ. Let's look at the example.
Demand: needs something to wear
Category: clothes
Service/product: sports clothes (Nike) vs. luxury/elegant-ish (Hermes)
As you can see, both Mango and Nike respond to the same demand (buying clothes) and belong to the same category (clothing), but offer different products. Nike goes for running shorts and spandex leggings, while Hermes offers luxury high-fashion clothing.
Potential competitors
These are businesses with a similar market proposition and who you are fighting for the same customers. However, what differentiates them from direct competitors is that they are not within your market area yet. If you're a kitchen supplies manufacturer operating in Europe, your potential competitor would be a kitchen supplies producer from South America.
Future competitors
Future competitors are like potential competitors, but they're much more ready and likely to enter your market. It's not just that they MIGHT enter your market - they will probably do it in the future.
Replacement competitors
Replacement competitors are businesses that sell a product or service that's different from yours. You could ask: "If they have nothing in common with my offer, then where's the threat?".
Well, your customers could spend their money on the replacement instead of your product. A hungry person (demand = hunger) doesn't have to go to a salad bar to eat their fill. They may as well go to a grocery store, buy food, and cook something at home.
Where do I find my competitors?
Once we've explained the different types of competitors, we can move on to the next point and which is the question: where can I find my competitors for my competitive analysis?
The most common places to look for your direct and indirect competitors are:
search engines (Google, etc.),
application marketplaces (App Store, Google Play, Microsoft Apps),
similar product lists (AlternativeTo, ProductHunt, Slant),
review portals (G2, Clutch, Capterra),
startup databases (Dealroom.co).
Google
I had to include this one as a matter of principle but I'm not going to insult your intelligence any longer, so that's it. No more talking about Google.
---
---
App marketplaces
In addition to online research, you can explore your competitor's offerings through application marketplaces.
The most popular ones are, of course: App Store (iOS), Google Play (Android), and Microsoft Apps. In these app marketplaces, you can check the number of downloads, user ratings & reviews, as well as some other valuable data such as the size of the app or the last update.
---
---
Similar products lists
AlternativeTo is a free service that helps you find better alternatives to products. It's a great tool that can not only show you who your competitors are but also provides you with useful information regarding their offers, such as product features, supported languages, and user reviews. It also enables you to filter your search result to check your rivals' unique value propositions.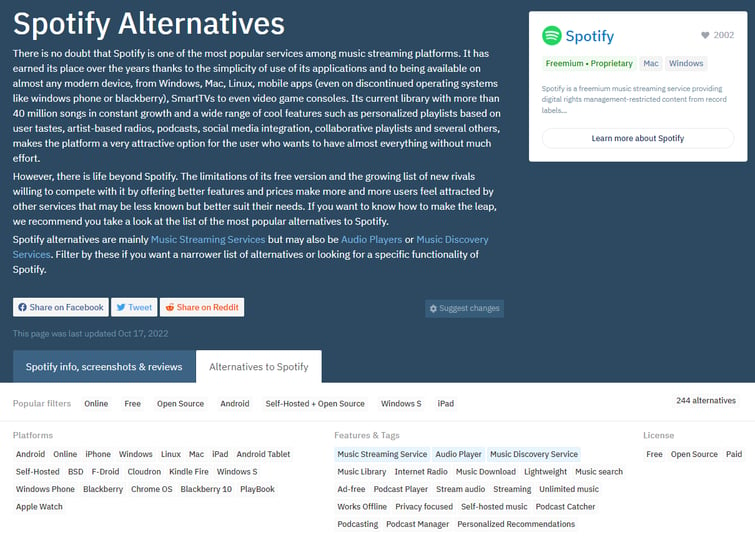 What's also nice is that the search results go with all tags and features as well as user opinions of both products. In this case, we can see why Douze chose Deezer over Spotify.

---
With Product Hunt, users are able to share and discover new products. On this website, you can both present your product to the world (submitting products is available to all members) and analyze what your competitors are up to.
What you see on the main page is a linear list of products submitted on that day.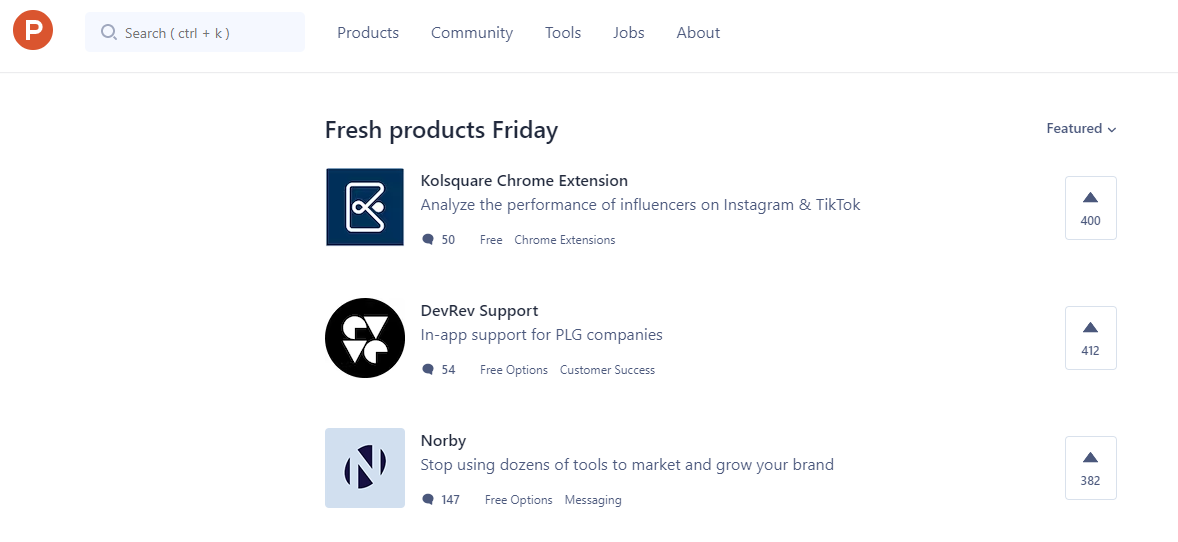 For your competitive research, you should be particularly interested in the Topics and Upcoming products subpages.

With Upcoming products, you can go through a list of upcoming products and subscribe to get notified on the launch day.
The most essential functionality - Topics - enables you to review your competitors conveniently.
---
Slant is a little bit different from AlternativeTo and Product Hunt as it focused on answering the question "What are the best...". So, if you are willing to build another music streaming platform and do a competitor analysis on Slant, the website will address your search queries with the "What are the best music streaming services?" result.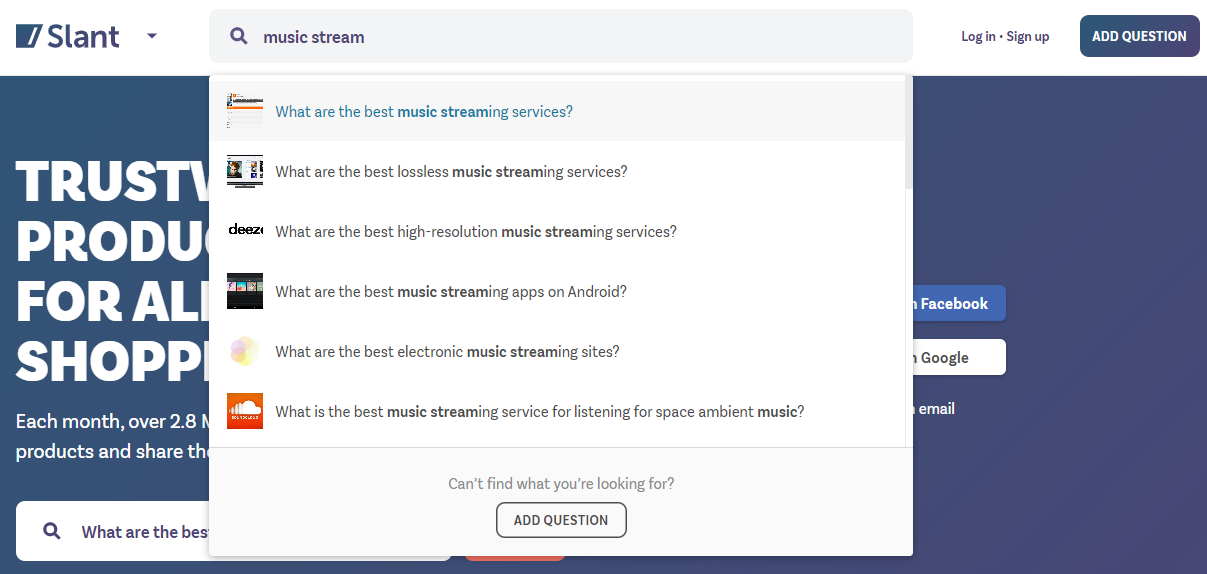 A massive advantage of Slant is the in-depth and easy-to-digest comparison of the products on the market. In the case of music streaming services, you can examine your competitors in terms of pricing, platforms, paid plan audio quality, and many other (20+) features.

PROTIP: Need more sites similar to AlternativeTo, Product Hunt, and Slant? Go to AlternativeTo and type... "AlternativeTo" in the search field 😉
---
---
Review portals
Sites that are particularly helpful when conducting competitor analysis are... review portals. They come in handy for two reasons.
Firstly, they present huge collections of products divided into categories. Secondly, because of reviews, you can not only check what your competitors are doing right or wrong but also use the customers' feedback for your desk research. Two birds with one stone.
One such site is G2—a software marketplace with over 137,000 products and services listed.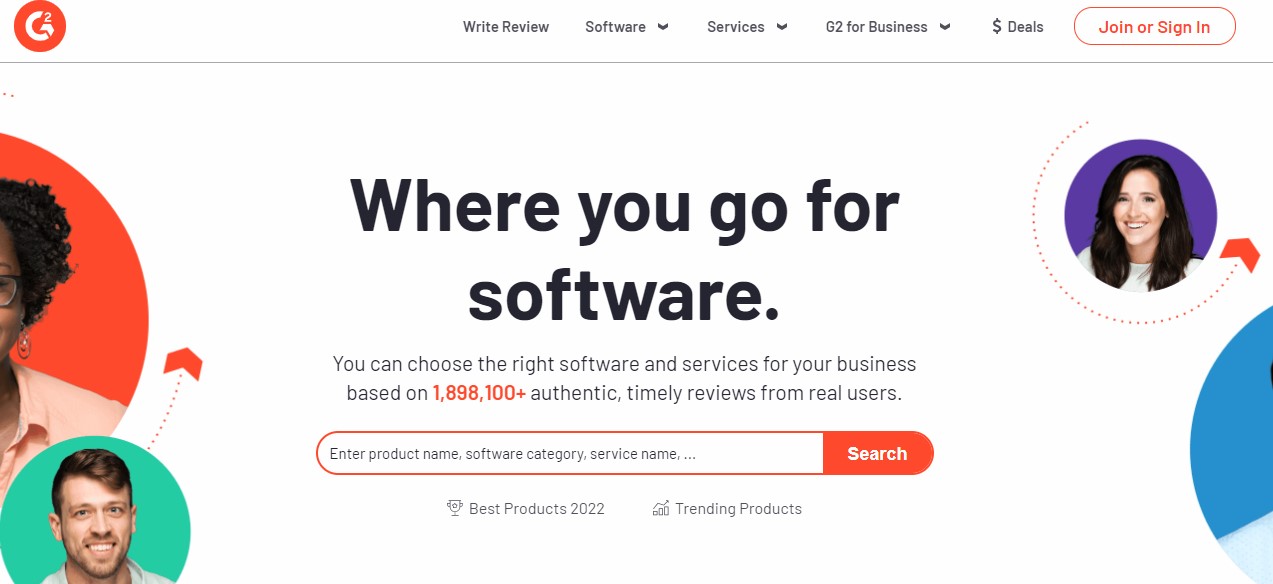 ---
Clutch: B2B Ratings & Reviews
Clutch is a ratings and reviews platform for IT, marketing, and business service providers with more than half a million monthly users. While G2 is more product-centered, Clutch focuses on providing you with a list of companies so that you can easily find a business partner.
A cool feature are custom shortlists. All you need to do is schedule a free meeting with Clutch consultant and share your project details, budget, and timeline to be next introduced to a handful of service providers that match your criteria.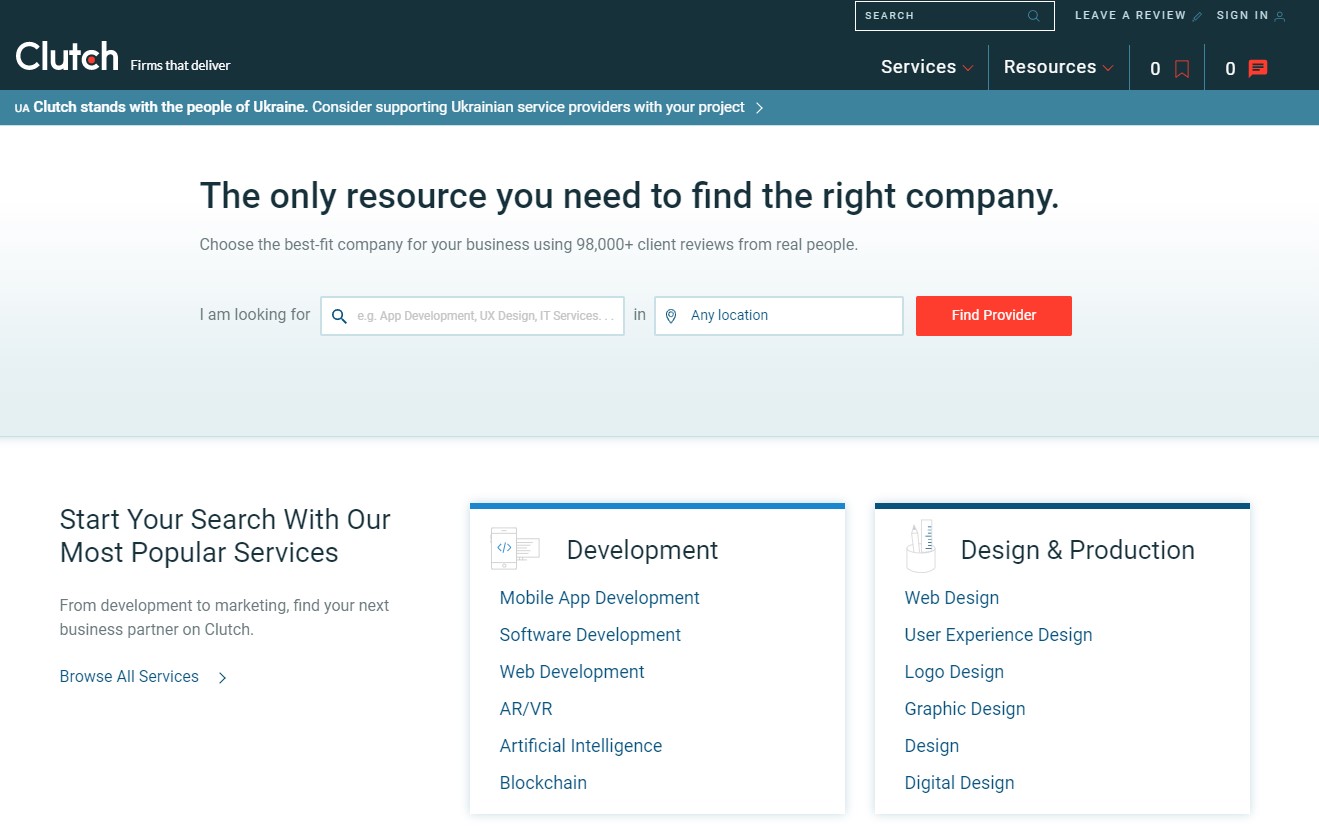 ---
Capterra: Software and Software Reviews
Capterra is a free online marketplace vendor that supports consumers in selecting software for their needs with reviews, ratings, infographics, and lists of the top business software products available.
All three of those review portals seem great tools but if you're a visual learner like me, you're most likely going to especially like Capterra. The way they present information on their site is simply the most visually pleasing.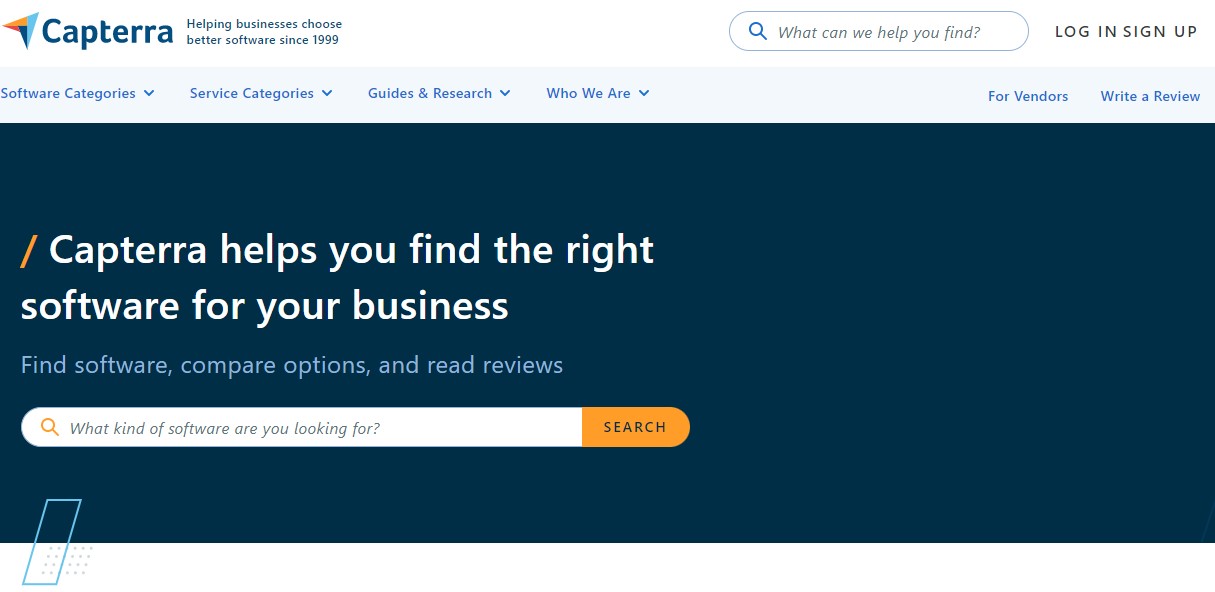 ---
---
Dealroom.co describes itself as a global provider of data and intelligence on startups and tech ecosystems. Founded in Amsterdam in 2013, we now work with many of the world's most prominent investors, entrepreneurs and government organizations to provide transparency, analysis and insights on venture capital activity.
Although it may not be a startup founder's first choice when it comes to conducting competitive market analysis, it is an enormous startup-related database.
You might be particularly interested in the Curated content tab and, more precisely, in a little dark module down below:


With this, you can analyze your competitors from different angles, looking into industries and sub-industries, technologies, business models, etc.
Click any of the phrases listed there, and you'll be directed to a table comparing your potential competitors. In my case, I searched for the food industry and food logistics & delivery as a sub-industry.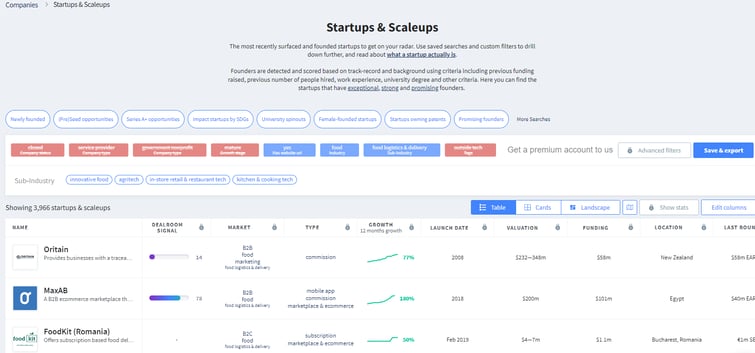 Of course, the free version has its limitations (I was shown only 10 out of 3,953 available results), but it's a nice starting point for further exploration.
Gather information about your competitors
Competitor analysis is not only about what your rivals offer, but also about how they intend to tell the world about it. You've gathered information about your competitors' products, now it's time to check how they reach out to their target customers.
To examine your competitors' online performance you must take asses a few key aspects of their internet presence, e.g.:
SEO,

Social Media,

Email marketing.
Since competitor analysis tools are a HUGE topic I won't go into much detail, but I'll at least try to give you a quick overview of what options are out there.
Below we'll discuss the most popular tools that can help you analyze how your competitors do online.
SEO
Google Search Console (previously known as Google Webmaster Tools) is a free Google service that helps website owners understand how their website performs in Google searches. It provides information such as how often your website appears in search results, what keywords your website ranks for, and which pages receive the most organic search traffic.
Moz is a popular online marketing tool that offers both free and paid services. Moz's free SEO tools include Competitive Research tool, Link Explorer, Keyword Explorer, Domain Analysis, MozBar (instant SEO metrics), and more.
Similarweb's main focus is to deliver a comprehensive view of the digital world. Similarweb analyzes the online performance of websites, mobile apps, search items, industries, brands, and keywords. It's a paid tool, but there's a free extension that lets you check your competitors' website rank, visits over time, geography and traffic sources.
Semrush, just like Similarweb, offers paid services for analyzing your online competitive landscape. Semrush provides its users with over 55 tools for SEO, content marketing, competitor research, PPC, and social media marketing.
Social media
Social Blade is a free online platform that provides users with statistics for YouTube, Twitch, Instagram, and Twitter. It offers global analytics for any content creator, live streamer, or brand. The platform also comes with Chrome and Mozilla extensions.
SocialTracker allows you to track the social media performance of influencers and brands. By entering a username, you gain insights into any profile, which makes it easy to monitor competitors, clients, or your own account on Instagram, Twitter, YouTube, Twitch, and TikTok. Most of SocialTracker's features are free, apart from the Engagement benchmarks option that lets you compare the audience reach of your and your competitors' brands.
Email marketing
Owletter is a paid email analytics tool that helps you stay ahead of your competition. It automatically captures all emails sent from a website to its mailing list, takes a screenshot, and stores it for analysis. You can use Owletter to see if your competitor's email frequency changes seasonally or if they have a great reputation for avoiding SPAM.
You might want to check out other email analytics tools: eDataSource, SendView, MailCharts.
Analyze your position
We've already found our competitors and analyzed how they perform online. The third, and final step is to analyze your position in the competitive landscape.
In this paragraph, we'll concentrate on exercises and techniques that can help you identify your strengths and weaknesses.
General competitive analysis
The most basic, but also the most useful exercise is filling out a competitive analysis template. Specific elements can vary, but such templates usually include:
company information,
its clients,
social media channels,
website performance,
general strengths and weaknesses.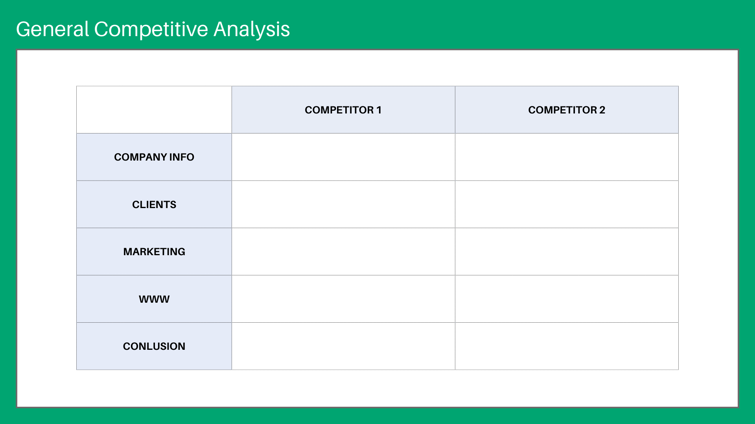 Brand perception map
A brand perception map is a tool that is used to measure how the public perceives certain brands. It's usually presented in the form of two axes. At the end of each of these axes, you put a feature's name. Then you analyze your competitors and your brand by placing them closer to these qualities you identify them with.
This exercise will enable you you visualize where your brand is compared to your competitors. It can help you decide if that's how you want your own company to be perceived.
Best practice: create multiple perception maps for different qualities to make sure you know the ins and outs of how others see your company.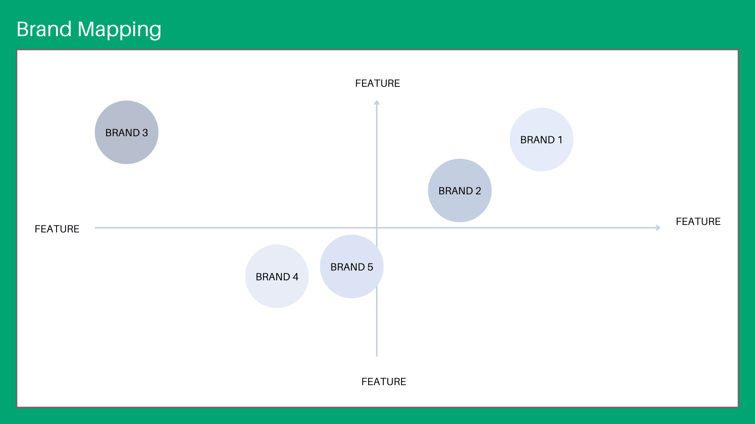 Competitive Profile Matrix (CPM)
If you're more into math than visuals, then the Competitive Profile Matrix may interest you.
How to use CPM (in big short)?
Identify the Critical Success Factors—elements necessary for an organization to succeed.

Weight shows how crucial a factor is for establishing success for your business. Assign Weight to each Factor, ranging from 0.0, meaning low importance, to 1.0, which equals high importance. The sum of all Weight values in a column must equal 1.0. It is recommended not to assign a weight of 0.3 or more to a Factor. The success of a company is hardly ever determined by just one variable.

Rating. The Rating indicates how successful a company is in a given area. Use numbers from 1 to 4, where 1 means poor performance and 4 is a synonym for major strength.

Score. To count the Score, simply multiply Weight numbers by Rating numbers.
That's it! The result of this matrix is a nice and neat table with numbers that are easy to compare and assess.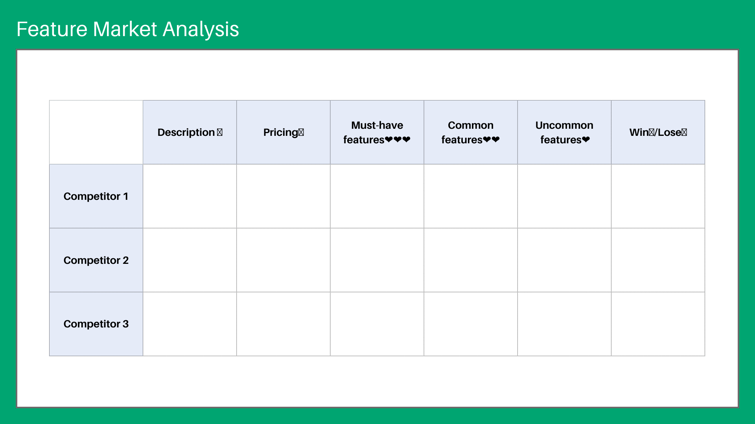 Competitive feature market analysis
The last exercise on our list is the competitive feature market analysis.
To start, you'll need a list of your competitors and their products. The list should include your competitors' product descriptions and pricing, as well as must-have, common and uncommon features. "Win" indicates how you're going to get ahead of your competition, and "Lose" shows the areas where you lose to your rivals.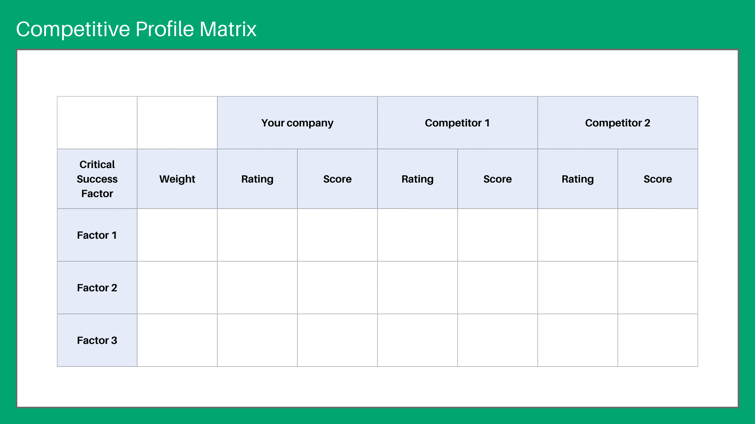 Final thoughts
That's it!
Now you:
know what competitor analysis is,

understand the different types of competitors,

have an idea of where to look for direct and indirect competitors,

are familiarized with tools to gather data about industry trends, your rival's business strategy, and marketing tactics.

can analyze your strengths and weaknesses.
You can now assemble all of your findings inside a simple one-page template - the Lean Canvas. With this tool, you will be able to validate your idea and put it into perspective. I hope I could help and good luck with your startup!