The banking sector is becoming more competitive each year. It's not enough to attract customers; you need to do your best not to lose them to your competitors.

Studies have shown that selling to an existing customer has a success rate of 60-70%. At the same time, selling to a new customer has a success rate of only 5-20%.
Additionally, acquiring new customers can cost 5 times more than retaining existing ones.
You can clearly see why keeping the existing customers of your banking software is crucial for its success - it's simply much, much cheaper.
But how do you do that?
Apart from great UX, exceptional customer support, and robust security methods, the ultimate way to keep the users inside your app is to give them the exact functionalities they want.
To address this need, we've created a research-based list of the best mobile banking app features people want, along with trends and upcoming opportunities for 2024.
Mobile banking app market landscape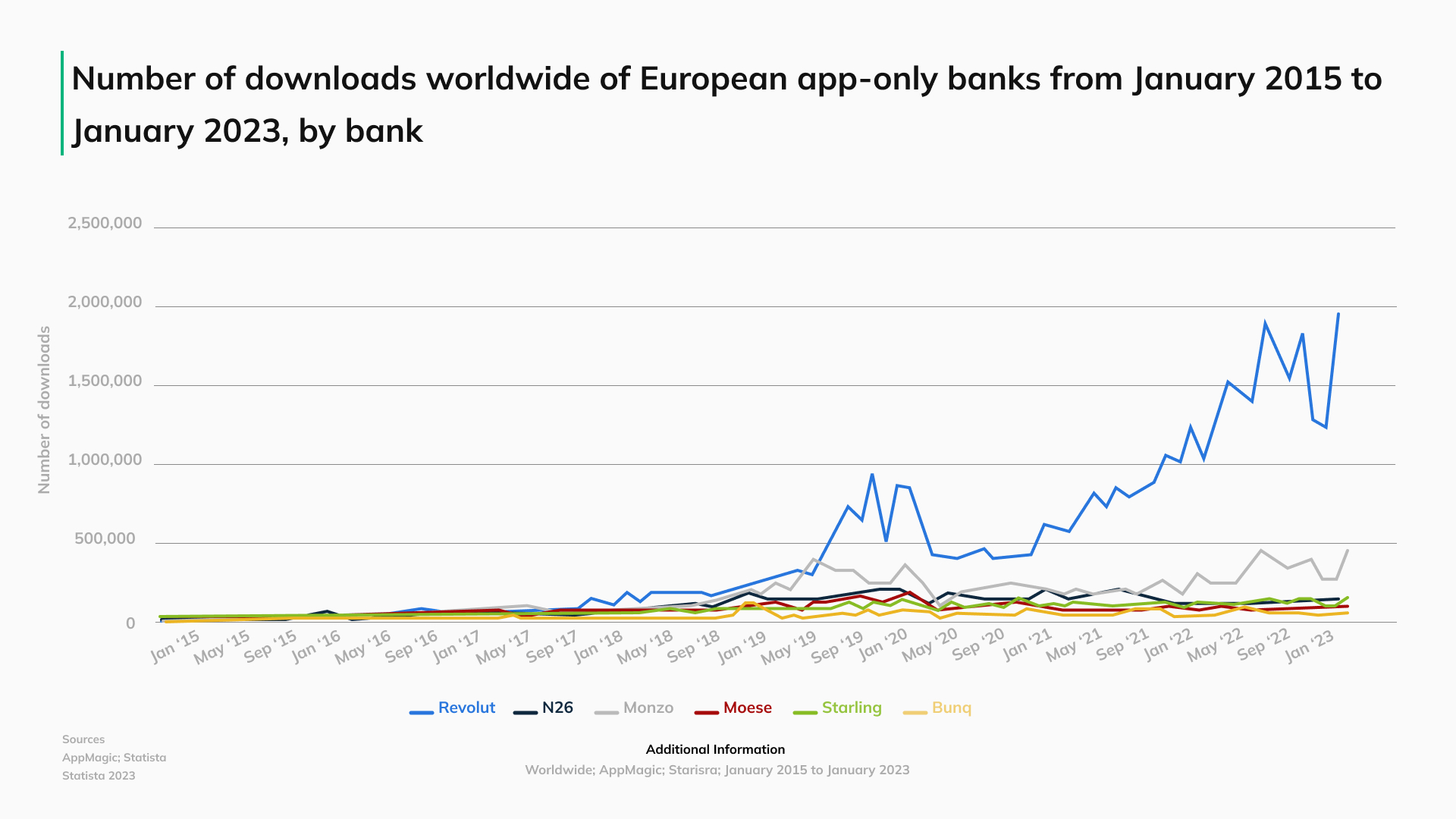 Source
Let's start with a general overview of the mobile banking landscape.
The future is digital and, more precisely, mobile - it's enough to see the graph above.
The six app-only digital banks had collectively accumulated over 80 million app downloads by January 2023. Additionally, as stated in a Statista market research report, the number of users in neobanks (a type of challenger bank that operates solely digitally) is expected to amount to 376.90m users by 2027.
According to Forrester research, the rise of mobile banking has intensified the competition between banks, with 40% of consumers now open to switching to a digital-only provider.
How to make your mobile banking app competitive?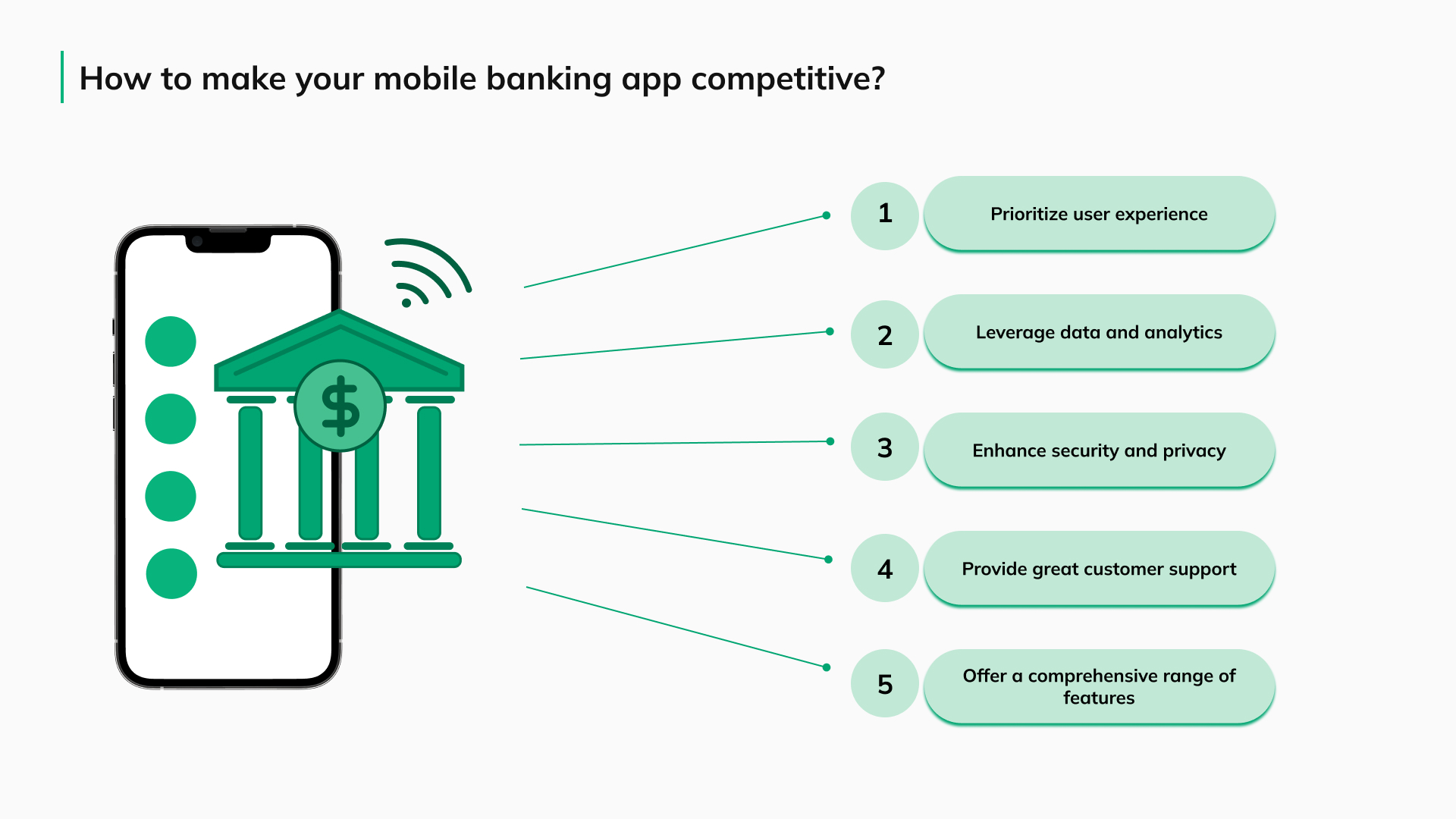 The market for banking apps is rapidly growing. However, it also means it's getting more and more competitive.
What core components do you need to incorporate into your banking app to even consider taking a part of the market for yourself?
1. Prioritize user experience
Above all, the app must be user-friendly and intuitive. Users should be able to perform everyday tasks: view account details, transfer money, pay bills, or manage credit cards.
Only if these essential features are provided will they be interested in more advanced options, such as insights into their financial data.
2. Leverage data and analytics
In today's world, clients want to feel like they're more than just a number. To do that, banks must use (AI-backed) data analytics to understand each client's needs and preferences.
3. Enhance security and privacy
Security and privacy are paramount in mobile banking. Banks must implement robust authentication measures, such as machine learning for fraud detection, to protect users' bank accounts and make them feel confident using the app.
4. Provide exceptional customer support
The bank of the future is intelligent, personalized, extremely automated, fast & agile, and omnichannel.
While the use of AI chatbots for customer support remains in question (more about it further in the article), the omnichannel concept ideally represents the future of client service.
It is aligned with the idea of seamless customer journeys across multiple touchpoints. Users can effortlessly switch between these touchpoints, all synchronized and capable of promptly addressing their needs.
For example, if a user encounters an issue within the app, they can reach out to the call center, and the representatives are already aware of the problem they are facing.
5. Offer a comprehensive range of features
A competitive mobile banking app should offer a comprehensive range of features… but what exactly should these features be?
Best mobile banking app features

Source
iSky surveyed 5,149 adults across 10 countries in the first quarter of 2023 for its report. According to it, the top 6 mobile banking app features globally are:
Cancel lost or stolen card
View bank account balance
View account transactions
Access digital account documentation
Support for when login credentials have been forgotten
Suspend/block all debit or ATM card transactions
You can compare it to the top 5 most in-demand features in Canada as of January 2023, according to research by Insider Intelligence:
Easy-to-understand transactions
Manage third-party services data access
As you can see, all these features - whether from the research by iSky or Insider Intelligence - seem quite generic. However, it's really the basic functionalities (account management and security & control) executed correctly that make for the base of the best mobile banking apps.
These 6 features, though in various orders, remain common for the US, UK, Canada, and worldwide. And what's more important, they have remained fairly consistent through the last several years (even through the pandemic), so we can predict it will stay this way for the upcoming year.
It gets more diverse down from number 7, as you can see in the table above. For example, there's a big stress on credit card management in the US (numbers 2, 5, 7, 8, 9, 14), a tendency that isn't reflected in other researched countries.
Here's another disparity: while Americans want to be able to initiate transfers, payments or similar pre-login (number 12), the inhabitants of Canada, the UK, and other countries don't find it that important (numbers 25, 29, 25 respectively).
It's true that customers are generally the same around the world. However, the word "generally" is key here.
While users share the same basic needs, the further we go, the more variations we'll find. It's important to recognize that the "ideal" user experience varies from country to country.
That's why tailored UX research will prove extremely useful for anyone who wants to build a banking app (or any other type of product, really).
Mobile banking features: trends & opportunities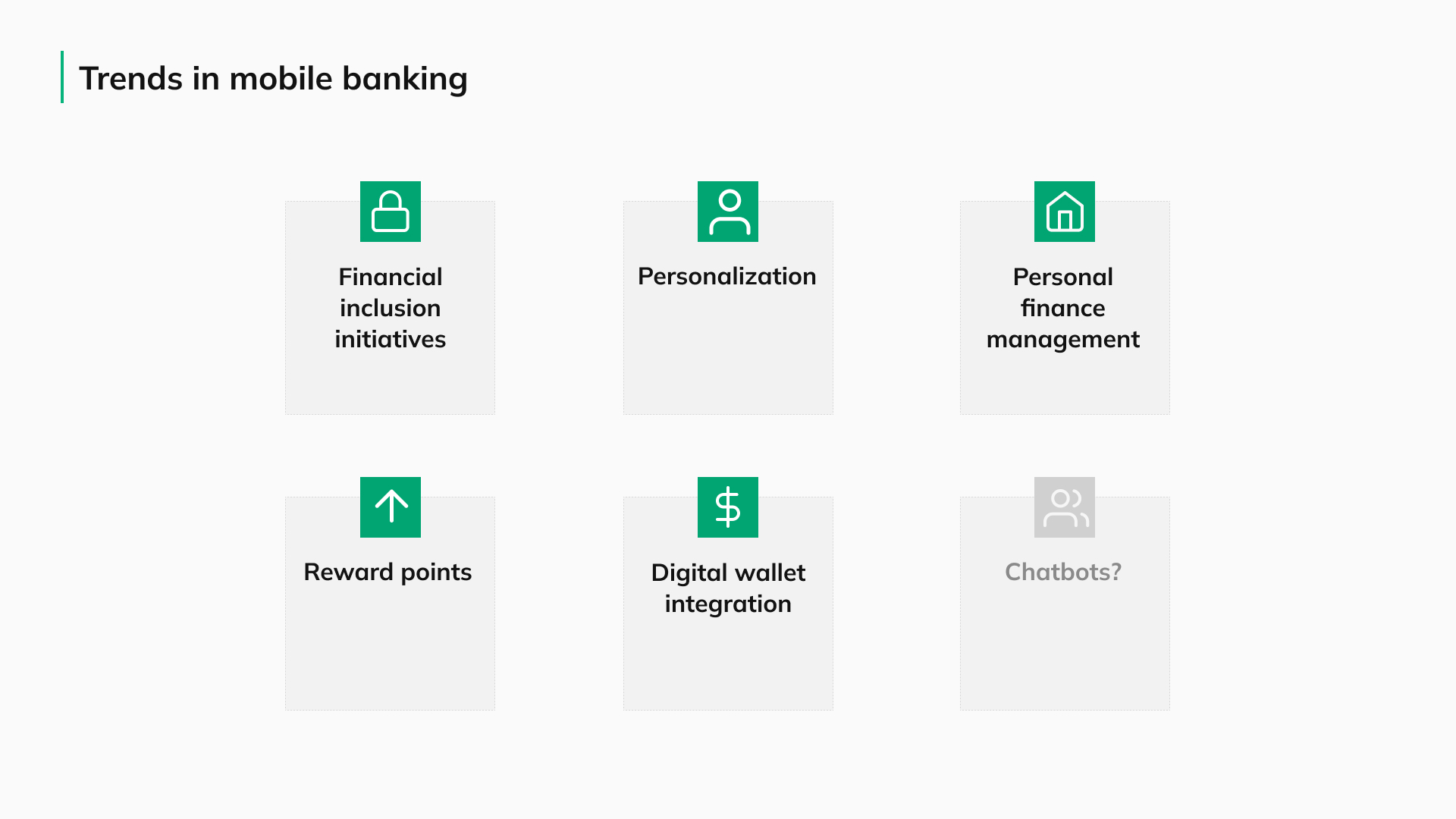 In the paragraph above, we named the exact functionalities customers want to have in their mobile banking apps.
Now, let's dive into more general fintech trends for 2024.
1. Financial inclusion initiatives
Banking satisfaction for financially vulnerable individuals is significantly lower than for those considered financially stable.
One of the ways that mobile banks can fill the gap in customer app satisfaction is by catering to the needs of underserved populations.
2. Personalization
Despite the convenience of mobile banking, there's still a gap in personalization.
Customers who primarily bank through digital channels are less likely to feel a personal connection with their bank than those who primarily visit a local bank branch - sources show a difference as great as 20 percentage points.
This clearly highlights the need for banks to enhance personalization through their mobile apps. The stronger the personal connection with a bank, the more likely a customer is a stick to it.
3. Personal finance management
The rising inflation, the aftermath of the COVID-19 pandemic, and the turmoil that affected various regions of the world have many of us tightening our belts. We're paying more attention to our expenses and monitor budgets more thoroughly. Still, regardless of age, many consumers face challenges in understanding fundamental aspects of their personal finances
No wonder personal financial management (PFM) tools - expense trackers that show spending and savings patterns - are becoming a standard feature to include in a bank's mobile app.
The juice is worth the squeeze: if financial institutions can effectively integrate them into their mobile apps, they can enhance customer retention and gain a decent competitive advantage.
But before you rush to integrate PFM tools into your mobile banking app, here are 3 insights you should consider, as highlighted in the article by The Financial Brand:
As was mentioned earlier, personal finance management is a nice addition to a an overall customer experience, but the isn't as useful as other, more basic, app features, such as checking transaction history or accessing savings account.
PFM tools drive the most satisfaction when used as a group, for example, when users get insights from budgeting, spending, and credit score monitoring tools.
J.D. Power's research discovered that consumers are four times more likely to use the entire PFM tool suite when offered alongside a virtual assistant. The study concluded that the simultaneous use of these tools creates a synergistic effect, significantly boosting customer satisfaction.
4. Reward points
While cash-back and reward programs have been around for years, mobile banking apps have made earning and redeeming rewards easier than ever.
Banks might offer earning points for specific purchases. Users can redeem them conveniently through their mobile banking apps.
6. Digital wallet integration
A digital wallet, or e-wallet, is a secure digital container storing sensitive financial information on a user's mobile device, such as credit card details and payment credentials.
These tools enable users to make contactless payments at physical stores and online merchants and eliminate the need for physical cards. Popular examples of digital wallets include Apple Pay, Google Pay, and Alipay.
According to Statista's research, mobile wallets dominate the e-commerce payment landscape, accounting for nearly half of all global transactions in 2022. This trend is expected to continue, with mobile wallets projected to capture over 54% of the market by 2026.
This meteoric rise in popularity can be attributed to mobile wallets' convenience, security, and user-friendliness, making them the preferred payment method for online shoppers worldwide.
7. What about chatbots?
Everyone is talking about virtual assistants these days, and we've heard the story of one CEO who replaced 90% of support staff with an AI chatbot. But are they really this good?
A recent Gartner survey of nearly 500 B2B and B2C customers revealed that only 8% had interacted with a chatbot during their most recent customer service experience. Moreover, only 25% indicated a willingness to use one again among those who interacted with a chatbot.
While virtual assistants present a promising opportunity, they are unusable from the user experience perspective - at least for now.