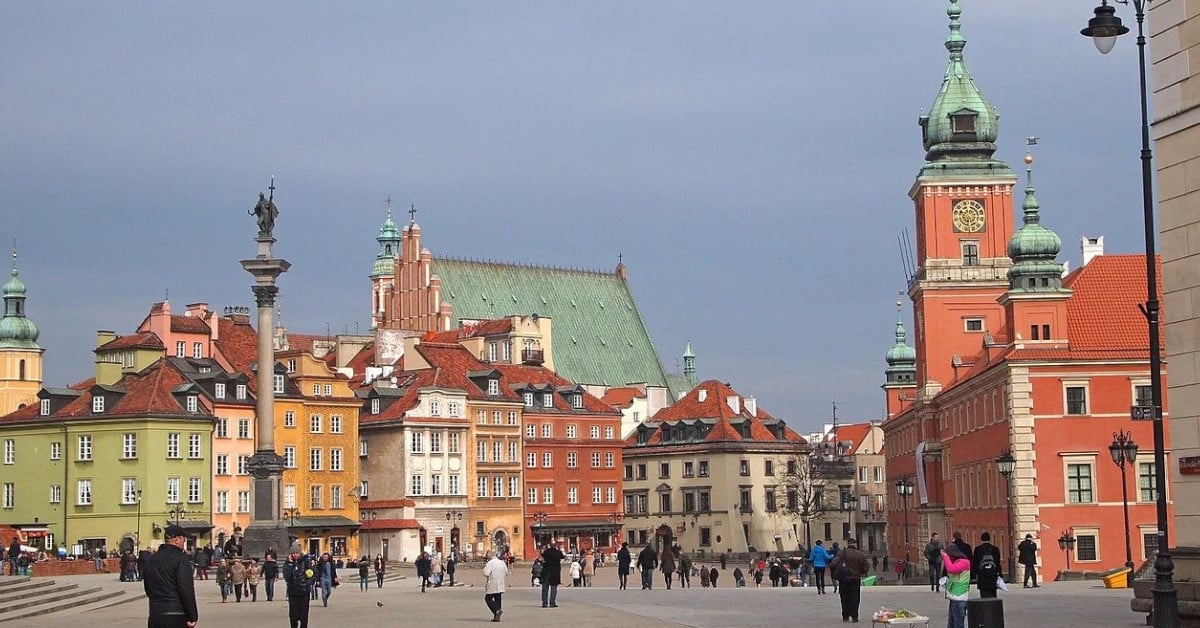 Today we present a list of countries and regions that are the best to outsource software development to. Because there may be different purposes for outsourcing, we list the countries in random order. You will decide what is most important and which choice fits you best.
Why so many companies choose to outsource
Outsourcing is a trend that grows year after year, including in 2021. Of course, there are many reasons why global corporations, small and medium businesses, and emerging startups choose to outsource IT services. Among them, the most important is certainly:
Lack of resources available locally.
The desire to reduce costs (according to Deloitte, 70% of companies say outsourcing was used as a cost-cutting tool).
Increasing efficiency (this reason is important, especially for small businesses with up to 50 employees - Clutch).
The high demand for developers specialized in various fields.
Digital transformation related to COVID-19.
Lack of internal resources and know-how necessary to develop in-house software. For example, FinTech outsourcing.
Knowing that, let's take a look at the aspects to consider when deciding to outsource.
What to think about when outsourcing
Finding a reliable provider and building productive relationships with remote teams is not an easy job. We'll help you by presenting areas you should think about.
Standards
Companies from the European Union or the West in general, have to comply with certain norms and are used to high standards of work. Hence, it is important that the providers to whom they outsource tasks are also well acquainted with these norms and legal regulations. Cultural differences in the approach to work or its insufficient quality are common causes of frustration.
Communication skills
It doesn't matter if you outsource the full project development or only a few tasks like bug-fixing. Communication is always important to the point that sometimes, the success of a venture depends on it. Therefore, when choosing an external team, find out if there are any language barriers between you. Moreover, find out if the team includes an experienced Product Owner because this is who you will mainly communicate with.
Of course, it is also worth paying attention to whether the development team has established standards when it comes to this communication, such as Sprint Review with stakeholders' participation (derived from Scrum).
Localization
This is closely related to communication because working with companies based in other time zones can be difficult. If you decide on this collaboration, make sure that you find at least an interval of a few hours a day during which you can have an online meeting. After all, not everything can be done effectively through emails. When outsourcing, it is also worth considering what is known as cultural fit, which is reflected in similar standards and work ethics. The location also affects the level of education available to the workforce, as access to education is easier in some parts of the world.
Price
This factor is always important and even crucial for startups. It would seem that when it comes to outsourcing, it's like with everything - if you want to get good quality, you have to pay well for it. However, it turns out that startups from countries such as the USA, UK, UAE, France, Germany, Belgium or Scandinavian countries can save a lot of money by outsourcing software development to Eastern European countries (but not only) and don't have to worry about quality.
Size of the project
A lot of companies have different needs. For example, corporations and large businesses usually can afford to have their own IT department responsible for core product development or core tasks. This allows for better control over the project, among other things. For these reasons, in most instances, corporations never outsource an end-to-end process, rather a small part of it. Something that can be done on a side track and is less important. In this case, less attention is given to contractor communication, methodology of their work or team capacity.
It's different with startups that don't have their own team and often outsource the development of the entire product to an external provider. In this case, it's better to look for not just an ordinary executor but people who know how to build products from scratch (starting with strategy) and are business-oriented. In summary, if you are a startup founder, don't look for a regular software house to where you can outsource software development too. Instead, find a real business partner with a wide knowledge of startup world.
One or multiple vendors?
No one said that you only have to choose only one company for outsourcing. In practice, many companies work with several entities, although this trend is increasingly reversing. It doesn't surprise us. Everyone wants to avoid all the headaches and risks connected with managing multiple vendors. So what instead? It's obvious that companies will focus on building long-term relationships with the business partner they'll choose. This is a big opportunity for companies that not only know software development but also have strong business expertise and care about the success of their clients.
Eastern Europe – is the most desired destination for software outsourcing
Eastern Europe is becoming an increasingly attractive location for outsourcing services for countries that account for 70% of the global demand for software outsourcing (the United States and Western Europe). Although according to various rankings, the Americans and the Chinese have always been the leaders among programmers, nowadays, their hegemony is not so obvious. Poland, Ukraine, Hungary, Romania and Slovakia have more than competitive prices, they have many highly qualified specialists, knowledge and experience in creating innovative products from A to Z. Additionally, they are in a time zone that makes it easy to communicate with most Western countries and provide developers who speak fluent English. These few things work very strongly in favour of Eastern Europe compared to other popular destinations like China and India. This can also be seen in various rankings.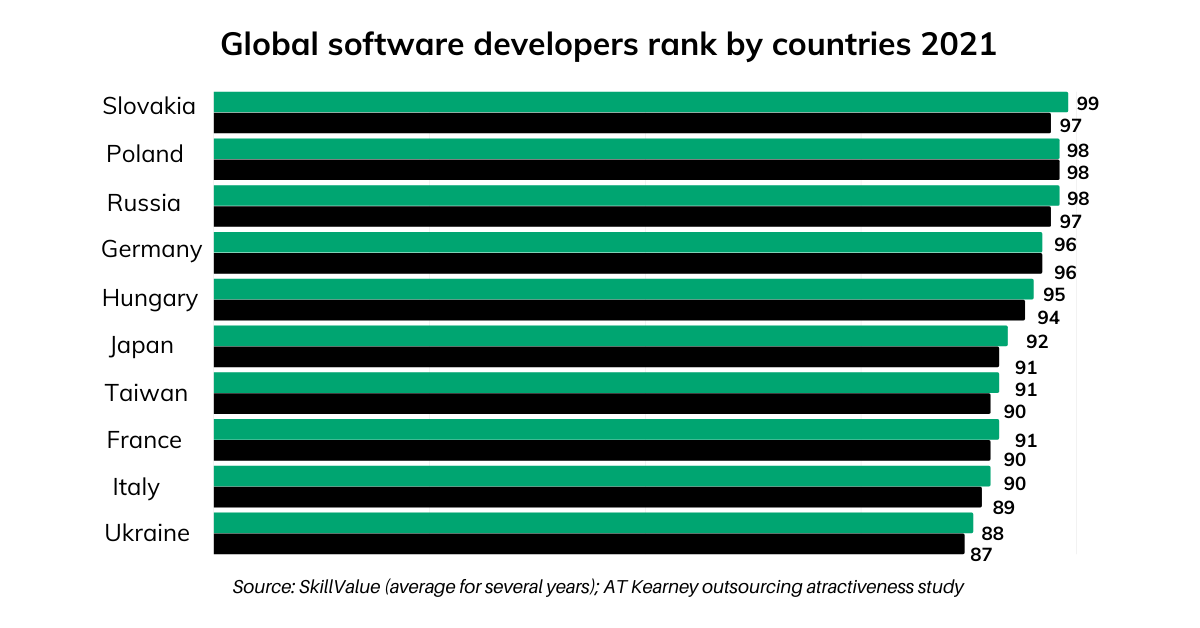 Which countries are the best for software development outsourcing?
If you decide to outsource, the number of companies available worldwide is huge, so first, try to limit your choice to a particular country. Here is a list of those you should consider.
Poland
According to statistics from HackerRank, Poland is home to some of the most talented programmers in the world. Their great advantage is that there are plenty of developers available in Poland, especially in Kraków or Warsaw, who are well trained in particular programming languages. They are absolutely the best when it comes to Java, but they have also placed in the top 5 Python, Shell, and Ruby developers. Thanks to free access to university education, Poland provides many excellent programmers who are also fluent in English and willing to work in teams spread around the world. There are also a lot of software houses in the country specializing in technologies that are on the top now, such as blockchain, smart contracts or NFTs, which have been successful in outsourced projects for years. Poland is a member of the European Union, which means that companies there already have extensive experience in complying with EU standards, such as GDPR.
Learn more about outsourcing to Kraków in Poland >>
Ukraine
Ukraine for years has been placed high in various rankings among European countries having the best services in software development. HackerRank statistics put Ukraine at the top of the list of the best developers countries in the security domain. Ukrainian developers were also recognized in several other areas, like C++. High skills and low fees are reasons why Ukraine is definitely a good choice.
Slovakia
This year's number one, according to HackerRank. Slovakia is becoming more and more popular as a site from which to provide outsourcing services, especially in the areas of IT. The main advantages of outsourcing to this country are relatively inexpensive rates, a lot of university-educated professionals with good language skills and cultural proximity to countries in western Europe. Slovakia is also often chosen for safety reasons and the standards that, as a member of the EU, it must comply with.
India
Compared to previous countries, this one scores much worse on HackerRank, but anyway, it's still one of the most popular destinations for outsourcing, and tho most commonly chosen by USA startups for non-core development. The main reasons for that are relatively low rates and very high availability of developers.
The Philippines
The country is home to a large number of professional developers who provide high-quality services at a reasonable cost, which makes it one of the most popular destinations for iT project outsourcing. The country's capital Manila, in particular, is of great interest, especially since it has been recognized as the second-best location for software outsourcing. When it comes to IT projects, the Philippines has gained recognition, especially in the area of data structures. Another reason why this country is often chosen is that 90% of the population speaks English, which makes communication and partnership easier.