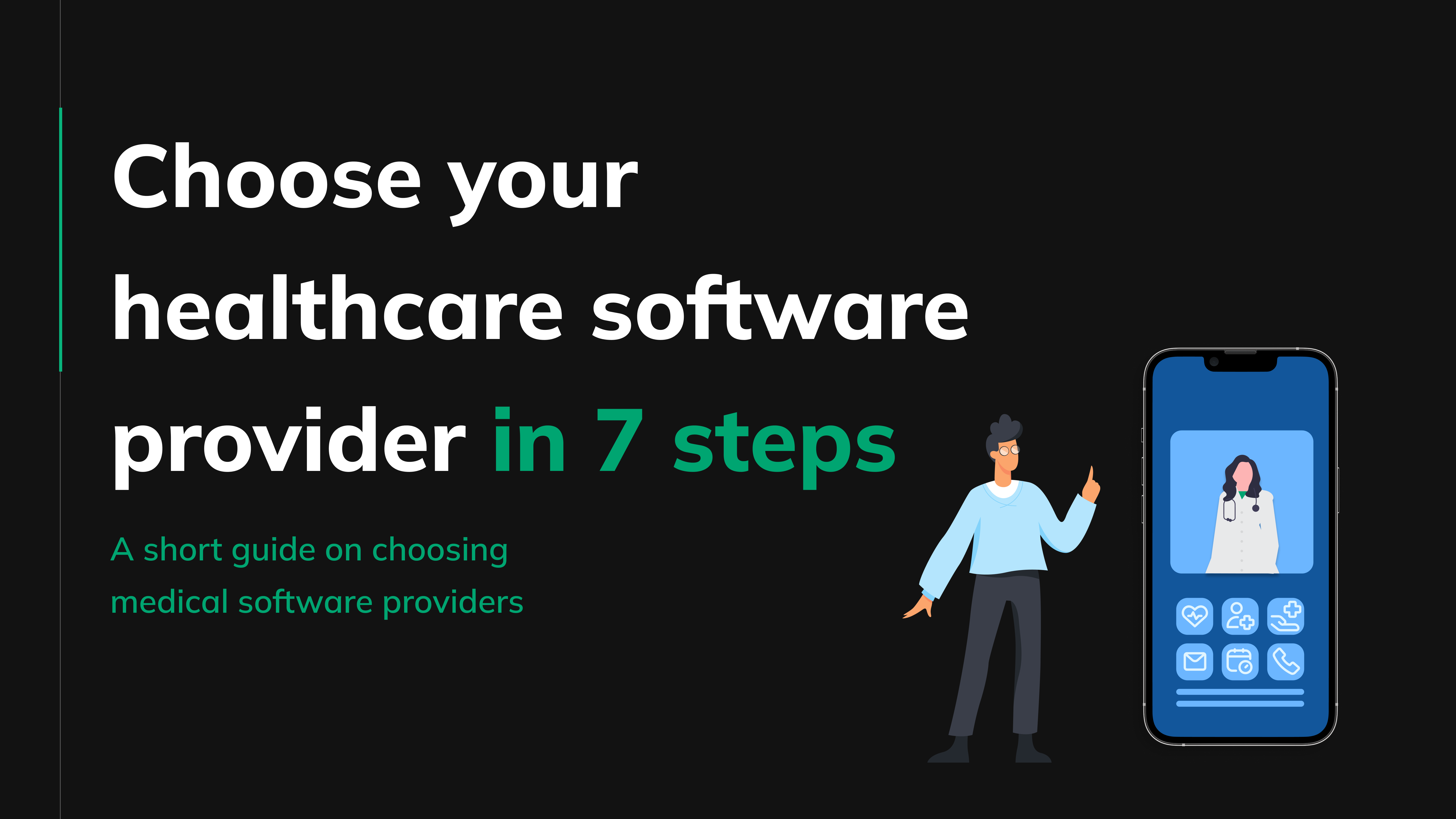 With so many medical software providers available, how do you know which one to choose? In the end, you don't want to end up with hundreds of thousands of dollars wasted on a healthcare app nobody uses, right?
In this article, we'll walk you through 7 crucial steps to help you make an informed decision for your healthcare software needs.
1. Define your requirements
What do you want the software to do?
Do you want to create a healthcare CRM, medical record system, telemedicine software, patient monitoring app, or something else?
What are the specific needs of your healthcare organization or product?
A well-defined scope will help you evaluate potential medical software development companies more effectively.
2 Research potential companies
Talk to colleagues, look online, and use directories to find companies that specialize in healthcare software development.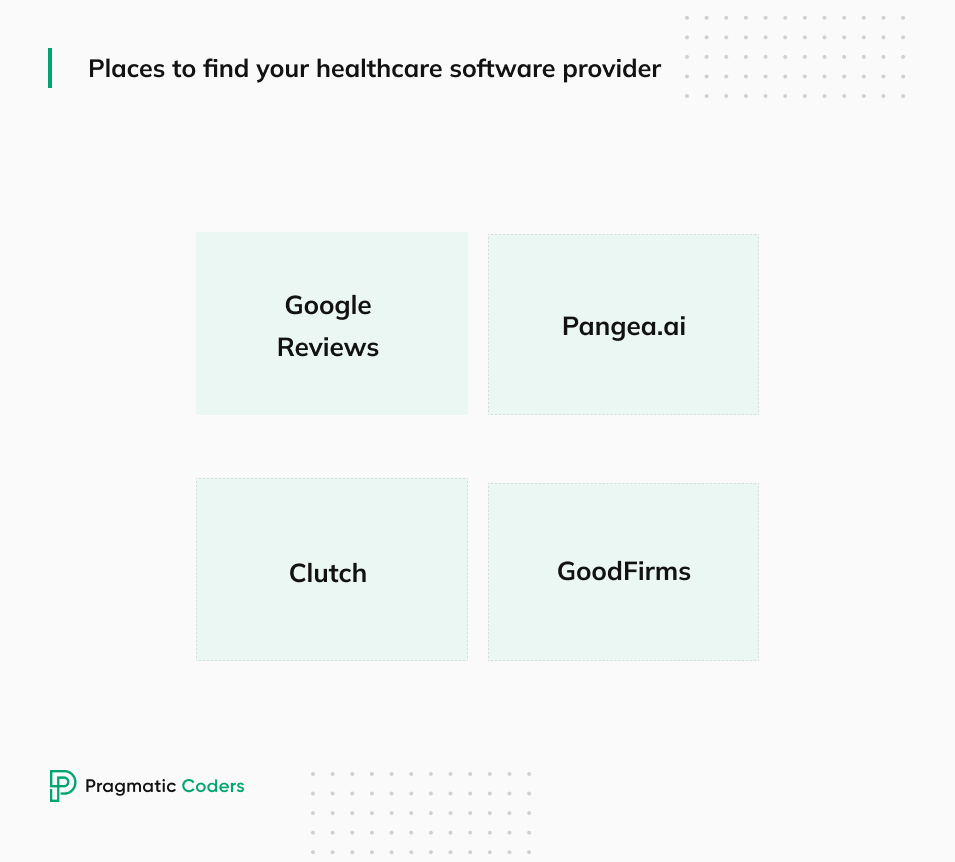 Where can you research custom healthcare software development companies?
Google Reviews
The most elementary yet helpful option. All it takes is typing a company's name into Google and checking their Google My Business profile.
Pangea.ai
Pangea.ai is a self-service marketplace to discover, compare, and engage a vetted universe of software development vendors.
To find a matching custom software development company, you take a 10-step survey, where you define your needs: type of engagement, type of product you want to build and in what industry, services & roles needed, tech stack, budget, and starting timeframe.
Once you've answered all the questions, the system will share your request with available custom software providers. You will start receiving applications from top agencies within 24 hours. Then, Pangea will recommend and connect you with up to 3 agencies from the application pool within 72 hours.
Clutch
Clutch is a leading B2B ratings and reviews platform that connects businesses with top-rated service providers. They have a database of over 100,000 companies, including healthcare software development companies.
Top Healthcare Custom Software Development Companies
GoodFirms
GoodFirms connects businesses with top-rated service providers, including healthcare solution providers.
Top Healthcare & Medical App Development Companies
3. Evaluate their expertise & check references
Look for companies with a strong track record of developing healthcare software solutions. This will give you confidence that they have the knowledge and expertise to understand your needs and deliver a successful project.
Here are a few things you can do to check the healthcare software company you've selected.
What to pay attention to when evaluating your potential healthcare software developer?
EXPERIENCE.

Look at the company's track record, experience, and portfolio of healthcare software solutions. Look especially for their medical software case studies.

TECHNOLOGY AND STANDARDS.

Make sure they have the skills and knowledge to meet your needs. Check their ability to work with relevant technologies and compliance standards (e.g., HIPAA).

PAST CLIENTS

. Talk to past clients for feedback on the company's work in the healthcare industry.

REFERENCES.

Get references from past clients. This is a great way to get honest feedback about the company's work and its ability to deliver business value.

TRUST YOUR GUT.

When you're interviewing companies, pay attention to your gut feeling. If you don't feel comfortable with a company, it's probably best to move on.

*PRIZES AND RECOGNITIONS.

Look for badges and partnerships, but be careful. Some of them might be bought or outdated.
4 Consider compliance and security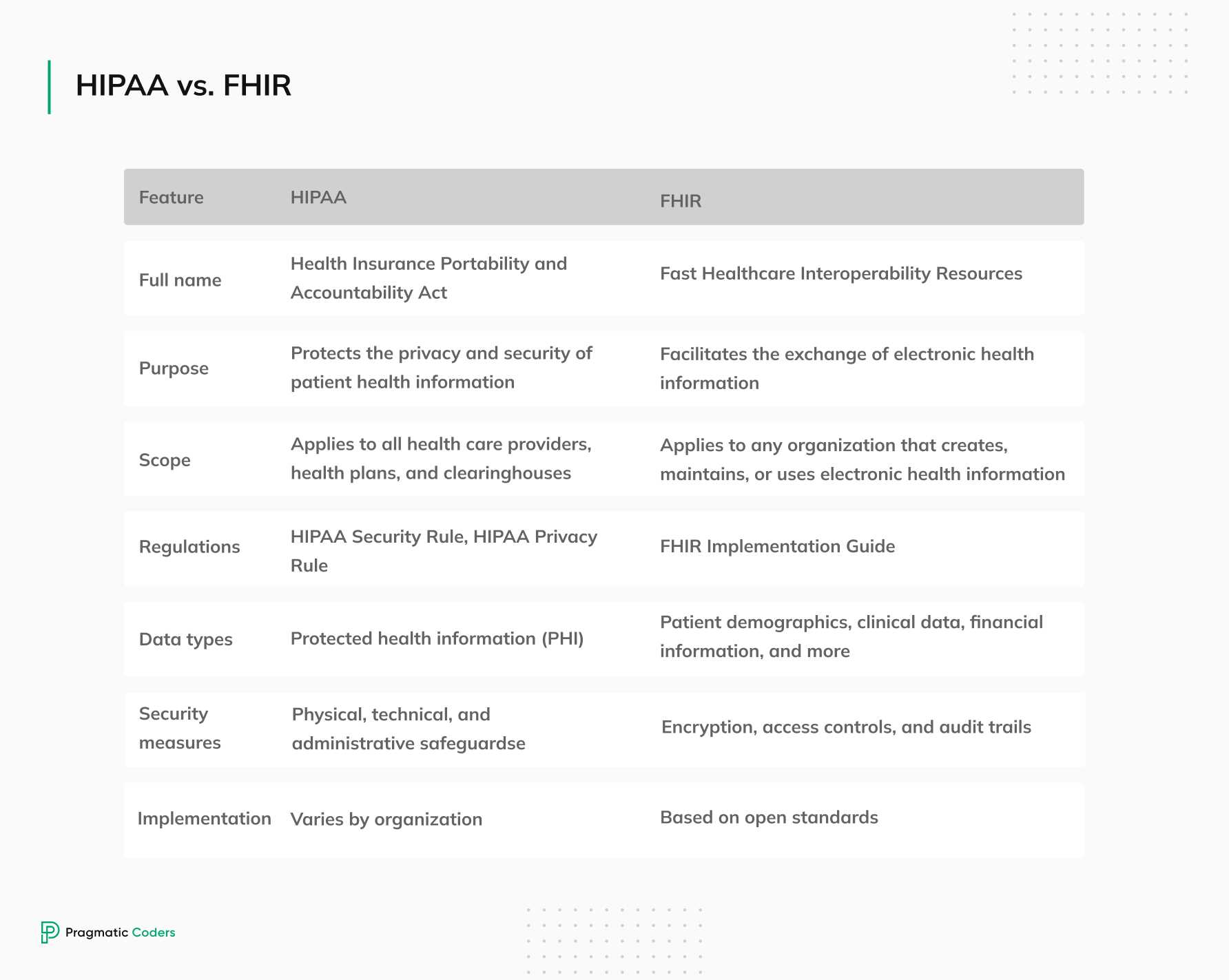 Cybercrime is getting more sophisticated with the advent of advanced technologies. The healthcare sector is a big target. In 2022, there was a 74% increase in cyberattacks on healthcare organizations compared to the previous year. This is much higher than the global average of 38% (source).
These cyberattacks have the potential to severely disrupt essential patient care services, posing a significant risk to people's health and well-being.
Additionally, these breaches jeopardize the security of sensitive patient data that can be used for identity theft, fraudulent activities, or other criminal endeavors.
The healthcare software you choose must comply with industry regulations and ensure data security.
Here are two standards you should ask them about:
HIPAA

(Health Insurance Portability and Accountability Act) is a law that protects the privacy and security of patient health information. It applies to all healthcare organizations that conduct certain business activities, such as storing or transmitting patient health information electronically.

FHIR

(Fast Healthcare Interoperability Resources) is a standard for exchanging healthcare data electronically. It provides a standardized way for healthcare systems to communicate and share data, such as patient medical records, prescriptions, and test results.
Wish to learn more about the regulations?
Check our Essential guide to 2023's HIPAA-compliant software development.
5 Evaluate product management and communication
If you're looking for an outsourcing partner, you need medtech developers.
However, developers won't be enough if you want a healthcare software solutions provider to build your product from scratch; you need a product manager.
Product managers are responsible for the success of a product, from its conception to launch and beyond. They take care of the product strategy, explore the market and healthcare technology trends, and ensure the product will be marketable.
Read more about the challenges of outsourcing digital health projects:
12 software outsourcing challenges and how to overcome them. A developer's point of view

How do you know if a company can provide good medical product management?
Check their experience (again)

. However, this time, look for information about the product management side of endeavors.

Check their team.

Go to the "About Us" page and investigate the people you find there. Visit their LinkedIn profiles to see who they are and what projects they've worked on.
6 Request a proof of concept (POC)
A proof of concept (POC) is a demonstration of a new technology or idea to show its feasibility and potential benefits.
A POC can be completed quickly (even in a few days) and cheaply. It may involve building a prototype or using a simulation to demonstrate the concept. The goal of a POC is to prove that an idea is technically feasible by answering the question: "Can we build this?"
Let's take electronic health records, for example. An electronic health record system (EHR) is a software application that stores and manages patient health information. This information can include medical records, test results, and prescriptions. A POC for an EHR system could involve developing and testing a prototype with a small group of healthcare providers.
7. Get detailed proposals and cost estimates
Compare prices and consider the value each company offers for custom medical software.
Look for a company that is transparent about their pricing and can provide a detailed breakdown of the costs involved.
Consider the following factors when comparing proposals:
The scope of work

: What's the product roadmap? What features and functionality will be included in the software?

The timeline

: How long will developing and deploying the software solution take?

The team

: Who will be working on the project? Do they have healthtech experience and expertise to meet your needs?

What kind of support will be offered after your healthcare app is launched?
How to choose the right custom healthcare software development company? Summary
Choosing the RIGHT healthcare software development company is a tough decision.
However, I hope that following these steps will increase your chances of finding a suitable custom software development company for your project.