Wanna buy a handmade yellow silk T-shirt with an original image on Facebook? You will get 350 offers for soy candles instead. On the flip side, if you're an artisan, promoting your craft on social media might take longer than actually creating those soy candles, as negotiating prices, sending transfer details, and dealing with payments through these platforms take a massive amount of time.
That's the origin of Brandbooster - a solution that connects handmade producers with consumers looking for personalized products and lets artisans promote their handicrafts, sell them, and receive transfers directly from social media accounts.
Project origin
According to data from the Global Handicrafts Market Report, the global handmade market is valued at over $180 billion and is projected to grow 7% annually. Creators have already broken through to the mass consciousness.; they are no longer identified with shabby local markets. Instead, these are very often micro brands offering high-quality, premium products.
Yet, if all handcrafters love creating one-of-a-kind handmade goods, many feel helpless when it comes to managing orders, replying to messages, or posting on social media.
That's the problem Martyna, a startup founder and artisan herself, wanted to solve with her product: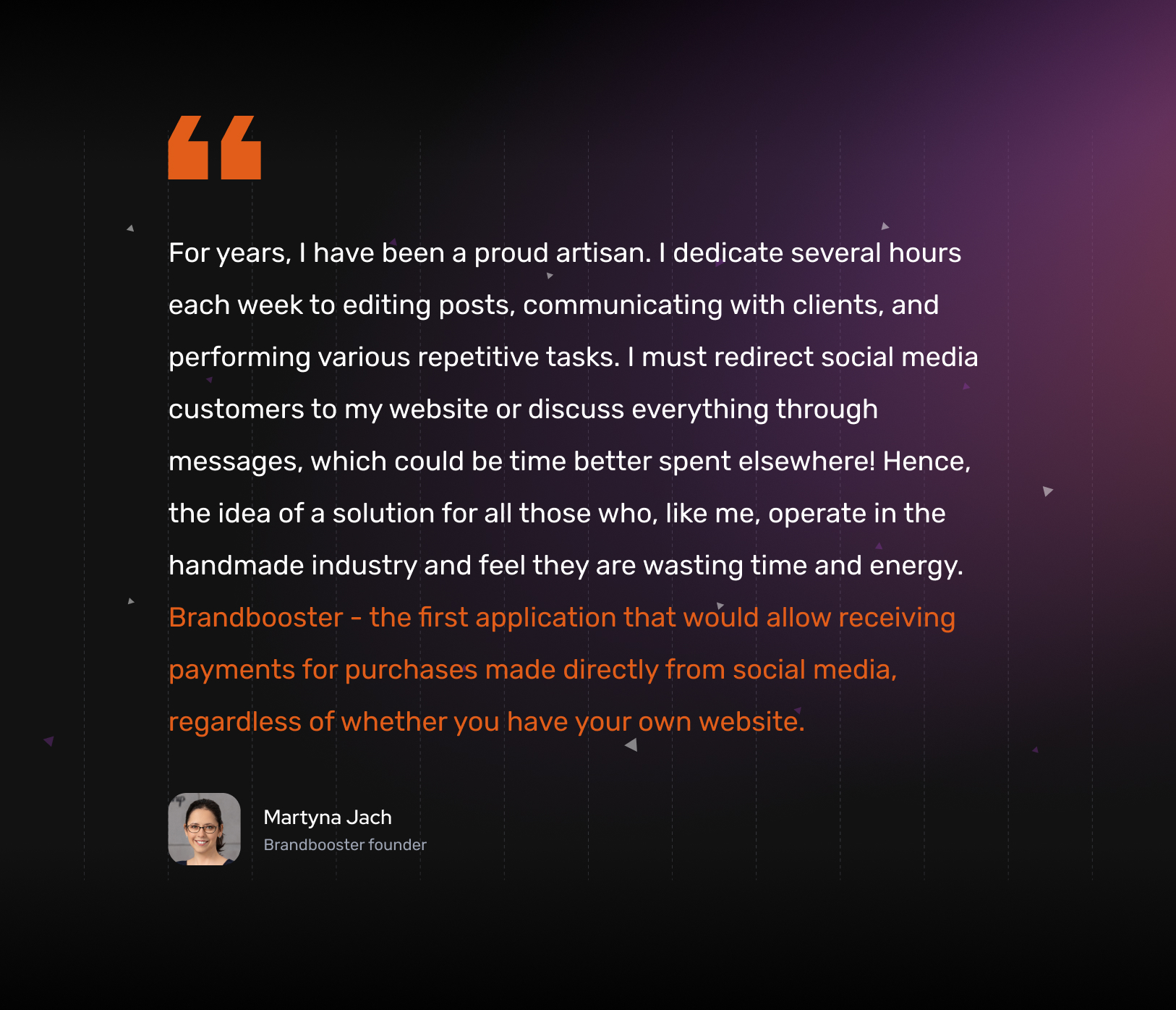 We conducted a series of one-on-one interviews to investigate users' experiences, preferences, and pain points. After that, we organized a collaborative Product Discovery Workshop session.
UX Research
Our specialist interviewed buyers and sellers to get to the bottom of the market for handmade products. It let Martyna and our team gain insights into the needs of both shoppers and creators and identify potential opportunities and challenges in the market.
Sellers
Each of the interviewed artisans desired to grow their business. Still, their efforts were hindered by the costs associated with social media marketing, order management, and customer communication.
They acknowledged the effectiveness of social media in reaching customers. They also highlighted the shortcomings of existing marketplaces, pointing out that the marketplace business is challenging, as many struggle to attract traffic and have a high failure rate.
Additionally, they pointed there's the "vicious circle" issue: platforms have higher commissions from the sales of selected artists because these specific artists sell more, and they sell more because they are already better recognized, and they are recognized because the platforms promote them more – and so the cycle continues.
Selling on social media is problematic, too. Suppose a handcrafter doesn't have a website to redirect people from Instagram or Facebook. In that case, they're bound to sell their craft through social media. However, it's very time-consuming as they have to go through an array of repetitive tasks (describe their product, shipping & payment methods, reply to messages, etc.).
There's also a trust issue: many buyers aren't keen to finalize transactions through DMs. After years of shopping online, they've gotten used to higher standards in terms of security.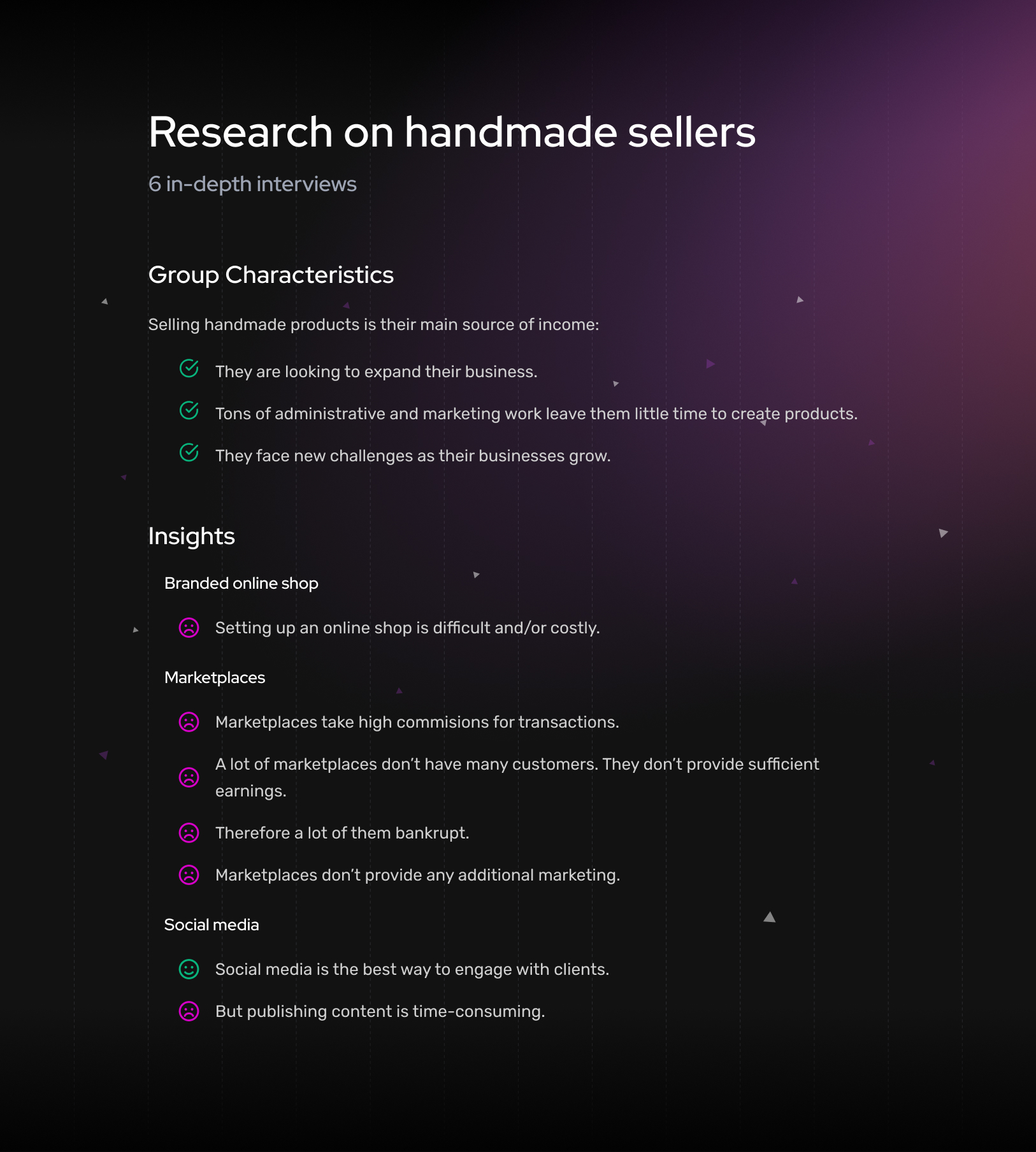 Buyers
The analysis revealed that buyers face difficulties in finding the right supplier.
Online marketplaces such as Etsy, Amazon Handmade, or Pakamera have become go-to destinations for consumers looking for one-of-a-kind items, but they don't offer the possibility of ordering a custom product.
That's why many people try to find their dream products on social media. But, here, another problem arises: search results are far from perfect. Looking for a customized vintage typewriter to add a touch of nostalgia to your collection? Prepare for a surprise as you stumble upon 78 listings for miniature pirate ships instead.
Besides recognizing shoppers' problems, our UX researcher defined two primary buyer personas.
The first persona is an occasional buyer who primarily purchases handmade products for unique gifts or to support a friend's business. The second persona is a frequent buyer who prioritizes avoiding mass-produced products and makes several monthly handmade product purchases. This was an important finding as it influenced how we approached the product-shaping process later during Martyna's Product Discovery Workshop.
In conclusion, this study indicated that the most promising approach for building a successful business in the handmade industry is to focus on using social media in the handmade trade rather than creating a conventional platform.
Having those findings in mind, we conducted a Product Discovery Workshop.
With solutions and priorities for future development defined, our UX specialists hopped in to design the product.
Design
We created the information architecture and user flow based on the research data and ideas generated during the workshop. We then started working on wireframes, mockups, and a prototype for the first app tests.
Our UI designer took care of the visual identity of the brand. Drawing inspiration from color psychology, he crafted an interface that both captivates the eye and evokes a profound emotional connection with the brand and the product.
He also ensured managing sellers' offers and browsing buyers' products were convenient at any time by enabling an auto-switch between these two modes, light for the day and dark for the night.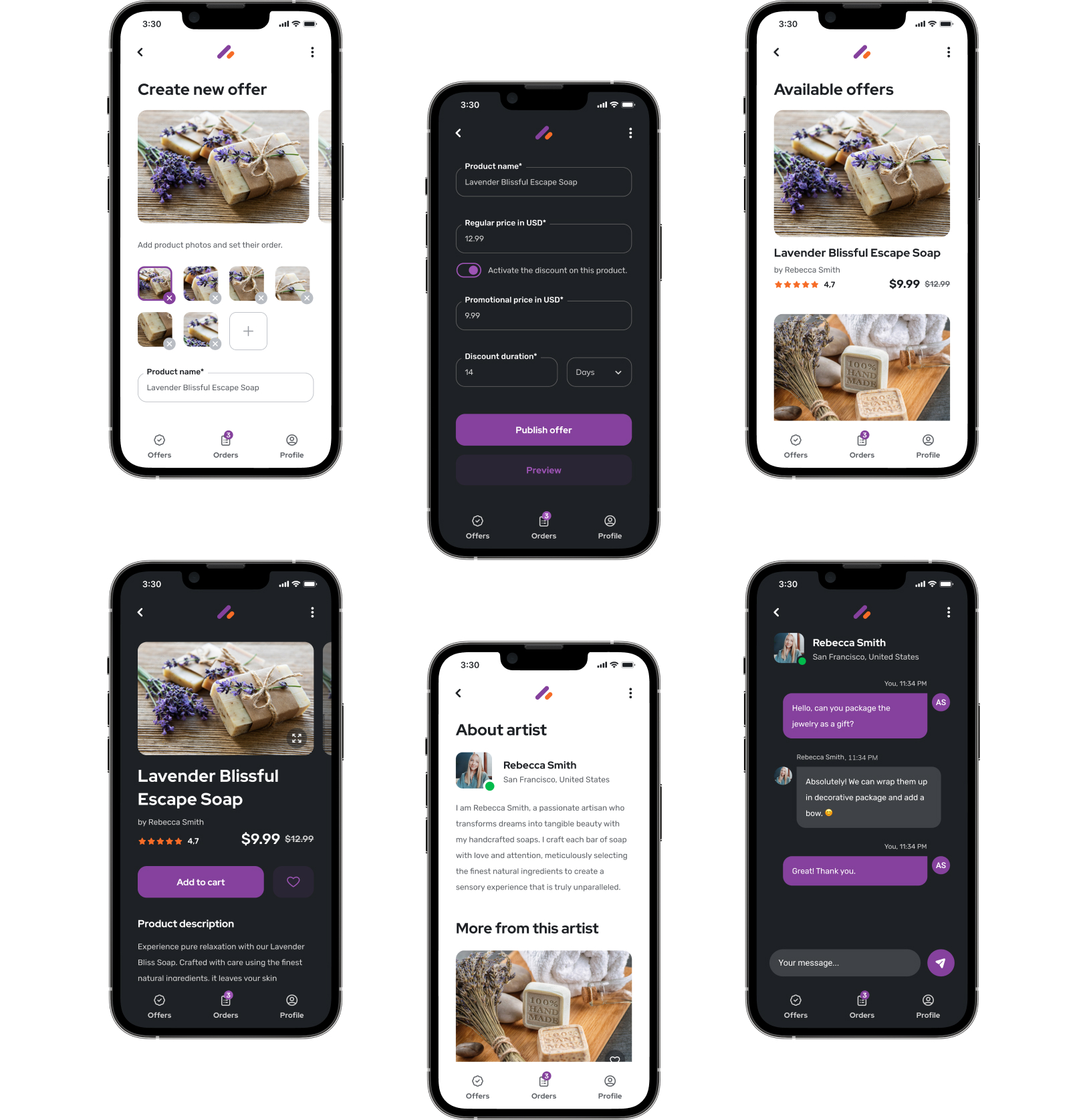 Why Brandbooster?
A simplified social media profile-based shop where sellers can easily showcase and set the details of their product offers, and buyers can make instant purchases while scrolling through Facebook or Instagram feeds.
Documentation of the product-making process (through text messages, photos, or videos) a seller would share with buyers to engage them more.

Easy-to-use, clear, and intuitive UI that does not overwhelm users with additional illustrations or graphic elements and makes the shopping experience more exciting and pleasurable.

Results
Martyna is now armed with the results of UX research, the Brandbooster solution defined during her Product Discovery Workshop, and a prototype.
If you want to explore its visual side more deeply, head to our Behance presentation.