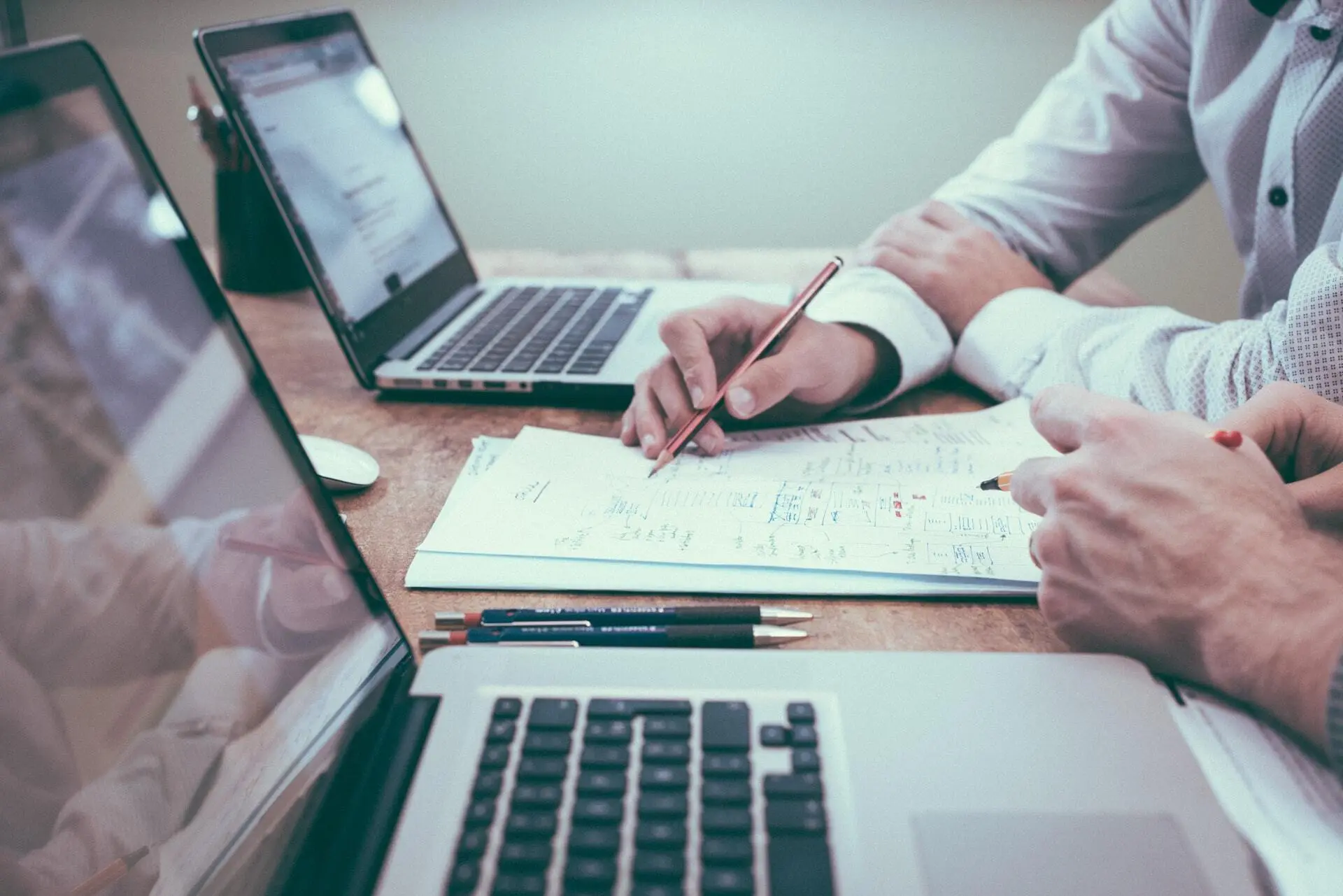 Acquiring new clients is a struggle for the majority of startups. This is because most people aren't aware of your business, your products, services, and all of the benefits you can offer them.
You can create an innovative and revolutionary product, investing both money and your time to perfect it. Still, in the end, it all comes down to one important element - attracting the right leads and converting them into loyal customers. Receiving advice from experts with years of experience in building bulletproof business strategies can be an invaluable solution for startups at the beginning of their journey. At Pragmatic Coders, we offer dedicated Startup Consulting Services during which, together, we discover the most optimal approach for your business strategy. With our guidance, you can pick the correct customer acquisition methods suited to your unique needs and requirements.
In this guide, you will learn what to consider when planning your startup customer acquisition strategy. Some of the topics we will touch upon are :
The basics of customer acquisition
How to calculate the CAC (customer acquisition cost)
10 proven customer acquisition strategies
Customer Acquisition
So what exactly does customer acquisition mean? In simple terms, customer acquisition refers to the process of bringing in new customers. It is important to invest your time and resources into a sustainable customer acquisition strategy to successfully gain new clients who will stick around in the long run.
To convince your potential clients to pay attention to your product or service, you first need to step in their shoes and understand who they are and where they spend most of their time. To do this, it is useful to build a customer journey map, which helps you visualize the process your customers go through - starting from the first contact with your brand all the way to making the purchase. The infographic below illustrates all of the stages of the customer journey.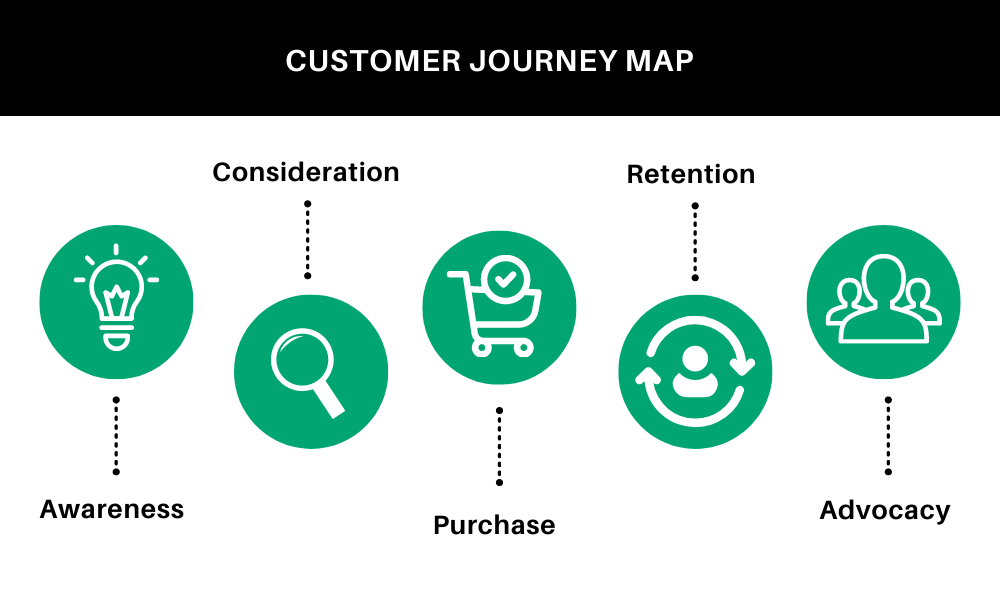 For your marketing efforts to yield the desired results, you need to define your target audience and find out which strategy works best to build brand awareness, increase the number of customers and drive sales for your business (be sure to read until the end to find out about the different methods that help with customer acquisition).
Understanding that not all consumers are your ideal customers is the first step in creating a successful strategy. By defining your buyer persona, you can avoid wasting resources and make sure that you're targeting the correct demographic. The information you learn about your ideal client is a crucial factor that will help you set your marketing goals and which customer acquisition methods to invest in.
How to identify your target audience
Your target audience is the group of people who are most likely to buy your product or service. To identify them, you need to answer the following questions:
Who is your ideal customer? (age, gender, location, interests)
What needs does your product or service address?
What are the pain points of your potential clients?
What are their buying habits?
By taking the time to answer these questions, you will get a better understanding of who your target audience is and what they're looking for. This information is essential in order to create a customer acquisition strategy that speaks directly to them.

Something that can help you narrow down your potential client base is using Lean Canvas. This tool can be beneficial in finding your target audience and understanding how you can reach them. But apart from that, it helps you tackle other aspects of your business and product development strategy. Those may include learning your users' problems, coming up with solutions to those problems, and what makes you stand out from the competition.

Another way to uncover useful data about your potential users and learn what motivates them is by completing UX research. Having worked on multiple projects in the past few years, we have the necessary knowledge and experience to conduct proper UX research. With the help of our UX team, you will be able to understand your customers and be certain that you're building a product that solves their problems.
Once you find out who your target audience is, it's time to start working on finding a strategy that will help you reach them. The methods you use for your customer acquisition process will depend on your budget, your product, and your target audience. But before we dive deeper into the subject, let's take a look at some of the metrics you will need to consider.
How to calculate the cost of customer acquisition
Customer acquisition cost is the total of all marketing expenses involved in gaining a new client. It is the way you measure the effectiveness of your marketing strategy. The way you can calculate your customer acquisition costs is by following this formula: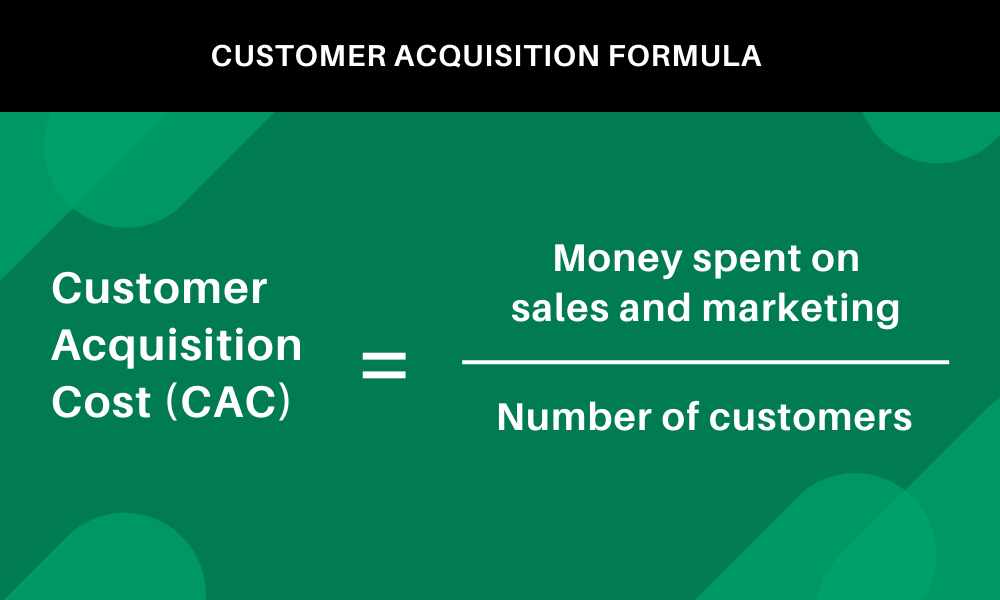 The CAC is calculated by dividing the amount of money spent on sales and marketing by the number of customers. For instance, if a company spent $1000 on customer acquisition and generated 100 customers, the CAC is $10.
What is customer lifetime value?
CLV (customer lifetime value) is the total amount of money a customer will, on average, spend on your product or service during their relationship with your company. It is important to consider CLV when calculating CAC because you want to ensure that the amount of money you're spending to acquire new customers is less than the amount they're expected to spend with you.
Now that you know what CAC and CLV mean and how to calculate them let's take a look at a few ways how you can acquire new customers.

Keeping track of metrics is paramount when building a strategy for your product. While there is nothing wrong with following your intuition, it is good to keep a clear vision and see the truth for what it actually is. By calculating and measuring various factors, we can get insight into what it is that needs improvement or, on a more positive note, see which areas are having a good impact. To find out more about the importance of metrics, check out our article that discusses the different metrics you can use to ensure that your startup is heading in the right direction.
10 customer acquisition strategies
Acquiring customers may seem like a daunting and challenging task but it's also an opportunity to explore different strategies, get creative and build a strong community while simultaneously growing your brand awareness. Here are 10 tried-and-true methods of gaining new clients through various customer acquisition channels.
1. Content marketing
Producing quality content that is compelling and brings value to the readers is an efficient way of introducing potential clients to your business. Content marketing includes blog posts, video content, podcasts, guides, infographics, and more. By providing interested readers with educational content and answers to their questions, you can build their trust and establish yourself as an expert in your niche or industry. This, in turn, will result in users who are more likely to engage with your business and become loyal customers in the future.
Some of the benefits of content marketing include:
Attracting new customers with relevant and engaging content
Increasing brand awareness and reaching new audiences
Establishing your company as a thought leader in your industry
Connecting with like-minded people who share your values
So how does one build an effective content marketing strategy? First and foremost, you should focus on crafting unique and high-quality content that is aligned with the customer's journey.
Another key element is to ensure that your content is optimized for search engines. For your content to even reach your potential clients, it needs to be easily found by them, and the way to do that is by being visible on the search engines' results page (SERP). Some of the ways you can optimize your posts are by being consistent and always publishing fresh content, using relevant keywords, and updating your old content. Make sure to read till the end to find out more tips and tricks regarding SEO!
2. Email marketing
Although many people consider this an outdated method, email marketing is one of the most cost-effective and valuable ways to connect with your leads and existing customers. The moment a first-time visitor subscribes to your newsletter to receive updates from you is what opens up a multitude of opportunities.
If someone signs up for your newsletter, they are already a step closer to becoming a customer since they were willing to provide you with their email. By running email marketing campaigns, you can not only notify them about sales or new features but also inform them about the content you have recently published and let them know about upcoming events.
When you're planning your email marketing strategy, one effective way to build an email list is by offering what's called "gated content". This refers to things such as whitepapers, ebooks, or templates that you offer your prospects if they decide to sign up for your newsletter. This is also known as a "lead magnet" and it is used as a way to draw in new customers, hence the name.
This strategy, paired with content marketing, creates a perfect combination since you can provide already interested viewers with an "upgrade" to the content you're presenting. For example, you may write a blog post about budget planning and offer a free financial template that the reader will receive if they sign up for your newsletter. Just like in content marketing, the same rules apply when it comes to delivering value to your customers. It's important to provide your email subscribers with exclusive and fresh content that compliments your existing articles, don't reuse old content or something that is widely accessible by everyone.
Another important factor of email marketing is to remember that the user receiving your messages is also human, so make sure to address your potential clients in an appropriate and authentic way. What you can do to understand your prospects better is use a personalization strategy known as audience segmentation. This will help you better understand the users and collect important data such as their interests, preferences, or geographic location. By sending personalized and relevant email campaigns, you can nurture a strong relationship with your client as well as build trust.
Below are some useful email marketing tips worth considering:
Keep your emails short, sweet, and to the point
Write compelling subject lines that make people want to open your email
Use attractive visuals (images, gifs, infographics)
Offer something of value such as a discount or free shipping
Use personalization techniques such as addressing the user by name
Email marketing is definitely a powerful customer acquisition channel that can help connect you with leads and clients. If you follow the right practices, it can help you not only with growing your customer base but also with increasing brand awareness. Utilize some of the tips mentioned above and see how email marketing can help you reach your business goals.
3. Search Engine Optimization
SEO is simply the process of improving and tailoring your website to increase its visibility in the organic search results. In order to rank higher in the search engine and make it easier for your clients to find you, there are some things you have to take care of to make sure your site is properly optimized. Some search engine optimization tactics include using relevant keywords, backlinking, speeding up your page load time, and adding related alt text to your images.
By using these methods, we can optimize our website and rank higher in the search engines. This budget-friendly marketing method helps us target customers who are already on their way to finding us by searching for terms related to our business.
What's worth noting is that with these SEO practices, you won't see immediate results. It may take a long time for your article to rank high in SERPs, but this organic and cost-effective growth method is definitely worth your time and will help with customer acquisition.
4. Referral programs
Building a referral program is one of the best strategies you can implement to get new clients, especially if you're a startup! Your aim should be to develop a referral strategy that will encourage your clients to bring new potential customers on board.
Word-of-mouth is the most effective way to acquire clients because people are more likely to rely on the advice of their friends and family rather than a brand they're unfamiliar with.
What you can do is give away a freebie to your clients if they successfully refer your service or product to another person. You can also offer different incentives such as gift cards, discounts, or premium features for a limited time.
Since the referred leads are coming from your customers who are satisfied with your services, they are likely to fit your ideal client profile that matches your business. This is a huge advantage as it gives you a higher chance to convert these leads into paying customers as you have already gained their trust, and they are interested in what you have to offer.
5. Social media marketing
Having an online presence on social media platforms is extremely important and can help you achieve your marketing goals and interact with users, as well as increase awareness. If your business isn't on social media already, you are missing out on huge potential for lead generation.
By leveraging the power of social media networks such as Facebook, Twitter, LinkedIn, Instagram, and more, we have the opportunity to reach a large number of people within seconds of adding a post.
Another benefit of using social media platforms as a client acquisition channel is that it's a great way to understand our audience by being involved in the community as well as providing insight and answering questions from our clients.
It's more than certain that your target customers include social media users but in order to find out which social media platforms they use, you will need to conduct market research. While most people use the popular social media platforms such as the ones previously listed, your target audience might also be active on more niche platforms or forums. It's a good idea to invest some time in doing comprehensive research to check where your potential customer base is most active and which topics and trends attract them.
Most social media platforms have various tools to help you gather the necessary data about your leads and unlike many other marketing channels, this one provides a gold mine of information about your audience. By consistently adding social media posts and using the provided analytics tools, we can gain insight into customer data. The findings that we learn from measuring these statistics will be useful for adjusting and optimizing our social media strategy going forward.
Some benefits of social media marketing include:
Increased brand awareness
More opportunities to convert
Improved brand loyalty
Greater reach
Reduced marketing expenses
With billions of social media users, this marketing channel simply cannot be ignored. Not only does it provides huge opportunities for lead generation and engaging with your current customers but it also gives you the chance to tell your story.
Using social media platforms gives you a surefire way to reach your potential customers and promote your brand or product, which is why it's worth including this marketing channel when planning your acquisition strategy.
By seamlessly integrating captivating videos into your social media marketing strategy, you can effectively broaden your audience reach and significantly boost your brand's visibility. Stay attuned to the latest trends. It goes without saying that the choice of suitable video editing tools can have a significant impact on your success in this endeavor.
6. Paid advertising
Acquiring new customers organically through social media, referrals, and appearing on the SERPs using good SEO strategies is a good way for targeting individuals who are already searching for you. But at times it can be quite tricky to manage as the Google platform has become quite competitive. This is where paid advertising comes in. If you're aiming for immediate results, consider PPC ads. PPC (Pay Per Click) is a type of online advertising in which you pay for each click your ad receives. You don't owe the platform much if no one clicks on your ad; however, if someone does click on it, the price starts to add up. This advertising model is one of the quickest ways to gain exposure for your brand and start acquiring new customers. Investing in paid ads ensures that your target market will see your ad and be directed to your website or landing page. The main disadvantage of paid advertising is that it can be quite costly, especially targeting a large audience. However, if you're strategic about it and target only those who are most likely to convert, paid advertising can be an effective way to acquire customers.
7. Retargeting
Have you ever been on a website and seen an ad for an item you recently looked at on another site? You may have wondered - how did they know I wanted to buy this? Retargeting, or remarketing, involves showing ads to users who have already been to your website or interacted with your brand. This marketing technique aims to bring these users back to your site and encourage them to convert into customers. Retargeting ads are usually shown to users browsing other websites or using social media platforms, and their goal is to recapture already existing leads.
Mailchimp says that 97% of people who visit your website and leave without buying anything do not return to it. This is where retargeting takes the spotlight and can help you bring back those "missed opportunities" and turn them into paying customers.
Retargeting campaigns allow you to reach out to people who are already interested in your product or service and convince them to take another look. This strategy is definitely worthy of consideration as your chances for converting these leads are high since they were already close to making a decision about making a purchase.
8. Hosting events
Customer acquisition doesn't have to be solely focused on the online world. It is also a good idea to use opportunities of hosting or taking part in events related to your industry. Hosting events is a great way to bring people together and create a buzz around your brand. It's also a great chance for you to show off your products or services and get people talking about your brand.
Taking part in trade fairs means that you can engage with your customers face-to-face and gives them the chance to actually experience your brand. That means you can not only acquire new clients but also build a strong relationships with them. This customer acquisition strategy is also beneficial if your customers are in one location or if they are willing to visit such a location for any reason. You can host a variety of events, such as meetups, workshops, conferences, product demos, or anything else that would be relevant to your target market.
The expenses related to this marketing channel might be quite costly, but who said that those events should be for free? You can balance out the costs or even make money by selling tickets. Alternatively, you could opt for virtual events and online meetings that anyone can attend, regardless of where they are located.
Hosting an event may require a lot of preparation beforehand, but it can bring in high-quality leads, and increase brand recognition and authority while also strengthening business relationships.
9. Creating partnerships
Another great way to get new clients is by affiliate marketing or creating partnerships with other businesses, especially if they're in complementary industries. This type of partnership would allow you to tap into a new market and reach new potential customers. Not to mention, the partnership would also help build trust and credibility for your brand. Let others make customer acquisition efforts for you! You can significantly boost your marketing efforts by partnering with influencers in your niche.
Affiliate marketing is a type of performance-based marketing in which a business rewards one or more affiliates for each visitor or customer brought by the affiliate's own marketing efforts.
The benefits of affiliate marketing include:
Cost efficiency
Affiliate marketing is one of the most cost-effective ways to generate leads and sales for your business. You only pay when someone takes an action that you want them to take, such as filling out a form or buying a product. This eliminates wasteful spending on ads that people may not see or click on.
Increased reach
With affiliate marketing, you can reach more people than you could through traditional advertising methods. Affiliates have their own social media networks and blogs, so they can share your content with their followers and customers. This increases your reach and potential for leads and sales.
Improved targeting
Affiliate marketing allows you to target your audience more accurately than traditional advertising methods. You can target specific demographics, interests, and even purchase behaviors. This helps you to get your message in front of the right people, increasing your chances for leads and sales.
Since all of the sides involved in this strategy have similar target customers and goals, teaming up can bring mutual value. It will also build authenticity around your brand since clients will be receiving recommendations from a source they already trust.
According to Statista, the affiliate marketing spend will reach 8.2 billion U.S. dollars by 2022. So make sure you make use of this cost-effective technique to expose your business to new potential customers and grow your business.
10. Direct sales
Direct selling, not to be confused with direct marketing, is a customer acquisition strategy that involves selling your product to consumers directly. This can be done through individual salespeople, who reach out to consumers directly, or through a company that markets directly to consumers. It involves engaging with your customers through personal interactions, such as face-to-face meetings, phone calls, or video calls.
The main advantage of this customer acquisition strategy is that it allows you to build relationships with your prospects and understand their specific needs.
Enthusiasm is key when it comes to direct sales. It's what will help you connect with potential customers and close deals. So be sure to put your best foot forward and show off what your product or service has to offer.
Apart from that, storytelling also plays an important role in the sales process. When you can share your story with potential buyers, it demonstrates your passion for what you're selling. It can also make them relate to your situation and help them see how your product or service can have a beneficial impact on their lives.
This customer acquisition technique can be quite time-consuming, and it might not be possible to reach a massive pool of potential customers. However, this unique approach can be an effective way to build strong relationships with clients and increase the satisfaction rate.
How to determine which customer acquisition strategy is best for your business
There is no one-size-fits-all answer to this question since your business's best customer acquisition strategy will depend on many factors, such as your target market, the product or service, your budget, and resources. This is why it's good to try out several customer acquisition techniques and see which ones work best. Here is a list of the ones that were mentioned in this article:
Content marketing
Email marketing
Search Engine Optimization
Referral programs
Social media marketing
Paid advertising
Retargeting
Hosting events
Creating partnerships
Direct sales
Measure your costs for various customer acquisition channels and check what works best for your prospects. This will give you insight into what channel you should focus on primarily, and if that won't bring the desired results, add extra effort and try another customer acquisition method.
One of the most important things to remember is that the customers acquired are just one side of the coin, and the process doesn't stop once they've made a purchase. According to Forbes, it can cost five times more to acquire a customer than it is to retain one. Keeping these statistics in mind, it's vital that you put just as much effort, if not more, into customer retention.
Make sure to nurture your existing clients, provide an excellent customer experience and ensure that they are satisfied with your product or service so that they continue to return and make more purchases in the future.
Building your customer acquisition strategies
Acquiring new customers is crucial for any company, small or large. There is no blueprint or formula for instant success, and to gauge what strategies work best for your business is through experimentation and focusing on providing value to your potential clients.
You can take many approaches, but they all have one thing in common - identifying your target audience and communicating with them through their preferred channels. Another commonality of the strategies presented in this article is that they essentially focus on giving back and providing value to your prospects. That may be through offering them discounts and special offers or educating them through informative and high-quality content.
When you give your target audience something that is genuinely useful for them, it results in the growth of trust in your business. Thus it is more likely for them to become leads and eventually loyal customers. One of the worst things you can do when building a reputation amongst new users is to ignore their feedback on your product. We often hear that the customers are the lifeblood of every business; they are the key to your success. And this saying can't be more accurate. After all, your product or service is created with the users in mind. Not considering your clients' feedback can have negative consequences and even be the cause of failure for your startup. In one of our articles, we touch upon this topic as well as many other things to watch out for when growing your business. To find out what you should steer clear of, check out our article covering 5 common startup killers you should avoid no matter what.
Want to start acquiring more clients for your business? Do you need help with creating the best strategy tailored to your company? Book a consultation now and get advice from experts in this field to develop a foolproof strategy and begin driving customer acquisition.