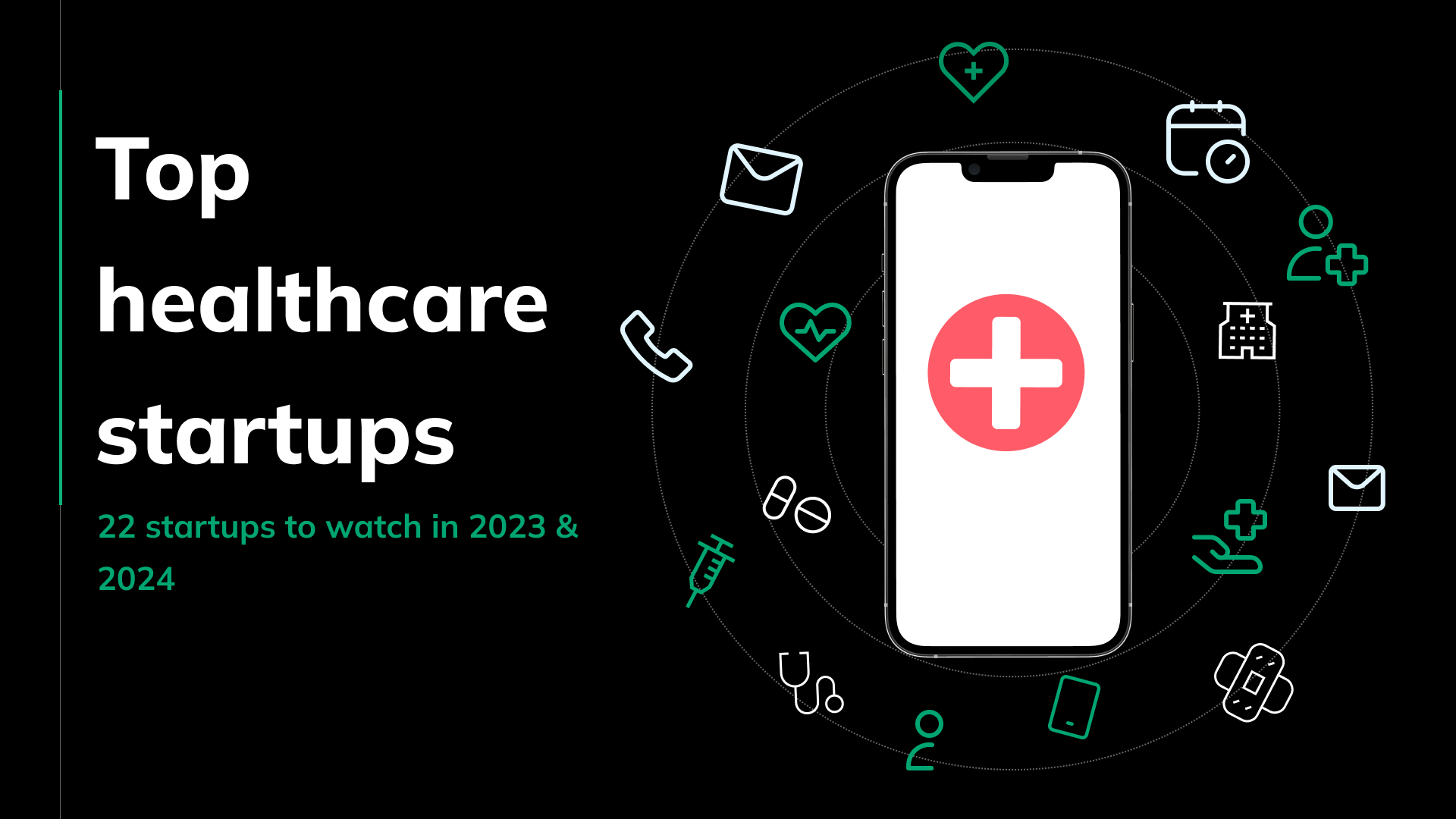 What technologies and subindistries are getting the funding right now? What healthcare technology trends should you be aware of if you want to get a portion of the digital health market for yourself?
Step into the realm of healthcare software innovation in 2023 with insights from Dealroom.co. In this curated list, we introduce you to the top 22 health tech startups capturing investors' attention.
Join us in exploring the future of healthcare professionals, health systems, and patient outcomes through these pioneering ventures.
Healthcare industry trends 2023 and beyond
Before we go on to discuss each health tech startup one by one, let's draw general conclusions regarding trending technologies and subindustries.
Mental health focus: A significant portion of the startups (Augmend Health, Callyope, Globero, Spectrums AI, Mind Dtx Inc, Holon Health, Inc.) are focused on mental health, indicating a growing trend in addressing mental health issues using technology.

Telehealth and remote monitoring: Many startups (Augmend Health, Qi Health, Globero, TrainOs, Medkord, VITRUVIAN SHIELD, Healin) are involved in telehealth, remote patient monitoring, or providing digital solutions for healthcare professionals and patients, highlighting the increasing importance of remote healthcare services.

AI and machine learning: Artificial intelligence and machine learning are pervasive across these startups (FitTales, Callyope, Newel Health, Qi Health, Actiquest, Spectrums AI, FitMindAI, Pipnote, Holon Health, Inc., Health4All, Healin, CareZ AI), underscoring their critical role in personalizing healthcare and improving diagnostics and treatment.

Data and analytics: Many startups leverage data-driven approaches (Augmend Health, Newel Health, Qi Health, Spectrums AI, Pipnote, Health4All), indicating the growing importance of data analytics in healthcare decision-making.
Top healthtech startups to follow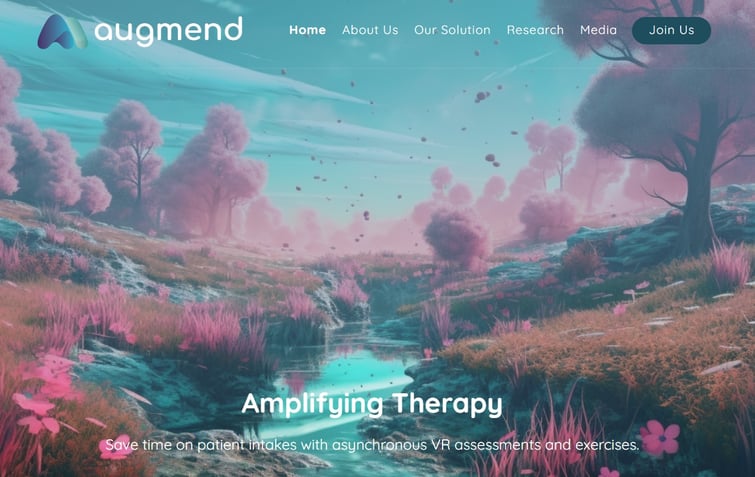 Image: https://www.augmend.health/
1. Augmend Health
Is traditional therapy on the verge of a significant transformation with the advent of virtual reality?
It might be, as this is what Augmend Health is working on right now.
ABOUT: A data-driven digital therapeutics platform leveraging virtual reality, bio-feedback and Al to unburden clinicians, reduce their waitlists and increase standard of care.
It's designed for mental health professionals looking to streamline their practices and improve patient engagement. Augmend Health facilitates patient intakes, onboarding, and risk assessments using VR, easing the administrative load on clinics.
MARKET: B2B, health platform
TYPE: virtual reality, commission, SaaS
LOCATION: Boston, United States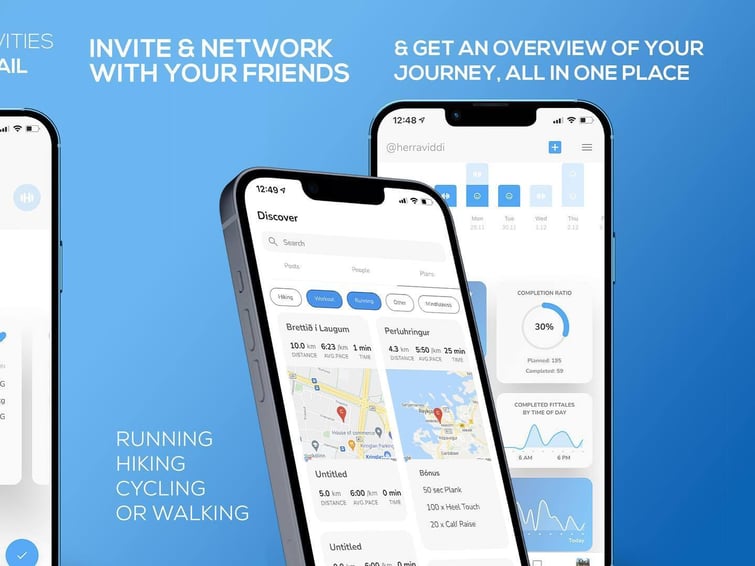 Image: FitTales Facebook
2. FitTales
A goal without a plan is just a wish - and FitTales promises to help you realize your sports goals.
ABOUT: The ONE place for ALL your activities! Where people support each other to become a better version of themselves.
FitTales is aimed at individuals striving for a healthy lifestyle, wanting to plan activities like workouts, runs, hikes, etc. It helps users plan, log, and share fitness activities while connecting with a community.
MARKET: B2C, sports, fitness, health platform
TYPE: artificial intelligence, machine learning, mobile app, subscription, SaaS
LOCATION: Reykjavik, Iceland
Image: https://callyope.com/
3. Callyope
Callyope states polar disorders take an average of 10 years post-symptom onset to diagnose; finding the right antidepressant treatment can take some patients 2.5 years. What if you could prevent those from happening... by analyzing a person's voice?
ABOUT: Our voice-based technology provides an objective & replicable tool to monitor the evolution of psychiatric disorders, in-clinic or at home.
Callyope is tailored for psychiatrists and their patients, aiming to deliver personalized and outcome-based care. The solution provides remote patient monitoring for psychiatrists through a 1-minute voice test, analyzing speech to predict psychiatric clinical scores, assess fatigue, and estimate cognition deficits.
MARKET: B2B
TYPE: deep tech, commission
LOCATION: Paris, France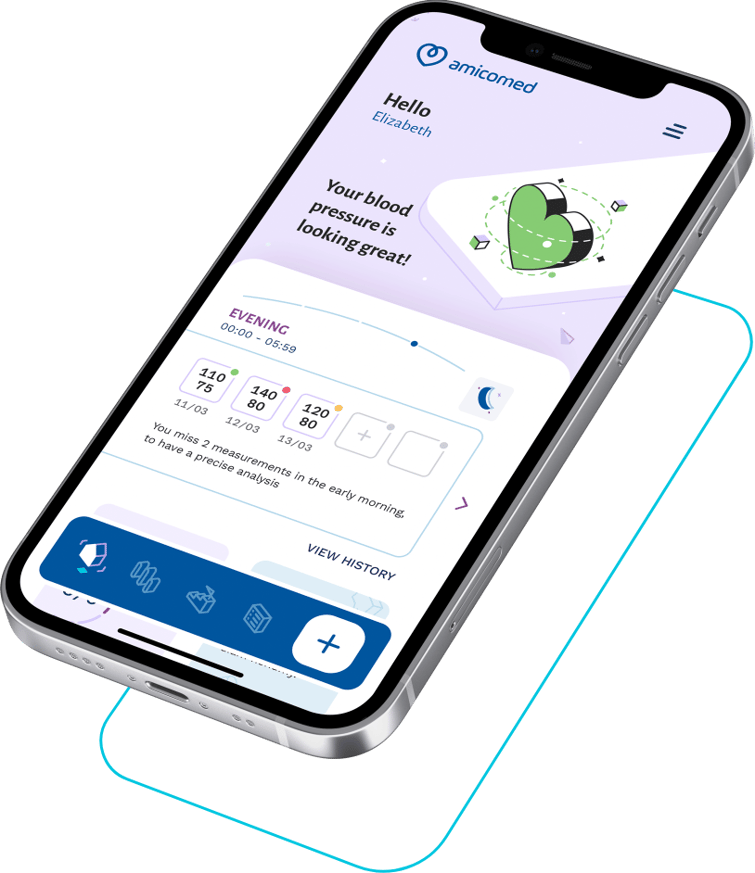 Image: https://newel.health/
4. Newel Health
NewelHealth = a healthcare technology company + beautiful designs.
ABOUT: Beautifully designed and clinically validated digital medicine and digital therapeutics (DTx) solutions
Newel Health develops and commercializes digital medicine and therapeutics solutions in collaboration with various healthcare stakeholders. It's aimed at pharmaceutical, health insurance, and medical device companies and healthcare organizations seeking to navigate the digital health domain.
MARKET: pharmaceutical, medical devices, health platform
TYPE: machine learning, mobile app, connected device, big data, artificial intelligence
LOCATION: Salerno, Italy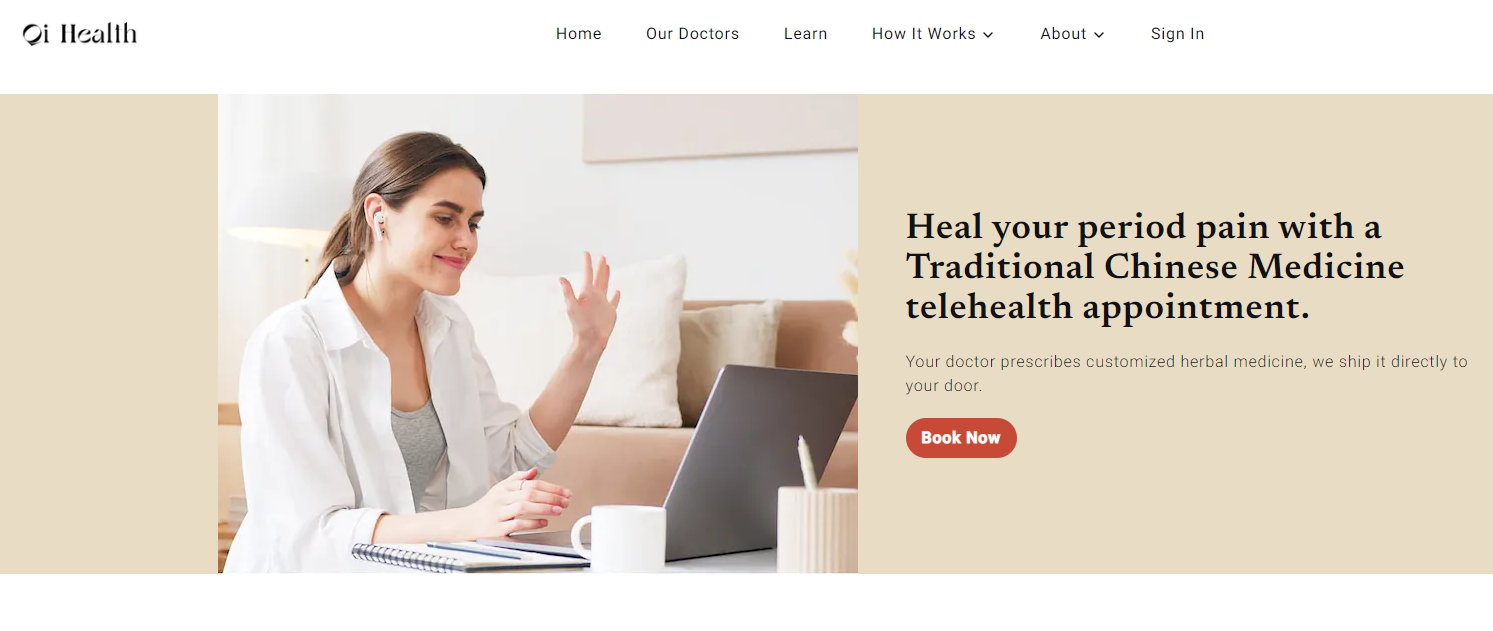 Image: https://www.qihealth.io/
5. Qi Health
Need proof women's health really is a new healthcare trend? Check Qi Health.
ABOUT: We connect patients with world-class Traditional Chinese Medicine Doctors and deliver individualized herbal medicine.
Qi Health offers telehealth appointments for Traditional Chinese Medicine, including personalized herbal medicine prescriptions for period pain. It's for individuals seeking alternative, personalized treatments for menstrual discomfort.
MARKET: B2C, health platform
TYPE: machine learning, big data, artificial intelligence, commission, marketplace & e-commerce
LOCATION: New York City, United States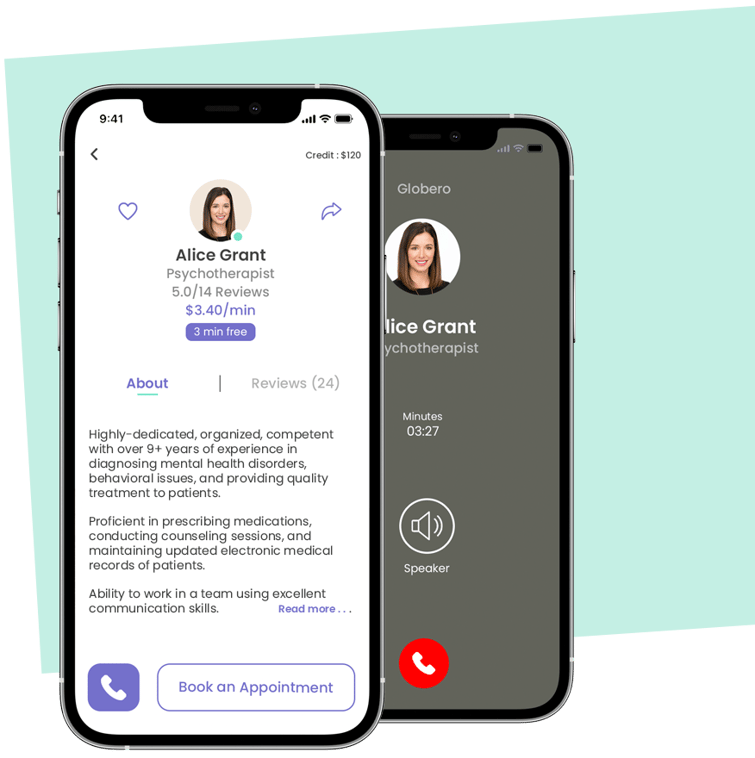 Image: https://globeroapp.com/
6. Globero
Globero's on a mission to revamp the mental health care system - and they're doing it with telehealth.
ABOUT: Globero app is a fast and safe way to get in touch with experienced psychologist. Make an appointment with Globero psychologist when you feel the need for professional help.
MARKET: B2B. B2C. health platform
TYPE: mobile app, subscription
LOCATION: Melbourne, Australia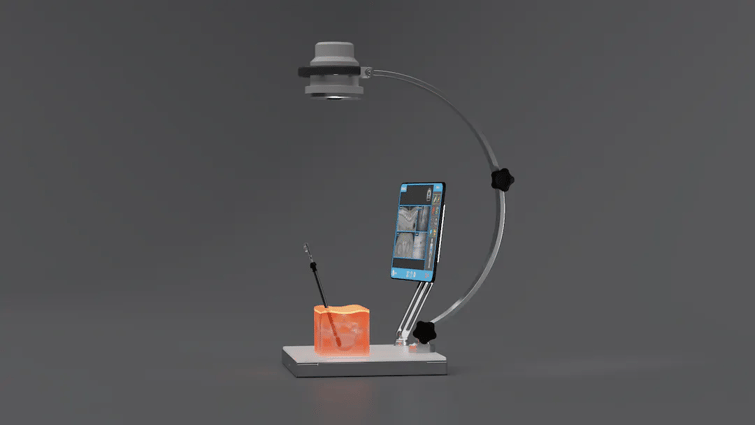 Image: https://trainos.surgery/
7. TrainOs
TrainOS might be something all aspiring surgeons have always dreamed of.
ABOUT: trainos GmbH is dedicated to developing an effective surgical simulation platform that replaces surgical training on human and animal cadavers and allows surgeons to learn surgical techniques/ complications in a safe and radiation-free environment. This is achieved, among other things, by using mixed reality in combination with a haptic pathological model with tangible 3D X-ray.
MARKET: B2B
TYPE: virtual reality, subscription, SaaS, manufacturing
LOCATION: Paderborn, Germany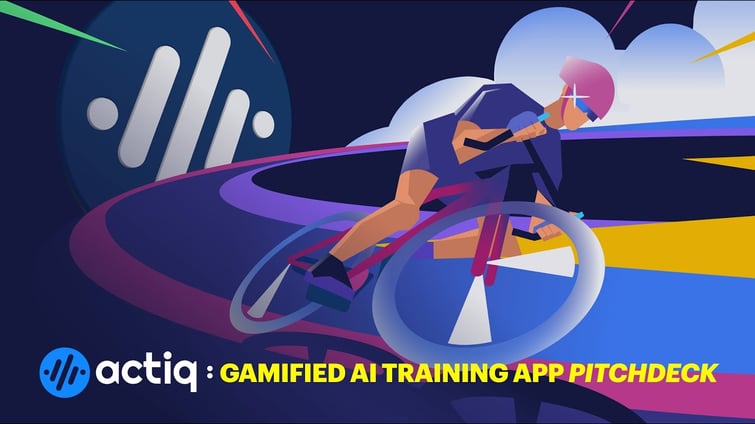 Image: https://actiq.xyz/
8. Actiquest
You're not just a regular gym-goer but an actual athlete professional? Check Actiquest.
ABOUT: Actiquest is developing technology for autonomous and constantly learned AI sport coaches (human digital twins) based on the latest developments in AI: a combination of deep learning, decision making, computer vision and generative AI enabled with Natural Language Processing.
The technology allows human coaches to digitize the training process and create AI-twin coaches using mobile app to train athletes remotely. Athletes can hear the AI coach's live recommendations, respond to him during training, make adjustments to the plan, receive rewards based on the results of completing training blocks, and much more. Supported sports: tennis, golf, power training, running, cycling, swimming, yoga, rehabilitation gymnastics, etc.
MARKET: B2C, sports, sport platform & application, fitness
TYPE: recognition technology, natural language processing, mobile app, machine learning, deep learning
LOCATION: New York City, United States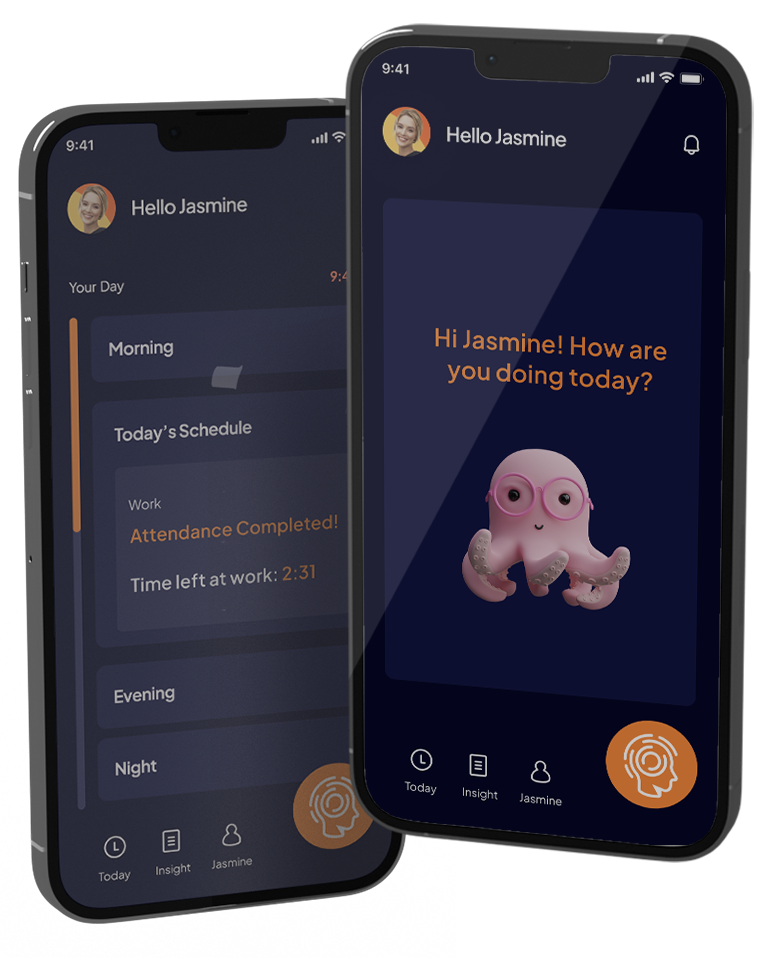 Image: https://www.spectrums.ai/
9. Spectrums AI
Approximately 15–20 percent of the population is believed to be neurodiverse, encompassing around 10 percent with dyslexia, 6 percent with dyspraxia, 5 percent with ADHD, and 1–2 percent with autism, according to Zurich Insurance Group. Spectrums AI is harnessing machine and deep learning to make the life of neurodivergent people easier.
ABOUT: A product of Neurodivergence AI: Our goal with Spectrums A.I. is to empower the next generation with the tools and help needed to drive real change. Changing disability to access-ability!
We use Artificial Intelligence to:
Track Symptoms

Build Personalized Intervention Strategies

Create On-Demand Reports

Support Caregivers, Educators & Employers

Predict Symptoms

Provide Early Detection
MARKET: B2B
TYPE: artificial intelligence, SaaS
LOCATION: Montreal, Canada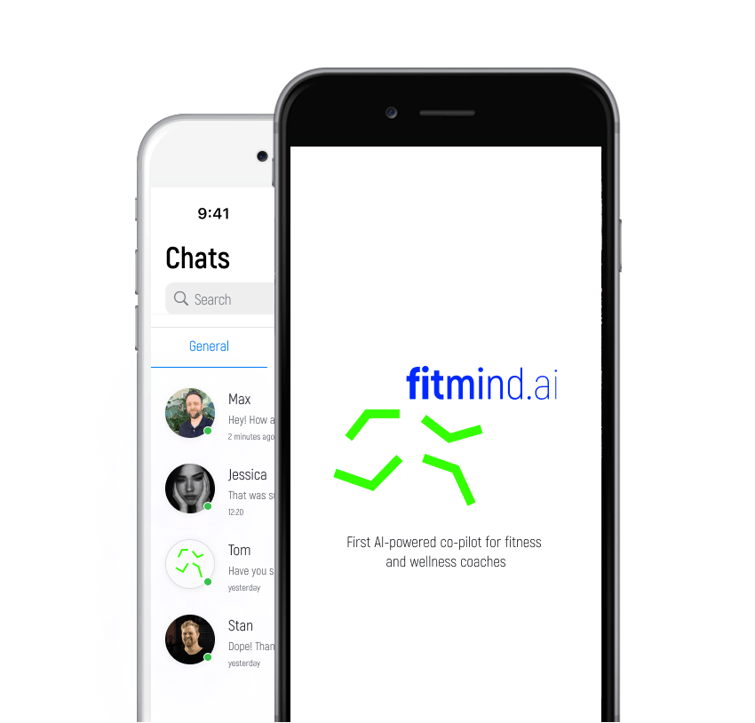 Image: https://fitmind.ai/
10. FitMindAI
In today's fast-paced world, fitness coaches need an efficient and user-friendly app to streamline their training programs and connect with clients seamlessly. Can FitMind AI be the solution for them?
ABOUT: FitMindAI is an AI-powered co-pilot helping online fitness/wellness coaches and their clients to optimize daily communications and training processes.
It's an AI assistant that takes care of:
Messaging: Chat with clients and let FitMindAI assist with daily queries.

Payments: Simplify collections with payment reminders and integrated checkout options.

Training Plans: Easily create and share training plans with AI co-pilot support.
MARKET: B2C, sports
TYPE: artificial intelligence, commission, subscription, marketplace & e-commerce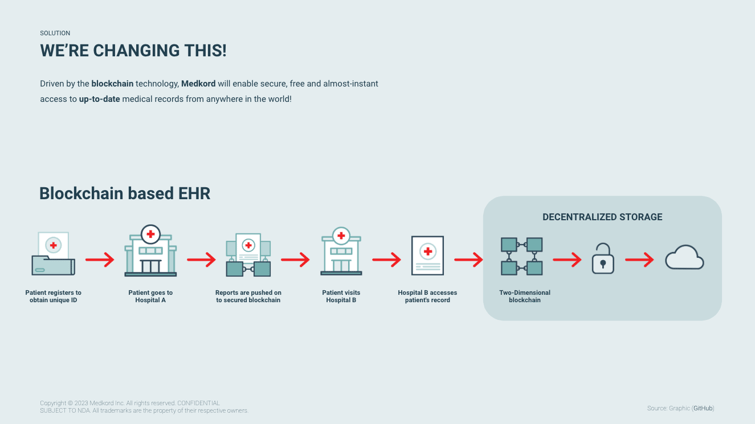 Image: https://www.medkord.com/
11. Medkord
Medkord promises a blockchain-based electronic health records (EHS) solution that will give you access to your medical record from anywhere, anytime!
ABOUT: Medkord goes beyond the standard features offered by traditional providers, streamlining clinical workflows, improving communication, and enhancing patient care. Thanks to the decentralized blockchain, your medical records will be safely stored, updated, and available for access no matter when and where.
You and your doctor will never have to worry about inaccurate medical history because you'll own it!
MARKET: B2C, health platform
TYPE: blockchain
LOCATION: Austin, United States
Image: https://vitruvianshield.com/
12. VITRUVIAN SHIELD
Switzerland is renowned for its exquisite watches, yet the timepiece by Vitruvian Shield offers more than just timekeeping.
ABOUT: Vitruvian Shield is a digital health platform that aims to revolutionize the healthcare industry by providing innovative solutions for elderly and chronic care.
The app, powered by the biometric data collected by Vitruvian Shield's watch, offers real-time vital sign monitoring, immediate emergency alerts, and effortless data sharing with healthcare providers to facilitate personalized care.
MARKET: B2B, service provider, pharmaceutical, biotechnology, medical devices
TYPE: deep learning, hardware, IoT, machine learning, mobile app
LOCATION: Switzerland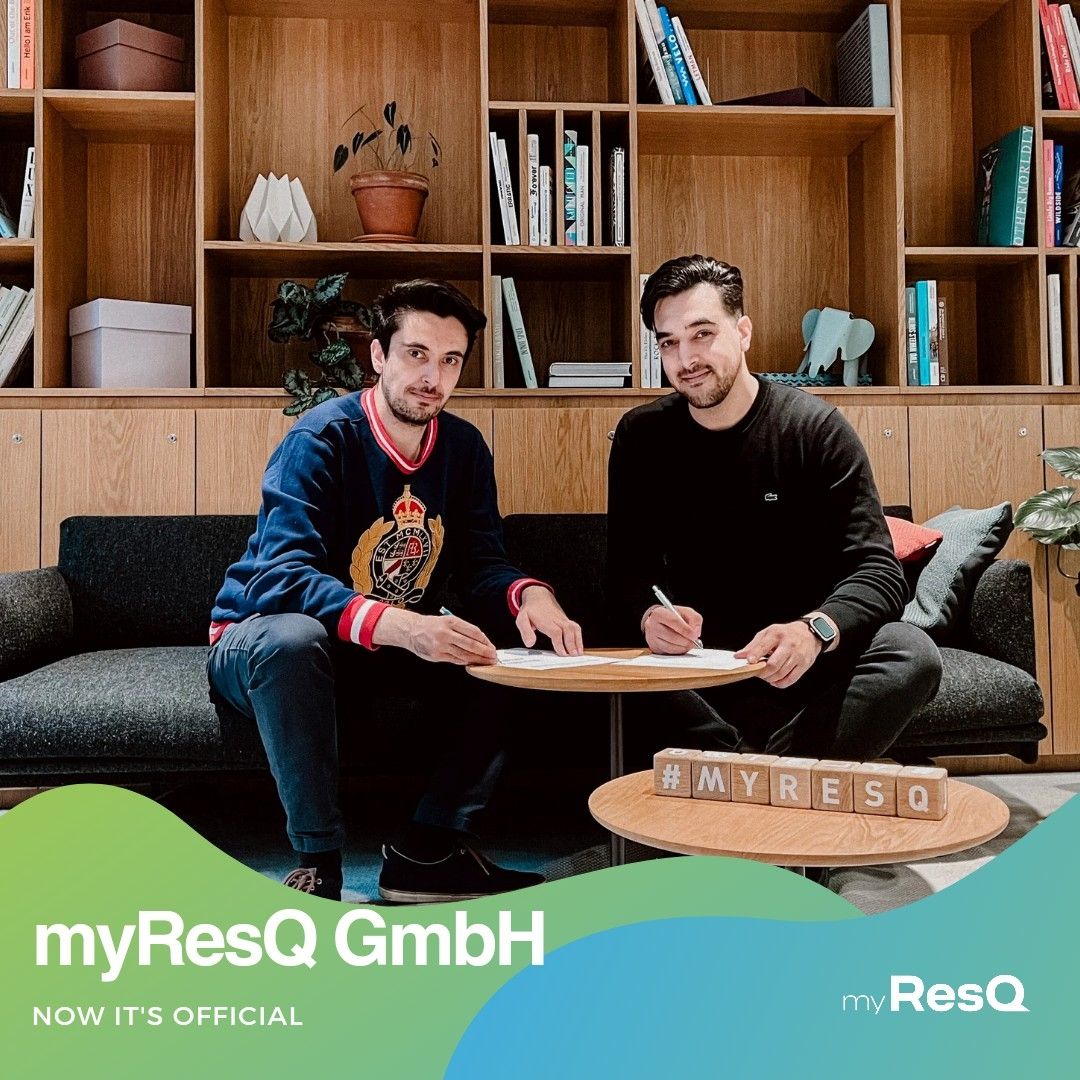 Image: https://my-resq.com/
13. myResQ
myResQ - a portable prototype that enables a rapid response to emergency situations.
ABOUT: Our healthcare system needs innovative ideas and new concepts. As part of our start-up project we are developing a high-tech prototype that enables a rapid response to emergency situations. Our declared goal is a far-reaching, systematic saving of resources and costs.
MARKET: B2B, telecom
TYPE: artificial intelligence, augmented reality, computer vision, hardware, subscription
LOCATION: Vienna, Austria
Image: https://www.bequalise.com/
14. BEqualise
BeEqualise targets women affected by vestibular disorder, helping them become more conscious and empowered about how they manage their health.
ABOUT: BEqualise is a digital platform focused on dizziness & hearing problems. Helping patients with brain and inner ear related disorders.
Our approach is multidisciplinary providing a mix of holistic and traditional medicine programs online.
MARKET: B2C
TYPE: deep learning
LOCATION: Sheridan, United States; Dubai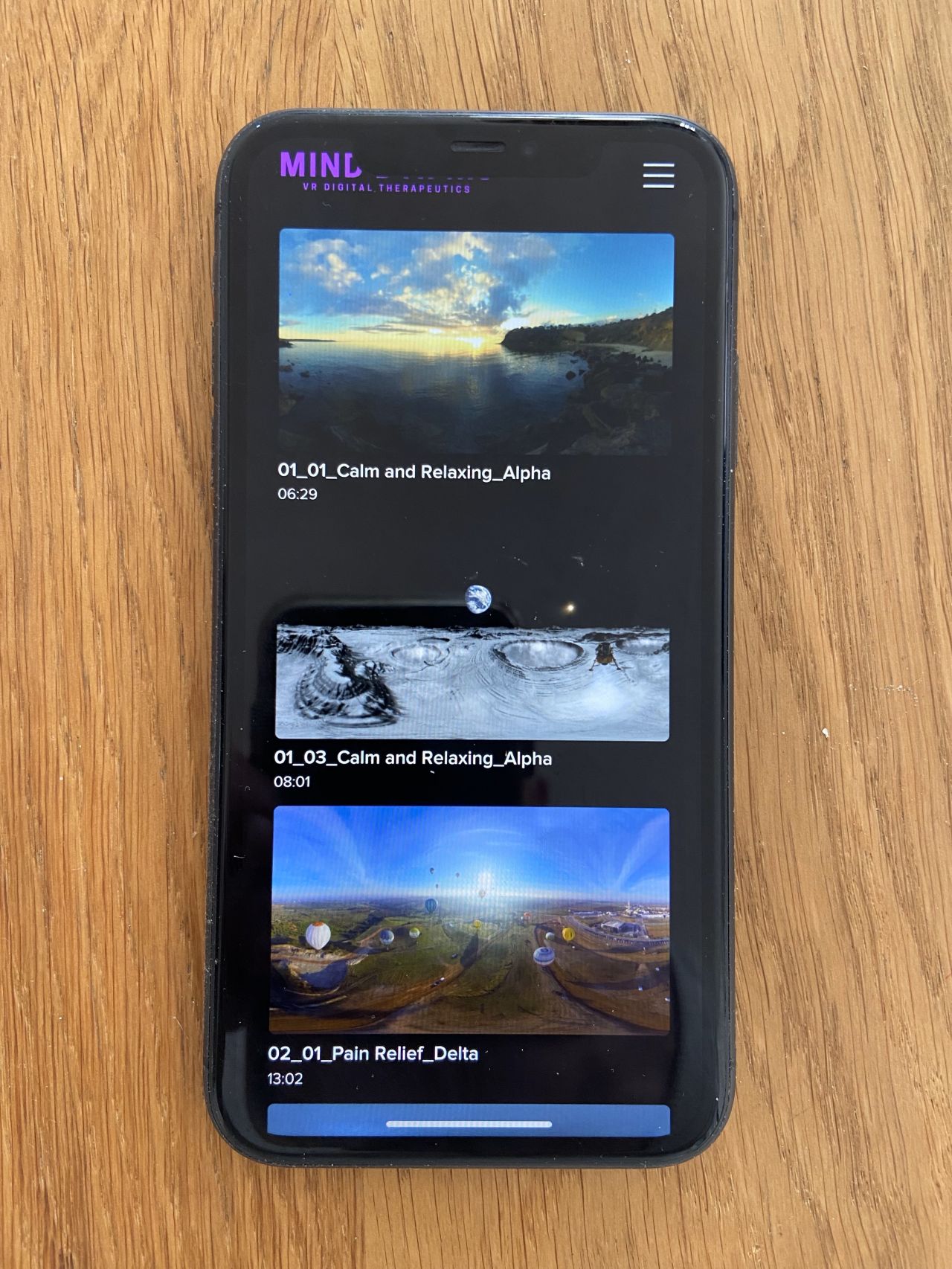 Image: https://www.linkedin.com/company/mind-dtx-inc/
15. Mind Dtx Inc
Today, we are confronted with a range of serious mental illness and health challenges, including depression, isolation, anxiety, and PTSD. Mind Dtx Inc is working on a solution that could offer relief from these challenges and provide much-needed mental health support.
ABOUT: Mind DTx is a virtual reality (VR) therapy developed by DTx Inc. It offers immersive scenarios to simulate real-life situations, helping individuals develop coping strategies in a controlled and supportive environment. This non-invasive and non-pharmaceutical approach has been scientifically validated and shows promise in accelerating behavioral therapy progress and improving outcomes for various mental health challenges.
MARKET: B2B, health platform, medical devices
TYPE: 3d technology, virtual reality, augmented reality, artificial intelligence, selling own inventory
LOCATION: Calgary, Canada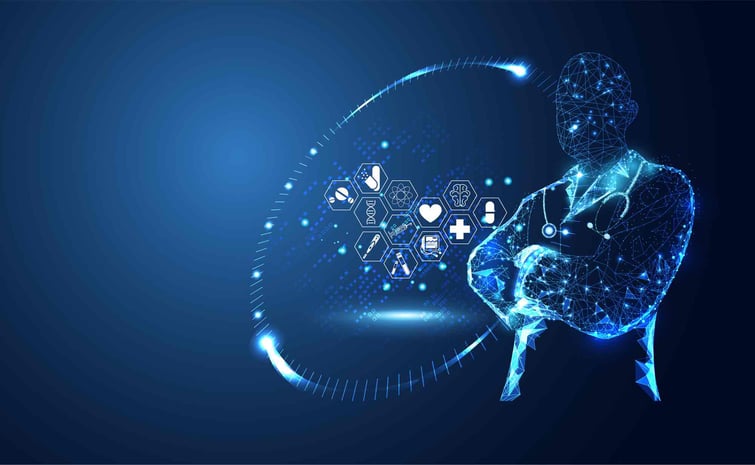 Image: https://prediga.fi/
16. Prediga
Prediga Ltd. develops user-friendly digital solutions for health and well-being. Their two main offerings are:
Mynavigo Effect: This customizable tool streamlines preventive measures to reduce healthcare costs. It allows comprehensive self-assessment of well-being, adaptable to an organization's needs.

Mynavigo Guider: A dynamic solution for initial digital service guidance in social welfare and healthcare. It aids in early well-being issue identification through self-assessment, guiding individuals in lifestyle changes, and support considerations.
MARKET: B2B. enterprise software
TYPE: mobile app, commission, SaaS
LOCATION: Finland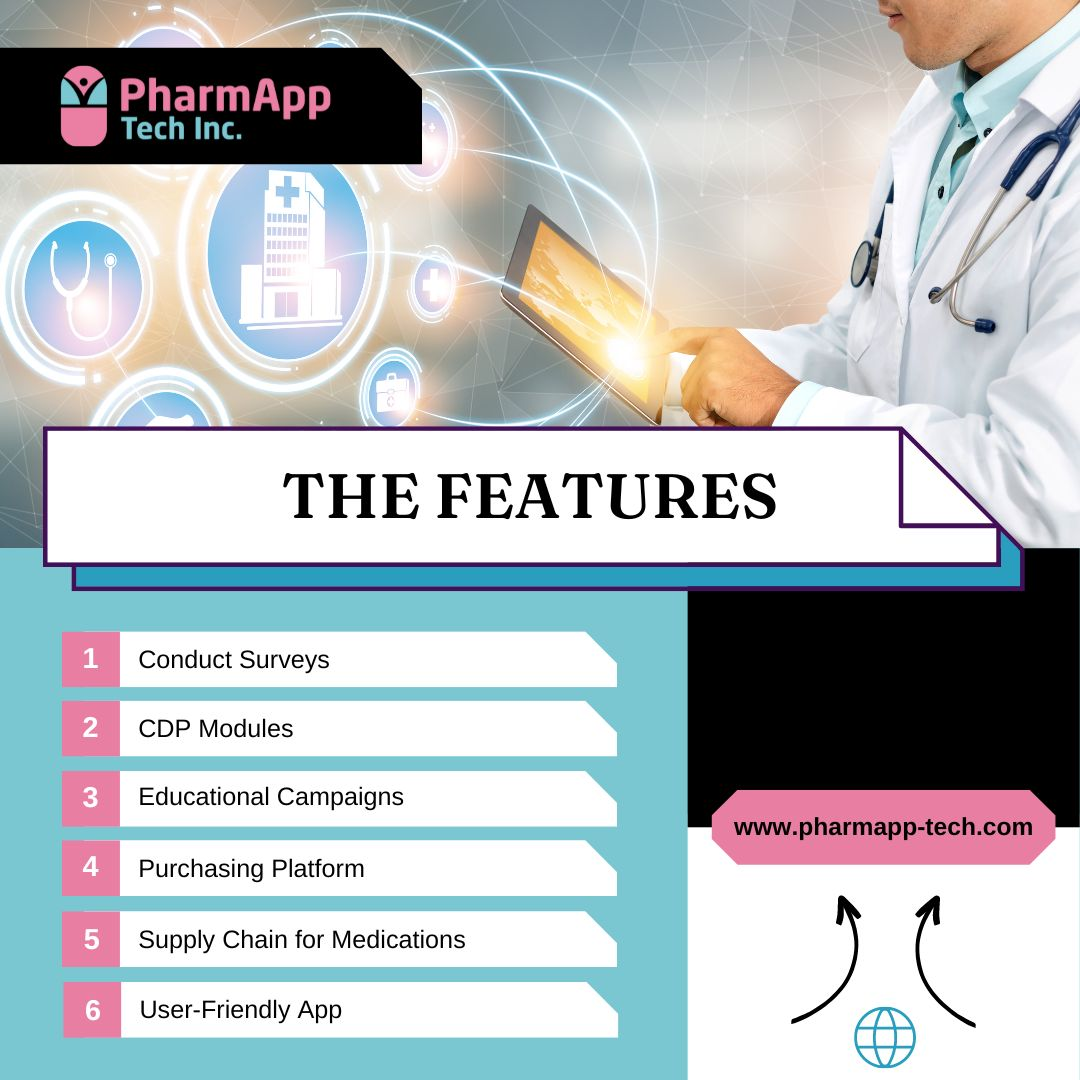 Image: https://pharmapp-tech.com/
17. PharmApp Tech Inc.
PharmApp Tech Inc. plans to revolutionize pharmacies, making them healthcare hubs through a comprehensive digital solution. The all-in-one app will connect pharmacy professionals, offer accurate drug and health information, and provide free CPD modules. Their mission is to empower them, enhance patient care, and improve global health.
Their digital solutions might transform pharmacies, modernizing procedures and enhancing data dissemination and training through e-learning CPD modules. Additionally, they plan to gather insights via live surveys and raise awareness for pharmaceutical companies, governments, and NGOs through digital campaigns. PharmApp Tech Inc.'s trade solutions is intended to streamline the supply chain, granting real-time access and facilitating successful healthcare outcomes.
MARKET: B2B, health platform
TYPE: mobile app, SaaS
LOCATION: Vancouver, Canada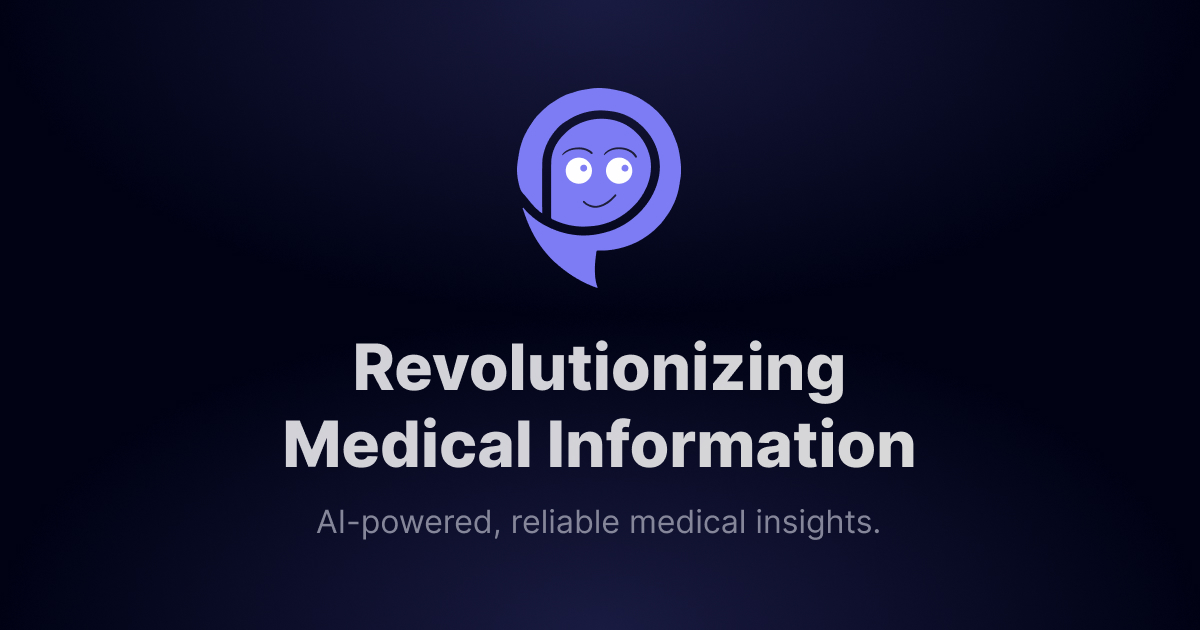 Image: https://www.pipnote.com/
18. Pipnote
An interesting solution for students and healthcare professionals: Pipnote uses AI to search through an extensive database of medical literature and provide accurate and immediate responses.
ABOUT: From Classroom to Clinic: Pipnote Delivers AI-Powered, Referenced Answers for Tomorrow's Healthcare Leaders. With Pipnote, medical students and healthcare providers can ask questions and receive reliable AI-powered answers based on updated medical guidelines.
MARKET: B2C, health platform
TYPE: artificial intelligence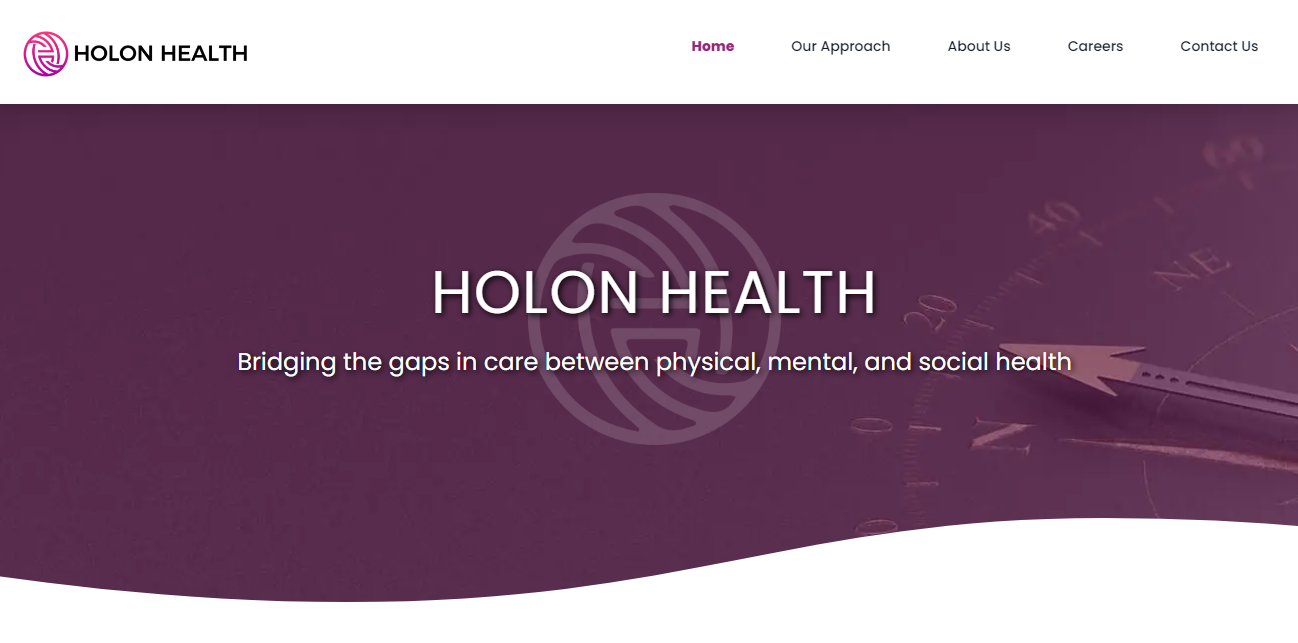 Image: https://holonhealth.com/
19. Holon Health, Inc.
ABOUT: Holon Health pairs a bio-psych-social care team with a proprietary digital therapeutic to help people with substance use disorder (SUD) fill gaps in care and remove social obstacles that often limit their ability to engage in treatment and negatively affect adherence.
Our digital therapeutic application augments mental health and SUD treatment while promoting healthy activities and lifestyle.
This combination of people and technology simplifies complexities, positions people with substance use disorder to achieve improved health, and aims to decrease healthcare expense through fewer emergency room visits and inappropriate utilizations of high-cost services, to reduce hospital (re)/admissions, and to focus on preventive health care for chronic health conditions related to substance use disorder.
MARKET: B2B, health platform
TYPE: mobile app
LOCATION: Richmond, United States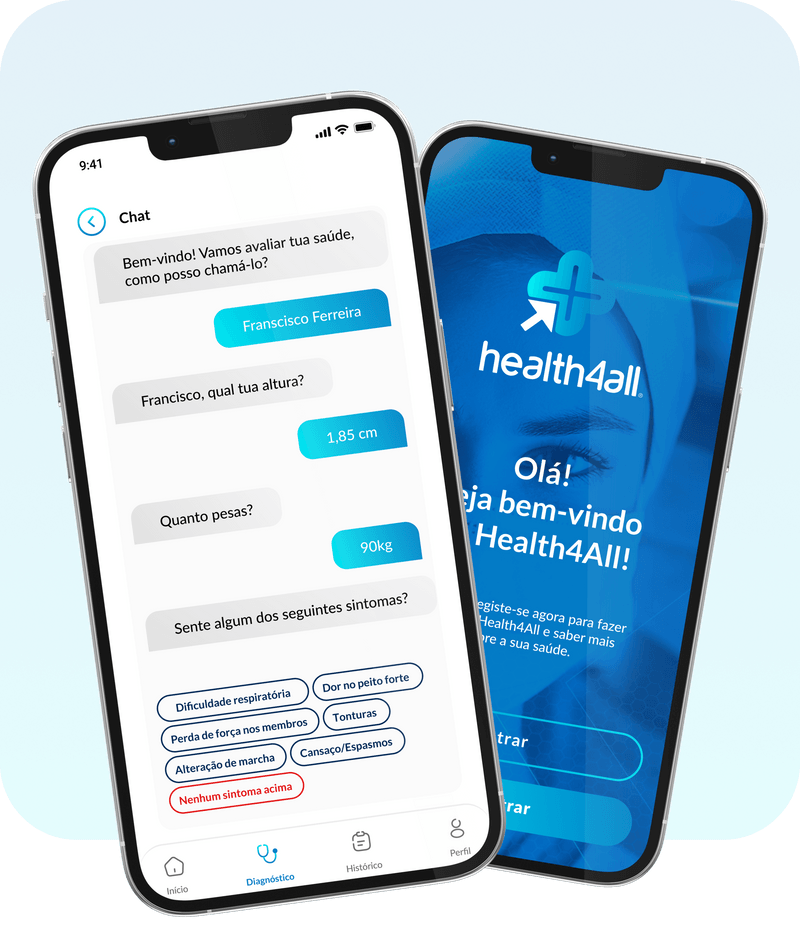 Image: https://www.health4all.pt/
20. Health4All
ABOUT: Practicality and technology to keep your health up to date.
Health4All streamlines the healthcare process by using AI for quick assessments and directing users to the right level of care. It's a free and convenient tool designed to improve access to healthcare services and enhance the overall healthcare experience for users.
MARKET: B2C
TYPE: natural language processing, machine learning, artificial intelligence, commission, advertising
LOCATION: Espinho, Portugal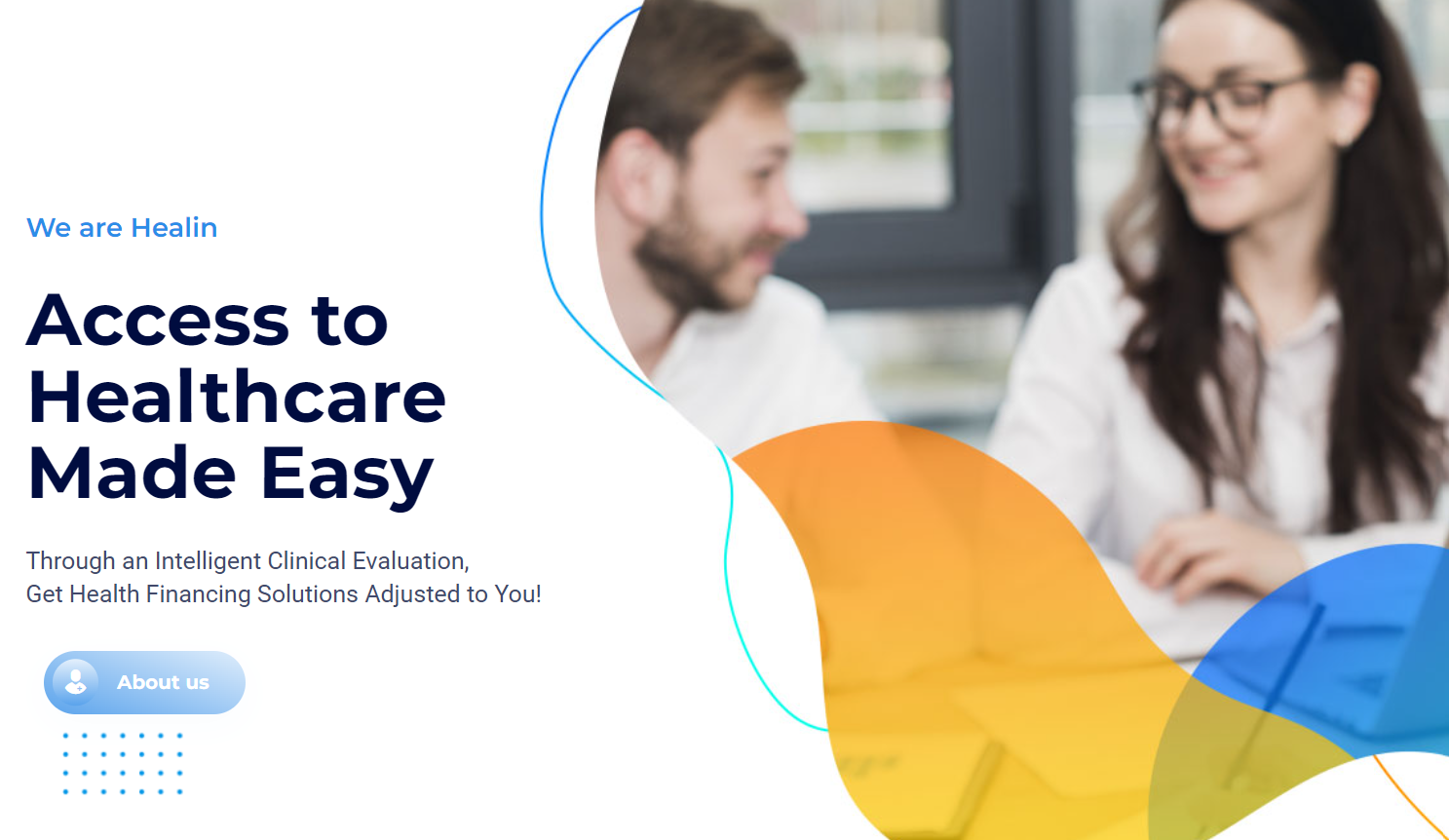 Image: https://thehealin.com/
21. Healin
Finding the right health plan or insurance policy is no easy task. Healin is here to simplify it.
ABOUT: Say goodbye to the confusion and frustration of finding the right health plan or insurance policy.
Don't waste any more time sifting through confusing insurance policies and medical jargon.
By using our automated medical evaluation, we create a plan of care and prevention, ensuring that each individual gets the coverage they need and deserve.
MARKET: B2B, B2C, fintech
TYPE: artificial intelligence, SaaS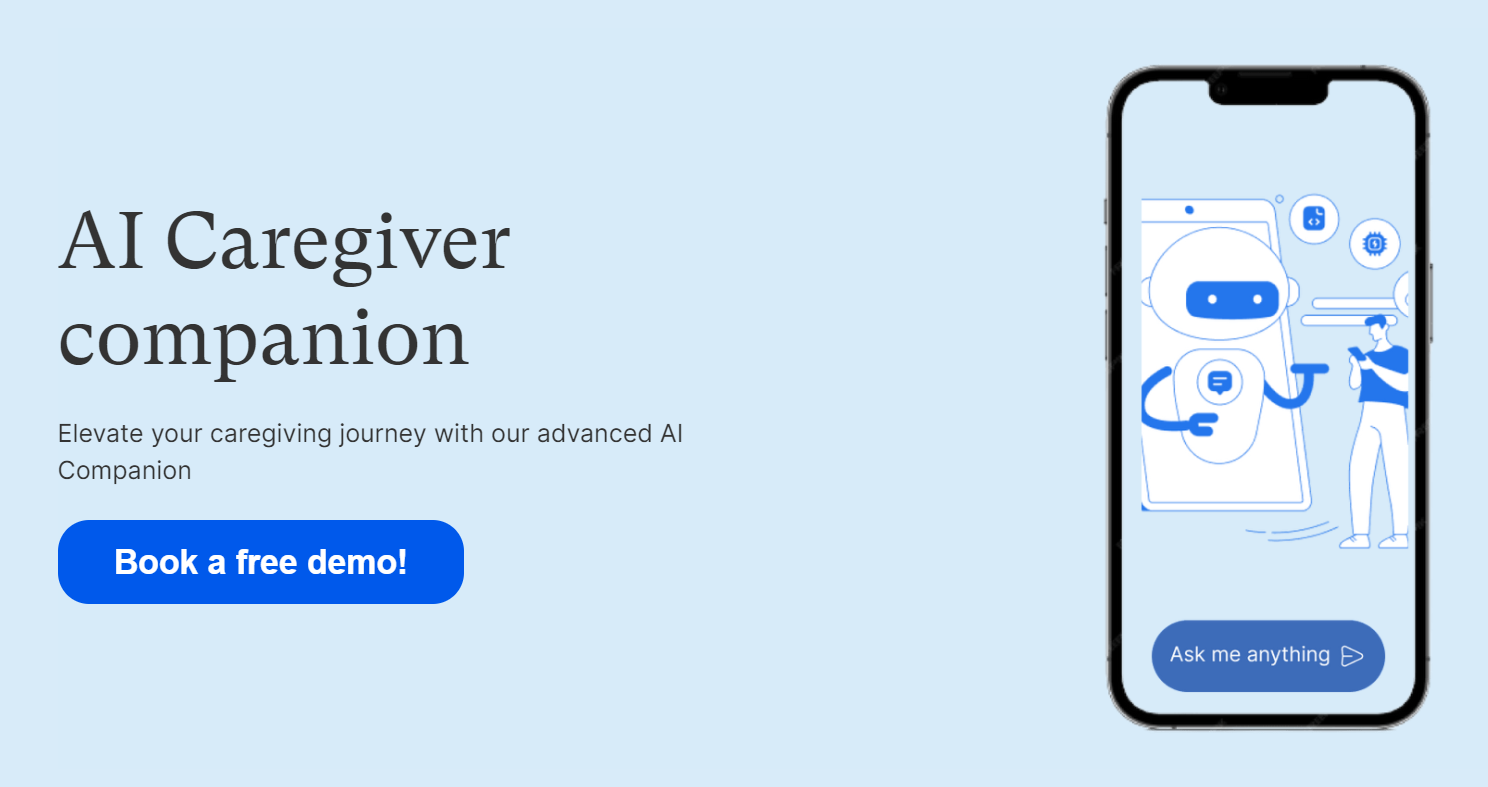 Image: https://www.carezai.com/
22. CareZ AI
ABOUT: AI Caregiver companion
CareZAI is an AI-driven caregiver companion service that improves caregiving by breaking language barriers, offering personalized guidance to caregivers, and providing in-depth patient knowledge for more effective care.
Language assistance: CareZAI breaks down language barriers, fostering seamless communication between caregivers and patients from diverse backgrounds.

Caregiving companion: CareZAI provides personalized guidance and support to caregivers, optimizing caregiving efforts.
MARKET: B2C, health platform
TYPE: artificial intelligence, SaaS
LOCATION: Canada
Methodology
The list contains healthcare companies featured in Dealroom's database that are labeled as health (in terms of industry), were founded in 2023, and are still operational as of October 2023, ordered by their Dealroom Signal from highest to lowest. We've included only companies that create software products, and belong to at least one of these Dealroom categories: deep tech, artificial intelligence, mobile app, machine learning, big data, blockchain, IoT, computer vision, recognition technology, virtual reality, connected device, augmented reality, quantum technologies, natural language processing, and deep learning.
What is Dealroom? Dealroom is a global data platform for intelligence on startups, innovation, high-growth companies, ecosystems, and investment strategies.
What is Dealroom Signal? Dealroom Signal is a predictive algorithm that identifies promising companies based on growth, hiring, timing, and team composition. Instead of assigning a general quality or performance score to startups, it focuses on highlighting upcoming funding opportunities. The algorithm is calibrated to locate companies with strong traction, predicted to be preparing for funding, or already "round-ready."
22 healthtech startups investors want to invest in (2023). Summary
In a world where healthcare systems are constantly seeking to enhance patient outcomes, these 22 health tech startups offer a glimpse into the future of medicine.
At the core of this revolution is the close connection between technology and healthcare experts. As these healthcare startups thrive, they show a bright path for the future of healthcare innovation.
Want more digital health insights? Check The essential guide to 2024 healthcare software development