A mix of blockchain and astrology might seem a rather unconventional idea, to say the least. Nevertheless, when Maren Altman, a cryptocurrency-focused astrologist and social media influencer, approached Pragmatic Coders, we were more than curious to engage in her project.
Read the case study where we share the genesis - UX research & Product Discovery Workshop - of "an astrology oracle so good, you can trade with it."
Project genesis
Maren Altman, the founder of Astrace, has garnered hundreds of thousands of followers on various social media platforms by utilizing her astrology expertise to track cryptocurrencies. She and her team identified a few opportunities to combine astrology knowledge with investing and came up with the idea of creating an astrology-based blockchain ecosystem.
Challenge
UX research
For creating a product tailored to the potential customers, it was important for Astrace to identify the people we could convert into platform users.
Pragmatic Coders' Product Manager conducted a competitive analysis, and our UX specialists carried out extensive UX research. We recruited respondents from Maren's audience as we knew they would be among the first users of the application. So, it made sense to learn as much as possible about them.
We focused on answering the following questions:
Who are the people that make Maren's audience?

What are the characteristics of the users potentially interested in the whole project?

What kind of information are they looking for in Maren's content?

Astrology-related or blockchain-related? Or both?

What is their attitude towards cryptocurrencies?

How would they describe their level of knowledge about crypto? What inspired them to take an interest in crypto? Have they ever invested in crypto?

If so, what type of investors are they?

What is their attitude towards astrology?

What is their opinion about astrology? What types of astrology-related information are they looking for? Do they rely on astrology when making important decisions for themselves, including investment decisions?
To recruit the appropriate individuals who met our criteria (we aimed for a mix of different groups - people interested in both astrology and blockchain as well as astrology enthusiasts and cryptocurrency enthusiasts separately), we prepared a survey screener. Maren then promoted this survey on her social media platforms, which helped us identify individuals with whom we wanted to establish contact.
In total, we conducted 16 conversations that provided us with substantial data - sometimes surprising. We gathered information about how the recipients perceive Maren, what content they seek on her social media, and their attitude toward astrology and blockchain.
Product Discovery Workshop
The overview of UX research results
In the workshop's initial part, we reviewed and discussed UX research results, conclusions, and quotes.
We discovered interesting insights regarding users' perspectives on investing:
Beginners often feel overwhelmed by the abundance of crypto investment information, leading to a high entry threshold.

Making the right investment decision poses a significant challenge.

Security is widely perceived as a fundamental value in the context of investments.

Understanding the underlying aspects of a project is considered an essential aspect of investing.
Separately, we also found intriguing observations concerning astrology:
Individuals seek answers and aim to be prepared for the future, motivating their search for insights through astrology.

People recognize the impact that astrology can have on their lives.

Astrology shares commonalities with science.

Individuals acknowledge the potential benefits of using astrology for investing, even noting its historical use over centuries in predicting financial markets.
The main conclusion of the UX research was:
People want to be able to decide for themselves - they want to have an impact on their future and finances. They turned to astrology and crypto to ensure things were not happening independently without their will. They want to be in charge of what is happening. Having control is fundamental for them.
Product Vision Statement, Customer Segments, Unique Value Proposition

Then, we moved on to define the product vision statement. Using the data gathered from the UX report, we identified the target customer segments, their characteristics, and their needs, which ultimately helped us prepare a unique value proposition for the product.
We also identified the main target customer segment and a few other groups that can be reached later in marketing strategies.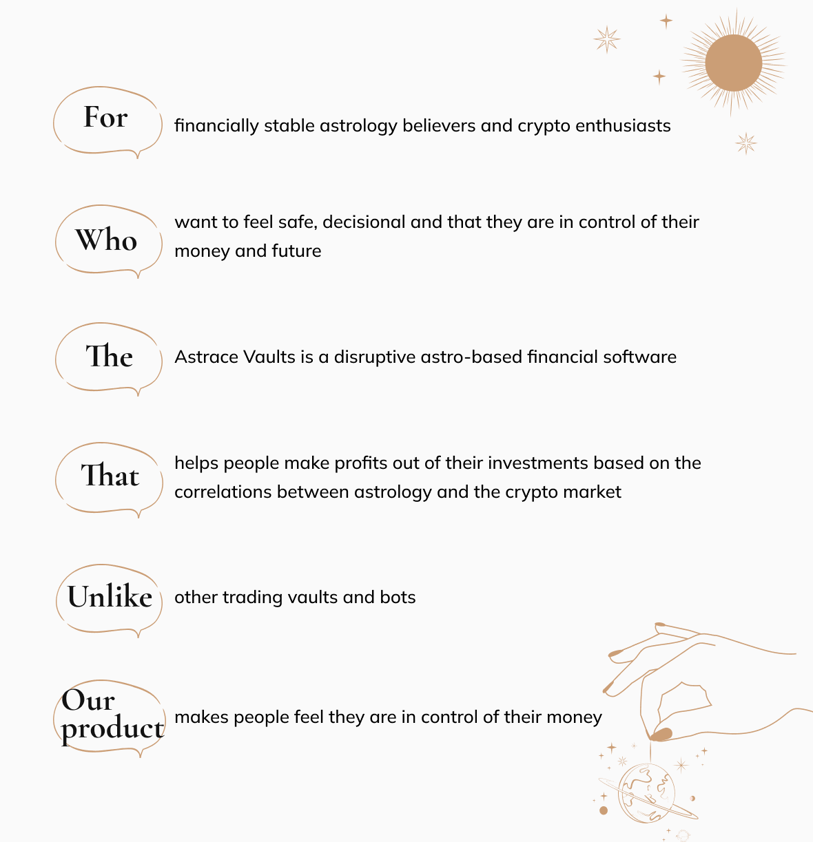 Anti-problem exercise
During this part of the workshop, we tried to answer the following question: What would make this project a complete disaster? This way, we identified some risks related to the project and prepared a list of actions to minimize them.